This past week, the National Association of Realtors (NAR) seasonally adjusted pending home sales index declined - and was well under expectations. Since mid-year - we have been stating that both existing home sales and pending home sales were in a decline. Is there reason for concern?
Our analysis of pending home sales shows improvement - but does forecast relatively weak December existing home sales. The quote of the day from this NAR release:
Home prices rising too sharply in several markets, mixed signs of an economy losing momentum and waning supply levels have acted as headwinds in recent months ...
Pending home sales are based on contract signings, and existing home sales are based on the execution of the contract (contract closing).
The NAR reported:
Pending home sales index was down 0.9 % month-over-month and up 3.9 % year-over-year (last month was reported +2.7 % year-over-year).
The market was expecting month-over-month growth of 0.0 % to 2.4 % (consensus 0.5 %) versus the growth of -0.9 % reported.
Econintersect's evaluation using unadjusted data:
the index growth was up 2.8 % month-over-month and up 5.1 % year-over-year.
The current trends (using 3 month rolling averages) insignificantly declined but remains in expansion.
Extrapolating the pending home sales unadjusted data to project December 2015 existing home sales, this would be a 5.3 % contraction year-over-year for existing home sales.
Unadjusted 3 Month Rolling Average of Year-over-Year Growth for Pending Home Sales (blue line) and Existing Home Sales (red line)

From Lawrence Yun , NAR chief economist:
.... November's dip in contract activity continues the modestly slowing trend seen ever since pending sales peaked to an over nine year high back in May. Home prices rising too sharply in several markets, mixed signs of an economy losing momentum and waning supply levels have acted as headwinds in recent months despite low mortgage rates and solid job gains. While feedback from Realtors® continues to suggest healthy levels of buyer interest, available listings that are move-in ready and in affordable price ranges remain hard to come by for many would-be buyers.

With existing housing inventory already below year ago levels and new home construction still deficient, it's likely supply constraints and faster price appreciation will reappear once the spring buying season begins.

Especially with mortgage rates likely on the rise, affordability issues could creep up enough to temper sales growth - especially to first-time buyers in higher priced markets.
The National Association of Realtors (NAR) pending home sales index offers a window into predicting existing home sales. The actual home sale might appear in the month the contract was signed (cash buyers can close quickly), or in the following two months.
Econintersect forecasts unadjusted existing home sales by offsetting the pending home sales index one month. This forecast suggests unadjusted existing home sales of 390,000 in December 2015.
Using Pending Home Sales to Predict Existing Homes Sales - Unadjusted Existing Home Sales (blue line) & Predictive Forecast Using Pending Home Sales Index (red line)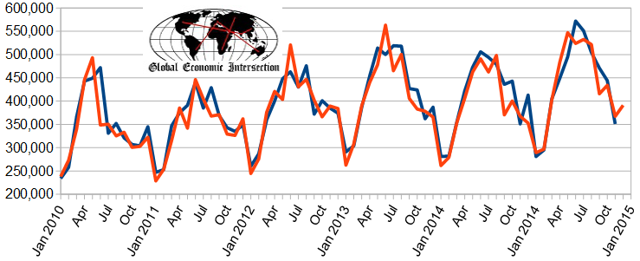 Using this methodology, 370,000 existing home unadjusted sales were forecast for November 2015 versus the actual reported number of 351,000 (which is subject to further revision).
Unadjusted Year-over-Year Change in Existing Home Sales Volumes (blue line), 3 month rolling average (red line)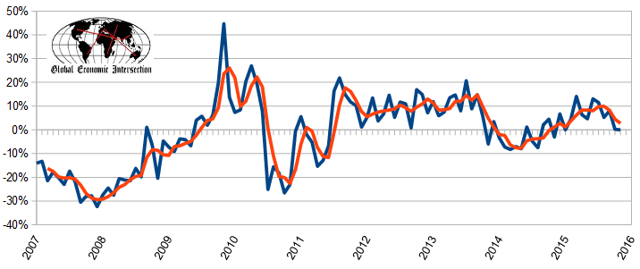 I am a believer that everything cycles and runs in waves. Some reasons:
Except in certain isolated markets - home price gains have overrun income again.
There is a limited supply of buyers and sellers. Buying a house is not the same as buying food at the grocery store - there is no option to eating but there is an option whether to buy a house. In this type of situation, the rate of home buying will cycle up and down depending on the mood and circumstances of buyers and sellers.
So no, this slowdown is not an indication of a slowing economy - but a natural cycle. Nothing goes up forever.
Other Economic News this Week:
The Econintersect Economic Index for January 2016 declined - and is now at the lowest value since the end of the Great Recession. The tracked sectors of the economy which showed growth were mostly offset by the sectors in contraction. Our economic index remains in a long term decline since late 2014.
Current ECRI WLI Growth Index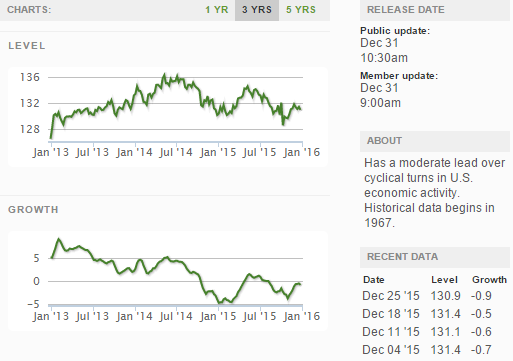 The market (from Bloomberg) was expecting the weekly initial unemployment claims at 268 K to 300 K (consensus 270,000) vs the 287,000 reported. The more important (because of the volatility in the weekly reported claims and seasonality errors in adjusting the data) 4 week moving average moved from 272,500 (reported last week as 272,500) to 277,000. The rolling averages generally have been equal to or under 300,000 since August 2014.
Weekly Initial Unemployment Claims - 4 Week Average - Seasonally Adjusted - 2011 (red line), 2012 (green line), 2013 (blue line), 2014 (orange line), 2015 (violet line)

Bankruptcies this Week: Privately-held DF Investments, KaloBios Pharmaceuticals
Please visit our landing page for all of our analysis this past week.
Disclosure: I/we have no positions in any stocks mentioned, and no plans to initiate any positions within the next 72 hours.