For the last six months, I have stated that most data points would be seen as improving beginning in 2016. Not a big time improvement, but the end of the slowing growth phase of the economy. The prime reason is that the data will be compared to the weaker 2015 data points.
The first obvious point is now the manufacturing portion of industrial production. Industrial production headline index has three parts - manufacturing, mining and utilities - manufacturing was up 0.2 % this month (up 1.8 % year-over-year), mining down 1.4 % (down 9.9 % year-over-year), and utilities were down 4.0 % (down 9.3 % year-over-year). Note that utilities are 10.6 % of the industrial production index, whilst mining is 15.5 %.
It is mining and utilities which are dragging down industrial production.
Comparing Seasonally Adjusted Year-over-Year Change of the Industrial Production Index (blue line) with Components Manufacturing (red line), Utilities (green line), and Mining (orange line)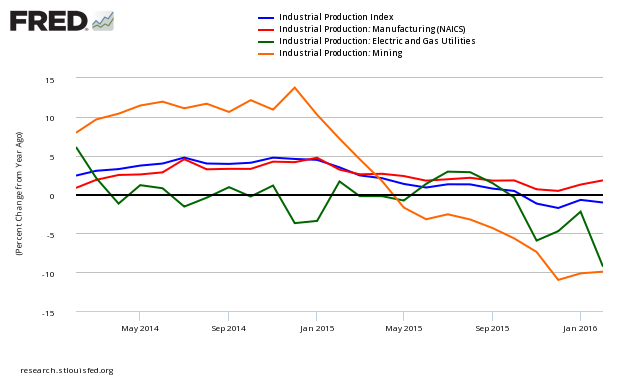 Unadjusted Industrial Production year-over-year growth for the past 2 years has been between 2% and 4% - it is currently in contraction.
Year-over-Year Change Total Industrial Production - Unadjusted (blue line) and the Unadjusted 3 month rolling average (red line)

z ip3.PNG
Economic downturns have been signaled by only watching the manufacturing portion of Industrial Production. Historically manufacturing year-over-year growth has been negative when a recession is imminent.
Seasonally Adjusted Manufacturing Index of Industrial Production - Year-over-Year Growth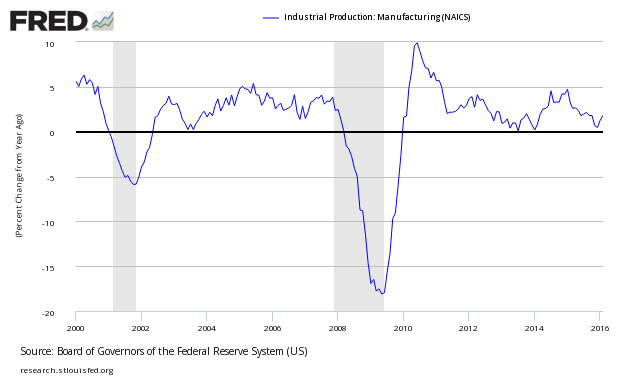 Improving rate of growth is good - but I am waiting for several more months before I believe the worst is past.
Other Economic News this Week:
The Econintersect Economic Index for March 2016 marginally improved but remains relatively weak. The index continues at one of the lowest values since the end of the Great Recession. It remains to be seen if this improvement is a reversal of the long term decline of our index since late 2014.
Current ECRI WLI Growth Index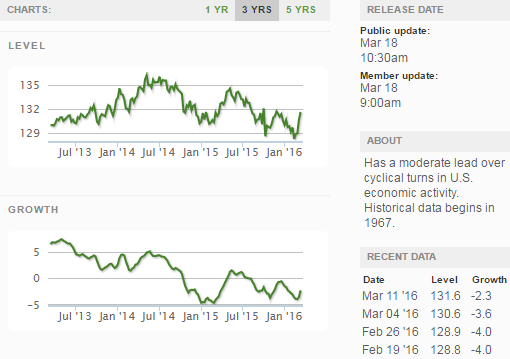 The market expectations (from Bloomberg) were 265,000 to 279,000 (consensus 270,000), and the Department of Labor reported 265,000 new claims. The more important (because of the volatility in the weekly reported claims and seasonality errors in adjusting the data) 4 week moving average moved from 267,250 (reported last week as 267,500) to 268,000. The rolling averages generally have been equal to or under 300,000 since August 2014.
Weekly Initial Unemployment Claims - 4 Week Average - Seasonally Adjusted - 2011 (red line), 2012 (green line), 2013 (blue line), 2014 (orange line), 2015 (violet line)

Bankruptcies this Week: ESP Resources (f/k/a/ Pantera Petroleum), Xenonics Holdings (Chapter 7), New Source Energy, Westech Capital (f/k/a Tejas)
Please visit our landing page for a summary of all of our analysis for this past week.
Disclosure: I/we have no positions in any stocks mentioned, and no plans to initiate any positions within the next 72 hours.