The headlines say the durable goods new orders declined. The unadjusted three month rolling average improved this month and now is in expansion. Our view of this data is that there was an improvement this month.
Econintersect Analysis:
unadjusted new orders growth accelerated 4.4 % (after accelerating an downwardly revised +1.5 % the previous month) month-over-month , and is up4.8 % year-over-year.
the three month rolling average for unadjusted new orders accelerated 0.8 % month-over-month, and up 1.3 % year-over-year.
Year-over-Year Change of 3 Month Rolling Average - Unadjusted (blue line) and Inflation Adjusted (red line)

Inflation adjusted but otherwise unadjusted new orders are up 2.3 % year-over-year.
The Federal Reserve's Durable Goods Industrial Production Index (seasonally adjusted) growth accelerating 0.4 % month-over-month, up 1.6 % year-over-year [note that this is a series with moderate backward revision - and it uses production as a pulse point (not new orders or shipments)] - three month trend is decelerating, and has been decelerating for a year..
Comparing Seasonally Adjusted Durable Goods Shipments (blue line) to Industrial Production Durable Goods (red line)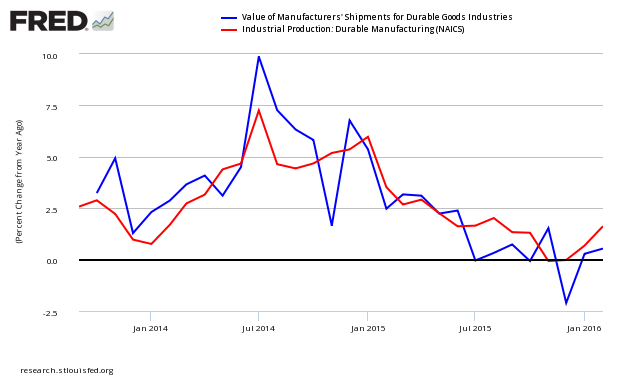 unadjusted backlog (unfilled orders) growth accelerated 0.1 % month-over-month, down 1.6 % year-over-year.
according to the seasonally adjusted data, most of the data was soft - but the main reason for all the decline was civilian and defense aircraft.
note this is labeled as an advance report - however, backward revisions historically are relatively slight.
new orders down 2.8 % month-over-month.
backlog (unfilled orders) increased 0.4 % month-over-month.
the market expected (from Bloomberg):
| | | | |
| --- | --- | --- | --- |
|   | Consensus Range | Consensus | Actual |
| New Orders - M/M change | -6.0 % to 0.2 % | -3.0 % | -2.8 % |
| Ex-transportation - M/M | -1.0 % to 0.8 % | -0.2 % | -1.0 % |
Both the Federal Reserve and Econintersect say the durable goods situation improved in February.
Other Economic News this Week:
The Econintersect Economic Index for March 2016 marginally improved but remains relatively weak. The index continues at one of the lowest values since the end of the Great Recession. It remains to be seen if this improvement is a reversal of the long term decline of our index since late 2014.
Current ECRI WLI Growth Index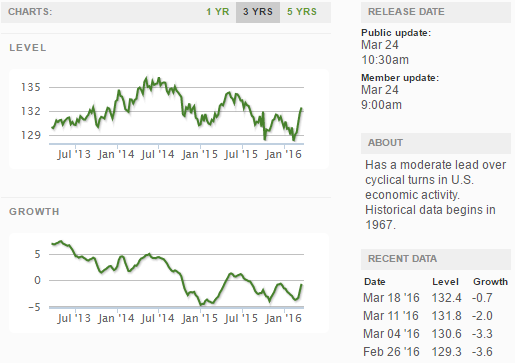 The market expectations (from Bloomberg) were 260,000 to 272,000 (consensus 268,000), and the Department of Labor reported 265,000 new claims. The more important (because of the volatility in the weekly reported claims and seasonality errors in adjusting the data) 4 week moving average moved from 259,500 (reported last week as 268,000) to 259,750. The rolling averages generally have been equal to or under 300,000 since August 2014.
Weekly Initial Unemployment Claims - 4 Week Average - Seasonally Adjusted - 2011 (red line), 2012 (green line), 2013 (blue line), 2014 (orange line), 2015 (violet line)

Bankruptcies this Week: Blue Earth and Blue Earth Tech, Emerald Oil, Quantum Fuel Systems Technologies Worldwide
Please visit our landing page for a summary of all our analysis this past week.
Disclosure: I/we have no positions in any stocks mentioned, and no plans to initiate any positions within the next 72 hours.