Retail sales improved according to US Census headline data. Our view is that this month's data was mixed, There was an improvement in the rolling averages - but growth this month was in the range we have seen for the last year.
Backward data revisions were generally up - however, this series underwent its annual revision this month, but the effect was almost unnoticeable (no change in trends or perceptions).
Econintersect Analysis:
unadjusted sales rate of growth decelerated 0.7 % month-over-month, and up 2.9 % year-over-year.
unadjusted sales 3 month rolling year-over-year average growth accelerated 0.7 % month-over-month, 4.5 % year-over-year.
Advance Retail Sales Year-over-Year Change - Unadjusted (blue line), Unadjusted with Inflation Adjustment (red line), and 3 Month Rolling Average of Unadjusted (yellow line)

/images/z retail1.png
unadjusted sales (but inflation adjusted) up 3.2 % year-over-year
this is an advance report. Please see caveats below showing variations between the advance report and the "final".
in the seasonally adjusted data - building materials, gasoline stores, and health / personal care stores were strong. Most everything else was weak.
seasonally adjusted sales up 1.3 % month-over-month, up 3.0 % year-over-year (last month was originally reported at 1.7 % year-over-year).
Year-over-Year Change - Unadjusted Retail Sales (blue line) and Inflation Adjusted Retail Sales (red line)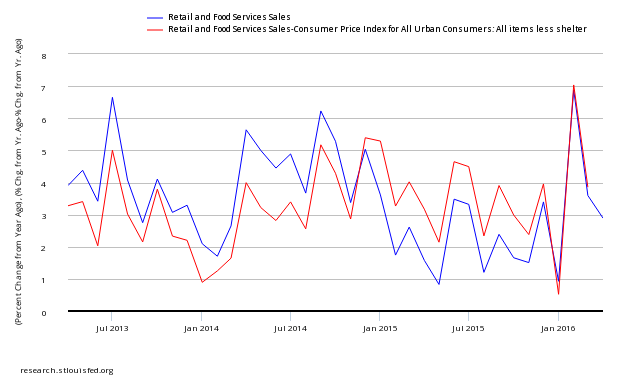 Retail sales per capita seems to be in a long term downtrend (but short term trends vary depending on periods selected - see graph below).
Year-over-Year Change - Per Capita Seasonally Adjusted Retail Sales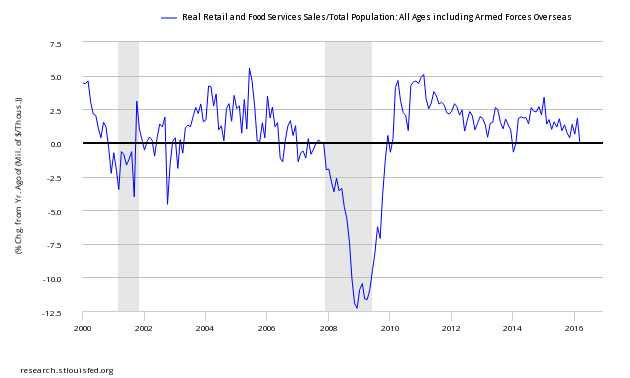 The differences between the headlines and Econintersect are due to differen approaches to seasonal adjustment (see caveats at the end of this post). Long and medium term trends always agree comparing the adjusted to the unadjusted data - it is the short term trends and month-over-month change where the conflict occurs.
Comparison of the Year-over-Year Census Seasonally Adjusted Retail Sales (blue line) and Econintersect's Unadjusted Retail Sales (red line)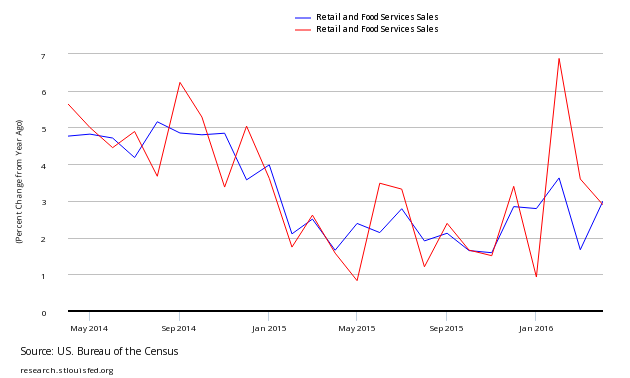 Declines of short duration often occur in the seasonally adjusted series without a recession resulting.
Retail and Food Services Sales - Seasonally Adjusted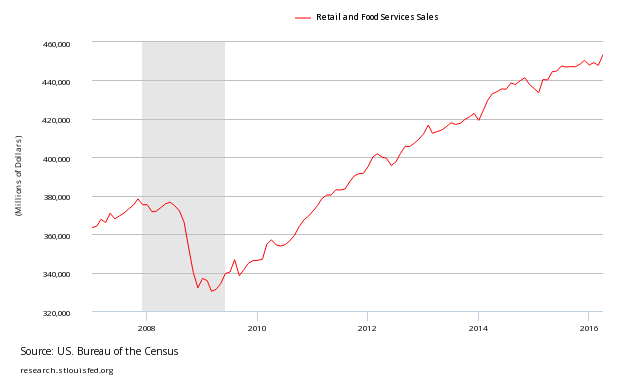 Using employment as a gauge to check growth, employment in retail has been growing.
Retail Employment - Total Seasonally Adjusted (blue line, left axis) and Year-over-Year Change Unadjusted (red line, right axis)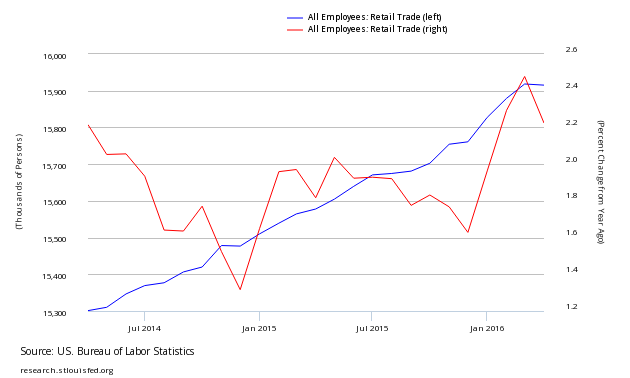 And finally, as retail sales can be a component of determining a recession start date, the zero line of the graph below could be an indicator a recession was underway (or about to begin).
Retail Sales - Recession Watch Graph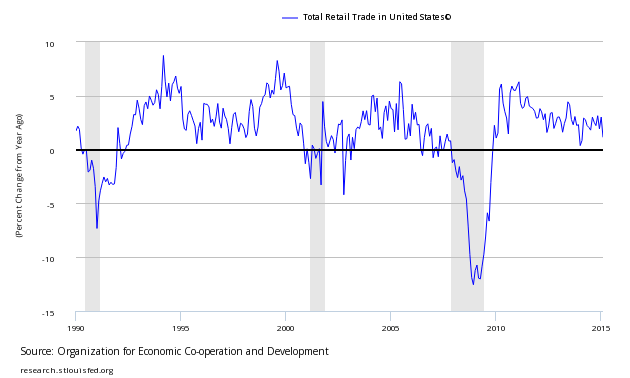 The bottom line is that retail sales are not great or not bad. Compared to the rest of the economy, it is stellar.
Other Economic News this Week:
The Econintersect Economic Index for April 2016 again insignificantly improved but remains relatively weak. The index continues near one of the lowest values since the end of the Great Recession. This marginal index improvement is due to data being compared against relatively soft data - both month-over-month and year-over-year. Our employment six month forecast is for slightly weaker employment growth for April - and the long term decline in the employment forecast remains in play.
Economic Cycle Research Institute (ECRI) Weekly Leading Index (WLI) Growth Index is now in positive territory and forecasting a marginally strengthening economy six months from now.
Current ECRI WLI Growth Index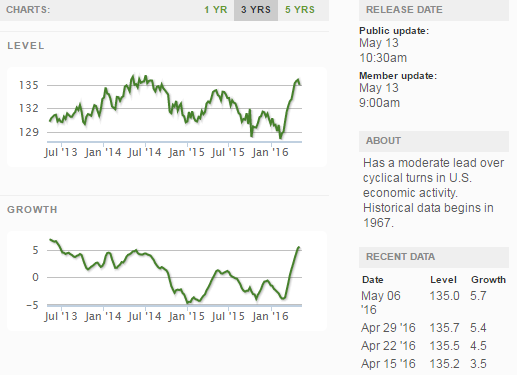 The market expectations for weekly initial unemployment claims (from Bloomberg) were 263,000 to 275,000 (consensus 267,000), and the Department of Labor reported 294,000 new claims. The more important (because of the volatility in the weekly reported claims and seasonality errors in adjusting the data) 4 week moving average moved from 258,000 (reported last week as 258,000) to 268,250. The rolling averages generally have been equal to or under 300,000 since August 2014.
Weekly Initial Unemployment Claims - 4 Week Average - Seasonally Adjusted - 2011 (red line), 2012 (green line), 2013 (blue line), 2014 (orange line), 2015 (violet line)

Bankruptcies this Week: Legend International Holdings, Chaparral Energy, LINN Energy, Penn Virginia
Please visit our landing page for a summary of all analysis this past week.
Disclosure: I/we have no positions in any stocks mentioned, and no plans to initiate any positions within the next 72 hours.