I like watching leading indices. They are all based on a differing set of criteria to forecast the economy six months or longer in advance. One in particular is forecasting strengthening economic growth.
The Chemical Activity Barometer (NYSE:CAB) expanded 1.0 percent in May following a revised 0.8 percent increase in April and 0.1 percent increase in March. All data is measured on a three-month moving average (3MMA).
Accounting for adjustments, the CAB remains up 2.3 percent over this time last year, a marked deceleration of activity from one year ago when the barometer logged a 2.7 percent year-over-year gain from 2014. On an unadjusted basis the CAB jumped 0.3 percent in May, following a solid 1.7 percent gain in April.
The Chemical Activity Barometer has four primary components, each consisting of a variety of indicators: 1) production; 2) equity prices; 3) product prices; and 4) inventories and other indicators.
In May, all four categories for the CAB improved for the second month in a row. Production-related indicators were positive, with improvement in plastic resins used in packaging and trends in construction-related resins, pigments and related performance chemistry still hinting at an ongoing strengthening of the housing sector.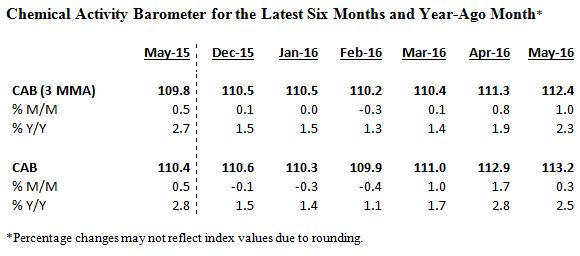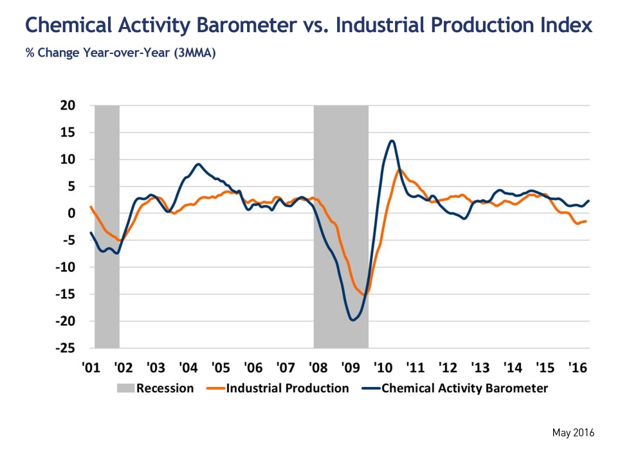 This chemical barometer is ticking up but NOT showing a significant change yet in growth. We can only hope ....
Other Economic News this Week:
The Econintersect Economic Index for May 2016 marginally dropped into contraction. The index is at the lowest value since the end of the Great Recession. Is this a recession warning? This index is not designed to guess GDP - or the four horsemen used by the NBER to identify recessions (industrial production, business sales, employment and personal income). It is designed to look at the economy at main street level. A general concern is that current data is being compared against relatively soft historical data - both month-over-month and year-over-year. The current data should be showing more comparative strength. At this point in time - I believe it is possible, but not probable, that a USA recession is either underway or will soon occur. The data which comprises elements of GDP are VERY weak but not yet recessionary - and there is little in the data yet to suggest a further drop in trends. Most major GDP elements are flat (the rate of growth is not changing), or there is a slight upward bias in the trend lines.
Economic Cycle Research Institute (ECRI) Weekly Leading Index (WLI) Growth Index is now in positive territory and forecasting a marginally strengthening economy six months from now.
Current ECRI WLI Growth Index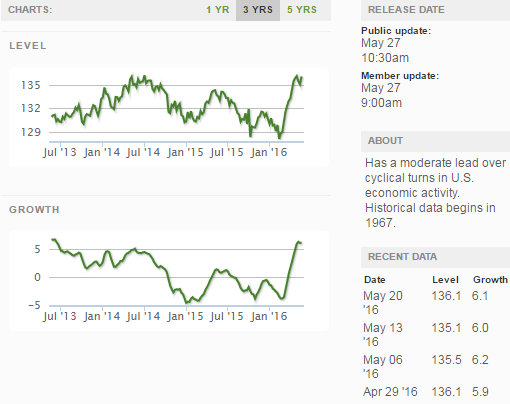 The market expectations for weekly initial unemployment claims (from Bloomberg) were 263,000 to 275,000 (consensus 267,000), and the Department of Labor reported 294,000 new claims. The more important (because of the volatility in the weekly reported claims and seasonality errors in adjusting the data) 4 week moving average moved from 258,000 (reported last week as 258,000) to 268,250. The rolling averages generally have been equal to or under 300,000 since August 2014.
Weekly Initial Unemployment Claims - 4 Week Average - Seasonally Adjusted - 2011 (red line), 2012 (green line), 2013 (blue line), 2014 (orange line), 2015 (violet line)

Bankruptcies this Week: Privately-held Intervention Energy Holdings, Perseon (f/k/a BSD Medical)
Please visit our landing page for all of our analysis this week.
Disclosure: I/we have no positions in any stocks mentioned, and no plans to initiate any positions within the next 72 hours.