I will never understand the markets love for the BLS jobs report - it is a rear view of the economy whilst the markets are supposedly forward looking.
Even so, soft employment data in general was expected - and will continue into the near future. Both Econintersect and The Conference Board have been forecasting slowing growth for a long time.
The reason? The fundamentals which lead jobs growth are in a long term decline.
Comparing BLS Non-Farm Employment YoY Improvement (blue line, left axis) with Econintersect Employment Index (red line, left axis) and The Conference Board ETI (yellow line, right axis)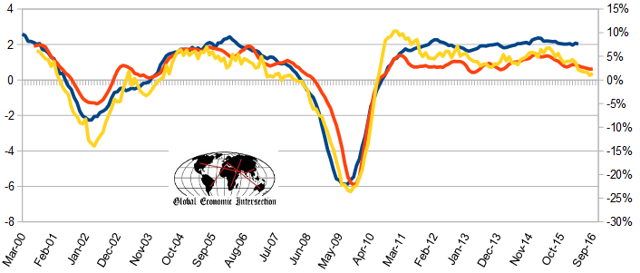 The Econintersect Jobs Index is based on economic elements which create jobs, and (explanation here) measures the historical dynamics which lead to the creation of jobs. It measures general factors, but it is not precise (quantitatively) as many specific factors influence the exact timing of hiring. This index should be thought of as a measurement of jobs creation pressures.
Further, even weekly hours worked have been in a long term decline.
Percent Change Year-over-Year Non-Farm Private Weekly Hours Worked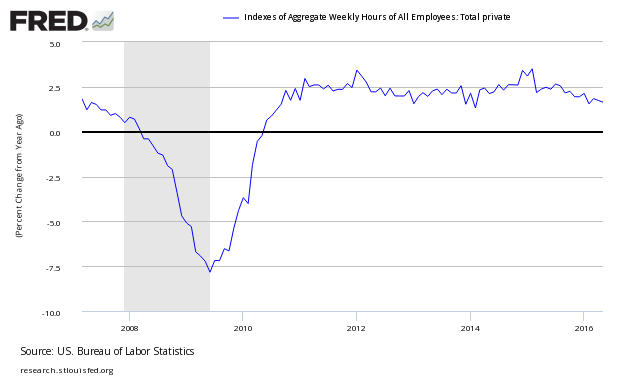 That said, there are employment economic markers which are headed towards a recessionary flag.
The truck employment was up 0.3K - but the year-over-year growth is approaching the zero growth line.
Truck Transport Employment - Year-over-Year Change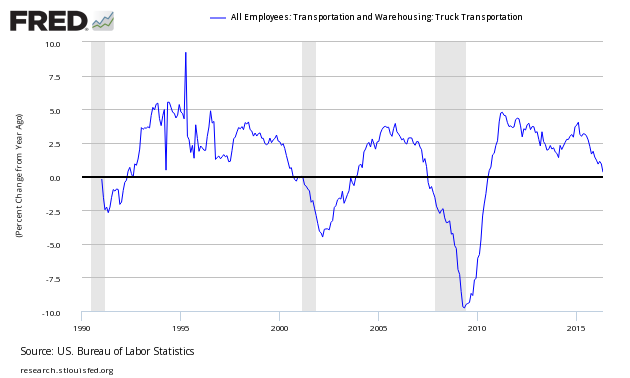 Temporary help fell 21K - and it too is headed towards the zero growth line.
Temporary Help Employment - Year-over-Year Change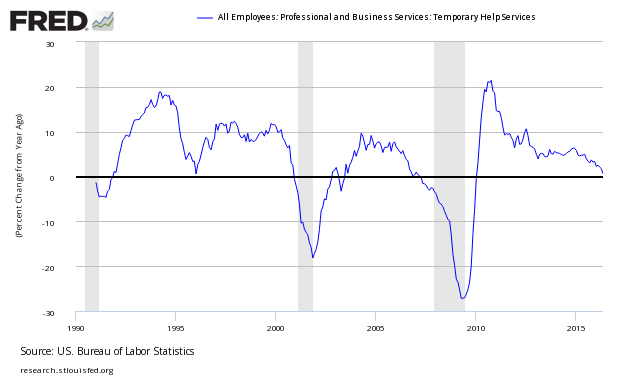 Econintersect believes the transport sector is a better forward indicator. Others look at temporary help as a forward indicator.
In summary - employment is now confirming the very weak economic growth we have been seeing.
Other Economic News this Week:
The Econintersect Economic Index for June 2016 marginally dropped into contraction. The index is at the lowest value since the end of the Great Recession. Note that an industrial output, non-monetary data set used to build the index has been swapped as the previous set became too volatile for accurate trending. Reflecting on the potential that a recession is underway (or soon to be underway) - I find the prospect unlikely (but not impossible). It is more likely the economic dynamics have slowed from "muddling along" to a "snails pace". The only group forecasting better economic growth is the self serving forecasts of the Federal Reserve - as well as the components of GDP which do not translate to a better world for those on Main Street. For the near future, one may need a microscope and a micrometer to measure any improvement, but further deterioration is needed to raise our assessment to probable that a recession has or soon will start.
Bankruptcies this Week: Vertellus SpecialtiesVertellus, UCI Holdings Limited, Warren Resources
Please visit our landing page to view all of our analysis this past week.
Disclosure: I/we have no positions in any stocks mentioned, and no plans to initiate any positions within the next 72 hours.