One data release this past weeks had relatively positive headlines - wholesale. It seems the seasonally adjusted data said sales improved but inventories grew (and inventories have been at recession levels for a long time). Growing inventories are not good, but better sales is good.
Most of the data releases from US Census use a seasonal adjustment which is hard to understand. The point of monthly data is that one is supposed to show the variation month-to-month in rate of growth - then one smoothes the data out by averaging because all data is noisy. Census seems to smooth the monthly data.
Our analysis shows an improving trend of the 3 month averages but we see deceleration with this month's data.
Note that Econintersect analysis is based on the change from one year ago.Econintersect Analysis:
unadjusted sales rate of growth decelerated 5.9 % month-over-month.
unadjusted sales year-over-year growth is down 5.3 % year-over-year
unadjusted sales (but inflation adjusted) down 4.9 % year-over-year
the 3 month rolling average of unadjusted sales accelerated 0.6 % month-over-month, and down 1.3 % year-over-year.
Year-over-Year Sales - Unadjusted (blue line), Unadjusted but Inflation Adjusted (red line), 3 month Rolling Averages (yellow line)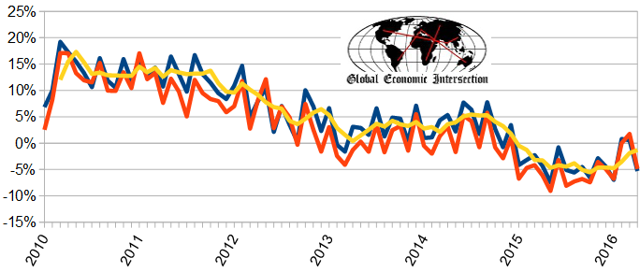 unadjusted inventories up 0.9 % year-over-year (up 0.6 % month-over-month), inventory-to-sales ratio is 1.37 which is historically is at recessionary levels.
US Census Headlines based on seasonally adjusted data:
sales up 1.0 % month-over-month, down 2.6 % (last month was reported down 0.2 %) year-over-year
inventories up 0.6 % month-over-month, inventory-to-sales ratios were 1.31 one year ago - and are now 1.35.
the market (from Bloomberg) expected inventory month-over-month change between -0.1 % to 0.3 % (consensus +0.1 %) versus the +0.6 % reported.
Wholesale Sales - Unadjusted - $ Millions

Wholesale sales were at record highs for almost two years - until 2015 where they contracted year-over-year (and the contraction continues). Overall, the inventory-to-sales ratios (a rising ratio is an indicator of economic slowing) was high relative to past Aprils.
Unadjusted Inventory-to-Sales Ratio (blue line - left axis), Year-over-Year Change (red line - right axis)

Year-over-year change in the inventory-to-sales ratio is what is important. A jump in the ratio which could indicate a slowing economy (one month of data is not a trend). A flat trend would indicate an economy which was neither accelerating or decelerating. A decelerating trend would indicate an improving economy. Since mid-2014 there has been a general deterioration of the inventory-to-sales ratio indicating a slowing economy.
It seems the trend line for inventories is no longer worsening - and likely is improving. One can only hope.
Other Economic News this Week:
The Econintersect Economic Index for June 2016 marginally dropped into contraction. The index is at the lowest value since the end of the Great Recession. Note that an industrial output, non-monetary data set used to build the index has been swapped as the previous set became too volatile for accurate trending. Reflecting on the potential that a recession is underway (or soon to be underway) - I find the prospect unlikely (but not impossible). It is more likely the economic dynamics have slowed from "muddling along" to a "snails pace". The only group forecasting better economic growth is the self serving forecasts of the Federal Reserve - as well as the components of GDP which do not translate to a better world for those on Main Street. For the near future, one may need a microscope and a micrometer to measure any improvement, but further deterioration is needed to raise our assessment to probable that a recession has or soon will start.
Bankruptcies this Week: Hercules Offshore, Seventy Seven Energy
Please visit our landing page for all our analysis this past week.