Pundits have pointed to the improvement in residential buildings starts this past week which came in above expectations. Starts may be a good metric for GDP watchers - but it tells you little about the state of the sector.
This data set is very volatile, can have significant backward revision, - and not averaging the data will give you the wrong answers. Also, the key elements to look at in this dataset are building permits and construction completions. For this sector to be expanding, building permits must remain above construction completions.
The unadjusted rate of annual growth for building permits in the last 12 months has been around 10% - it is a -3.0 % this month.
Construction completions are lower than permits this month for the 17th month in a row (when permits exceed completions - this sector should beaccelerating).
Unadjusted 3 month rolling averages for permits (comparing the current averages to the averages one year ago) is -0.3 % (permits) and 7.3 % (construction completions):
3 month Rolling Average for Year-over-Year Growth Unadjusted Data
| | | |
| --- | --- | --- |
|   | Building Permits | Construction Completions |
| Current Movement | decelerating | decelerating |
Unadjusted 3 Month Rolling Average of Year-over-Year Growth - Building Permit (blue line) and Construction Completions (red line)

Econintersect Analysis:
Building permits growth accelerated 1.9 % month-over-month, and is down3.0 % year-over-year.
Single family building permits grew 10.1 % year-over-year.
Construction completions accelerated 1.7 % month-over-month, down 3.3 % year-over-year.
building permits up 0.7 % month-over-month, down 10.1 % year-over-year
construction completions up 5.1 % month-over-month, down 3.5 % year-over-year.
Note that Econintersect analysis herein is based on UNADJUSTED data - not the headline seasonally adjusted data.
When more building permits are issued than residences completed - the industry is expanding - and this expansion was underway for three years (except for the last two months in 2014). In the graph below, any value above zero shows more permits are being issued than completions.
Difference Between New Home Building Permits and Construction Completions (unadjusted)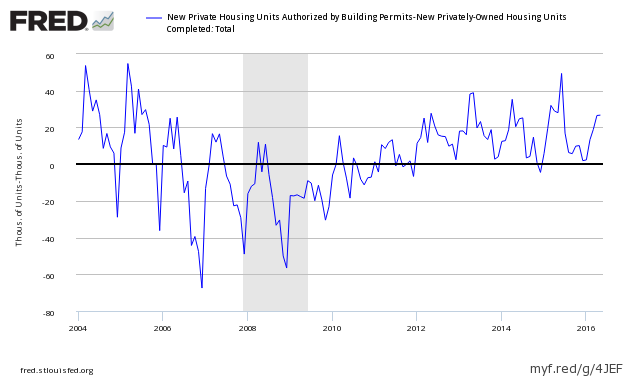 Although the data is noisy - it appears that the trend currently is decelerating growth.
Unadjusted Year-over-Year Change New Homes - Permits (blue line) and Construction Completions (red line)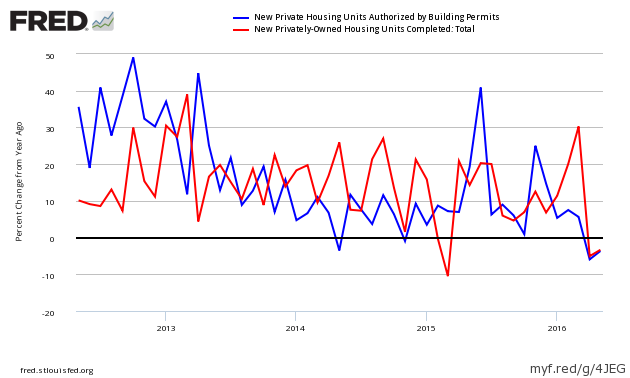 Other points to take away from the data:
Before we start thinking all is well, the residential home industry is about half of the pre-2005 peak.
Seasonally Adjusted Residential Building Permits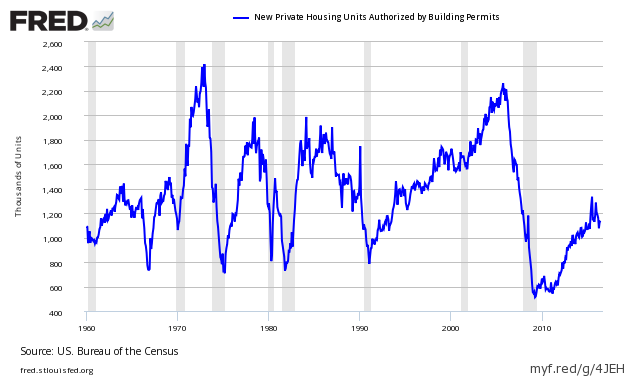 Apartment permits (structures with 5 or more units) contracted 22.9 % year-over-year. Apartments accounted for 29.2 % of all building permits.
Unadjusted Ratio Apartment Permits (structures with 5 or more units) to Total Permits - higher number means more Apartments
It is the obvious deceleration in multifamily which makes you wonder. I find little that confirms good news in this sector.
Other Economic News this Week:
The Econintersect Economic Index for June 2016 marginally dropped into contraction. The index is at the lowest value since the end of the Great Recession. Note that an industrial output, non-monetary data set used to build the index has been swapped as the previous set became too volatile for accurate trending. Reflecting on the potential that a recession is underway (or soon to be underway) - I find the prospect unlikely (but not impossible). It is more likely the economic dynamics have slowed from "muddling along" to a "snails pace". The only group forecasting better economic growth is the self serving forecasts of the Federal Reserve - as well as the components of GDP which do not translate to a better world for those on Main Street. For the near future, one may need a microscope and a micrometer to measure any improvement, but further deterioration is needed to raise our assessment to probable that a recession has or soon will start.
Bankruptcies this Week: Privately-held Gawker Media, Privately-held MovieStop, Diadexus (f/k/a VaxGen - Chapter 7)
Please visit our landing page for a summary of all of our analysis this past week.
Disclosure: I/we have no positions in any stocks mentioned, and no plans to initiate any positions within the next 72 hours.