The third estimate of second quarter 2016 Real Gross Domestic Product (NYSEMKT:GDP) was revised upward to 1.4 %. Getting real, the economy grew because the population grew - per capita GDP hardly grew. There is little good news in this third release except this slight improvement in GDP from the second to third estimate may be showing slight economic acceleration.
The market expected:
Seasonally Adjusted Quarter-over-Quarter Change at annual rate
Consensus Range
Consensus
Advance Actual
2nd
Estimate Actual
3rd
Estimate Actual
Real GDP
1.1 % to 1.5 %
+1.3 %
+1.2 %
+1.1 %
+1.4 %
GDP price index
2.3 % to 2.3 %
+2.3 %
+2.2 %
+2.4 %
+2.1 %
Headline GDP is calculated by annualizing one quarter's data against the previous quarters data (and the previous quarter was relatively strong in this instance). A better method would be to look at growth compared to the same quarter one year ago. For 2Q2016, the year-over-year growth is 1.3 % (up from the 1.2% in second estimate) - moderately down from the 1Q2016's 1.6 % year-over-year growth. So one might say that the rate of GDP growth decelerated 0.3% from the previous quarter.
Real GDP Expressed As Year-over-Year Change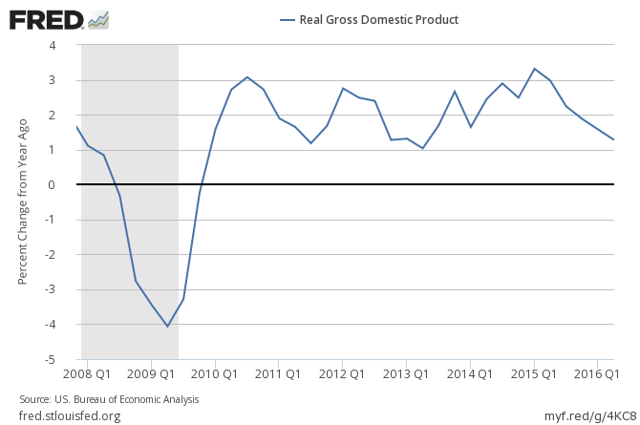 Real GDP is inflation adjusted and annualized - the economy was statistically unchanged on a per capita basis.
Real GDP per Capita
And on Friday, personal consumption expenditure headline data for August showed NO consumer expenditure growth. This is a negative for 3Q2016 GDP. Income growth was also anemic.
The trend lines for consumption expenditures keep moving around due to backward revision but the data this month was soft and expenditures were well below expectations, Year-over-year growth for both personal income and expenditures declined with expenditures now growing faster than income..
With consumer spending the only real engine in GDP, look for another downgrade of 3Q2016 GDP forecasts.
Other Economic News this Week:
The Econintersection Economic Index for October 2016 insignificantly declined with the economic outlook remaining weak. The index remains near the lowest value since the end of the Great Recession. Some sectors of the economy continue to give recession warning flags. Employment growth forecast indicates little change in the rate of growth.
Bankruptcies this Week: Rock Creek Pharmaceuticals (f/d/b/a Star Scientific and Eye Technology),Cosi
Please visit our landing page for a summary of all of our economic releases this past week.
Disclosure: I/we have no positions in any stocks mentioned, and no plans to initiate any positions within the next 72 hours.