Trade data headlines show the trade balance significantly worsened from last month. Our analysis paints an improving picture for trade using the rolling averages - however imports grew much more than exports.
Our monthly analysis using unadjusted data showed surprising growth in both exports and imports. But the data in this series wobbles and the 3 month rolling averages are the best way to look at this series. The 3 month averages are improving. The worsening of the trade balance does not bode well for 1Q2017 GDP.
Import goods growth has positive implications historically to the economy - and the seasonally adjusted goods and services imports were reported up month-over-month. Econintersect analysis shows unadjusted goods (not including services) growth accelerated 9.6 % month-over-month (unadjusted data) - up 12.0 % year-over-year (up 8.3 % year-over-year inflation adjusted). The rate of growth 3 month trend is improving (rate of change of growth is accelerating).
Exports of goods were reported up, and Econintersect analysis shows unadjusted goods exports growth acceleration of (not including services) 3.1 % month-over month - up 8.7 % year-over-year (up 6.4 % year-over-year inflation adjusted). The rate of growth 3 month trend is accelerating.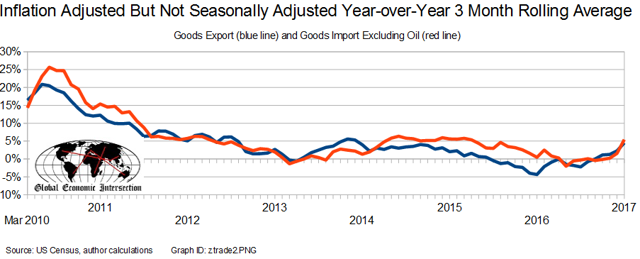 The improvement in seasonally adjusted (but not inflation adjusted) exports was attributed to industrial supplies. Import growth was due to consumer goods with some help from oil imports.
The market expected (from Bloomberg) a trade balance of $-49.4 B to $-45.0 B (consensus $48.5 billion deficit) and the seasonally adjusted headline deficit from US Census came in at $48.5 billion.
It should be noted that oil imports were up 20 million barrels from last month, and up 32 million barrels from one year ago.
The data in this series is noisy, and it is better to use the rolling averages to make sense of the data trends.
The headline data is seasonally but not inflation adjusted. Econintersect analysis is based on the unadjusted data, removes services (as little historical information exists to correlate the data to economic activity), and inflation adjusts. Further, there is some question whether this services portion of export/import data is valid in real time because of data gathering concerns. Backing out services from import and exports shows graphically as follows:
Inflation Adjusted But Not Seasonally Adjusted Year-over-Year Change Goods Export (blue line), Goods Import Excluding Oil (red line), and Goods Import with Oil (yellow line)

z trade1.PNG
Growing exports is a sign of an expanding global economy (or at least a sign of growing competitiveness).
Seasonally Adjusted Total Imports (blue line), Exports (red line) and Trade Balance (green line)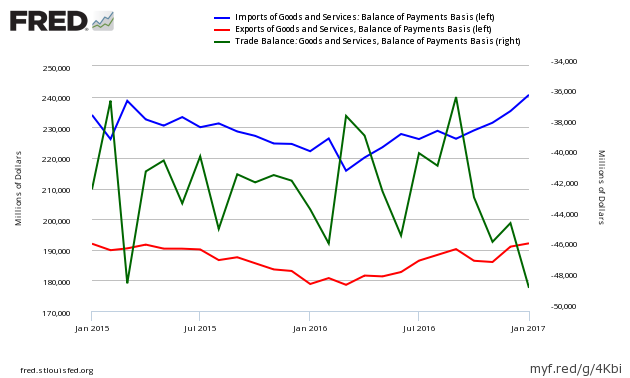 As the USA dollar is unique, I do not have a real concern over the trade balance - but growing trade is a positive sign for stronger economic growth.
Other Economic News this Week:
The Econintersect Economic Index for March 2017 improvement trend continues although the value remains in the territory of weak growth. The index remains below the median levels seen since the end of the Great Recession. The data continues to suggest better dynamics in the future. Six-month employment growth forecast indicates modest improvement in the rate of growth.
Bankruptcies this Week from bankruptcydata.com: Answers (a/k/a Answers.com, Multiply Media and Answers.com), hhgregg, Privately-held General Wireless Operations (d/b/a RadioShack)
Please visit our landing page to view a summary of all of our analysis this past week.
Disclosure: I/we have no positions in any stocks mentioned, and no plans to initiate any positions within the next 72 hours.