The headline data this month showed improved consumer income - however expenditures were weak. [note Sentier released median income data which showed income up 1% from January.]
Personal consumption has been the major driver of GDP since the end of the Great Recession. Inflation however, is dragging down the nominal numbers - and year-over-year consumption continues to outpace income growth. Remember these are average numbers - not median. The rate of growth of consumption is slowing which does not bode well for 1Q2017 GDP. On the bright side, this is a corrrection as consumption has outpaced income growth recently which historically the two have remained in balance.
The monthly fluctuations are confusing. Looking at the inflation adjusted 3 month trend rate of growth, disposable income growth rate trend is improving while consumption's growth rate is worse.
Real Disposable Personal Income is up 2.3 % year-over-year (published 2.0 % last month - now revised to 2.1 %), and real consumption expenditures is up 2.6 % year-over-year (published 2.8 % last month - now revised to 3.0 %)
this data is very noisy and as usual includes moderate backward revision - this month the changes modified the year-over-year trends.
The third estimate of 4Q2016 GDP indicated the economy was expanding at 2.1 % (quarter-over-quarter compounded). Expenditures are counted in GDP, and income is ignored as GDP measures the spending side of the economy. However, over periods of time - consumer income and expenditure grow at the same rate.
The savings rate continues to be low historically, and was up 0.2 % to 5.6 % this month.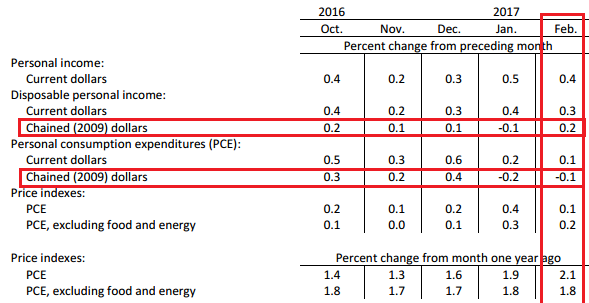 The inflation adjusted income and consumption are "chained", and headline GDP is inflation adjusted. This means the impact to GDP is best understood by looking at the chained numbers. Econintersect believes year-over-year trends are very revealing in understanding economic dynamics.
Per capita inflation adjusted expenditure has exceeded the pre-recession peak.
Seasonally and Inflation Adjusted Expenditure Per Capita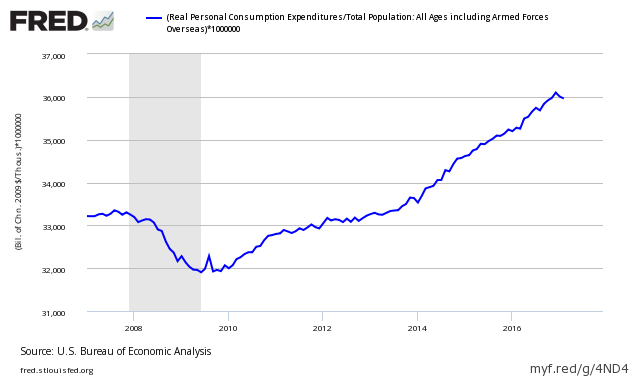 The graph below illustrates the relationship between income (DPI) and expenditures (PCE) - showing clearly income and expenditures grow at nearly the same rate over time.
Indexed to Jan 2000, Growth of Real Disposable Income (blue line) to Real Expenditures (red line)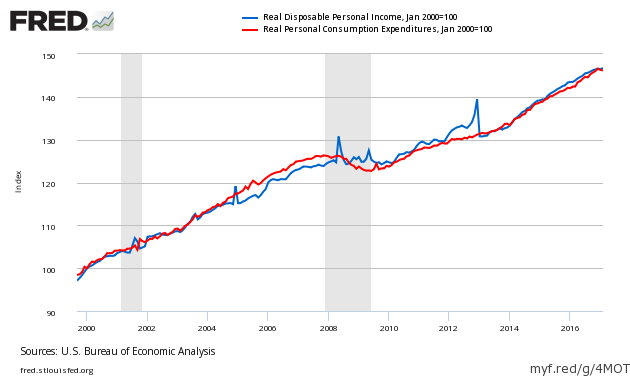 The short term trends are mixed depending on the periods selected - but spending remains historically elevated. The gap between income and expenditures is closing, but expenditures remain elevated. A spending slowdown is in the cards which is not good news for those who see GDP as a measure of a country's health.
Please visit our landing page to view all of our analysis this past week.
Disclosure: I/we have no positions in any stocks mentioned, and no plans to initiate any positions within the next 72 hours.