The headline residential building slowed. Our analysis is mixed. The real issue is how you look at this data set, and over what period of time you look at the data. My view is that there is a general improvement trend that began at some point last year.
The backward revisions this month were significant.The nature of this industry normally has large variations from month to month (mostly due to weather) so the rolling averages are the best way to view this series - and it shows permits growing, and completions also growing. The strength this month is single family permits with multifamily pulling the data down..
Looking at residential construction employment, the year-over-year growth of employment is almost correlating with housing starts.

The unadjusted rate of annual growth for building permits in the last 12 months has been around 10% - it is +3.2 % this month.
Construction completions are LOWER than permits - which indicates growth.
Unadjusted 3 month rolling averages for permits (comparing the current averages to the averages one year ago) is +10.5 % (permits) and +10.4 % (construction completions):
3 month Rolling Average for Year-over-Year Growth Unadjusted Data
| | | |
| --- | --- | --- |
|   | Building Permits | Construction Completions |
| Current Movement | decelerating | accelerating |

Econintersect Analysis:
Building permits growth decelerated 11.9 % month-over-month, and is up 3.2 % year-over-year.
Single family building permits is up 1.0 % year-over-year.
Construction completions decelerated 4.8 % month-over-month, up 14.1 % year-over-year.
building permits down 2.5 % month-over-month, up 5.7 % year-over-year
construction completions down 8.6 % month-over-month, up 15.1 % year-over-year.
the market expected (from Bloomberg / Econoday):
| | | | |
| --- | --- | --- | --- |
| Annual Rates | Consensus Range | Consensus | Actual |
| Housing Starts | 1.215 M to 1.290 M | 1.256 M | 1.172 M |
| Housing Permits | 1.255 M to 1.290 M | 1.271 M | 1.229 M |
Note that Econintersect analysis herein is based on UNADJUSTED data - not the headline seasonally adjusted data.
When more building permits are issued than residences completed - the industry is expanding - and this expansion was underway for three years (except for the last two months in 2014). In the graph below, any value above zero shows more permits are being issued than completions.
Difference Between New Home Building Permits and Construction Completions (unadjusted)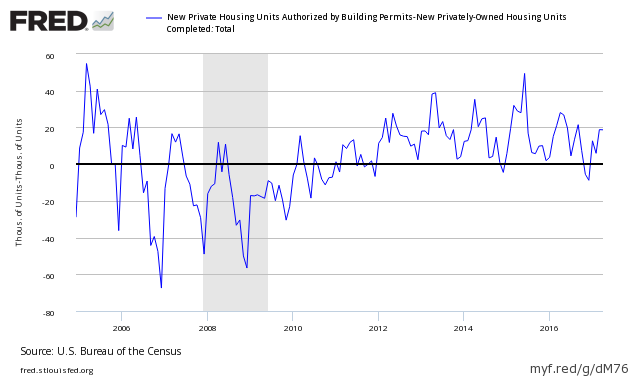 Although the data is noisy - the trends vary depending on the periods selected.
Some believe that it is more accurate to use housing starts as the gauge for the health of this sector as not all permitted residences are eventually built (which is true). But if you use the data for forecasting the health of this sector, you will note that the correlations between construction and permits or starts are similar - and permits give an earlier signal for the health of this sector.
Other Economic News this Week:
The Econintersect Economic Index for May 2017 improvement trend continues - and the index is now forecasting normal growth for the first time since early 2015. Six-month employment growth forecast indicates modest improvement in the rate of growth.
Bankruptcies this Week from bankruptcydata.com: Katy Industries, rue21, GulfMark Offshore, Tidewater
Please visit our landing page for all of our analysis this past week.
Disclosure: I/we have no positions in any stocks mentioned, and no plans to initiate any positions within the next 72 hours.