The advance estimate of third quarter 2017 Real Gross Domestic Product (GDP) is a positive 3.0 %. This growth is marginally worse than the previous quarter's 3.1 % if one looks at quarter-over-quarter headline growth.Year-over-year growth improved modestly so one could say economic growth was better.

The consumer spending declined. I am not a fan of quarter-over-quarter exaggerated method of measuring GDP - but my year-over-year preferred method showed moderate acceleration from last quarter.
The market expected (from Bloomberg / Econoday):
| | | | |
| --- | --- | --- | --- |
| Seasonally Adjusted Quarter-over-Quarter Change at annual rate | Consensus Range | Consensus | Actual |
| Real GDP | 1.9 % to 2.9 % | 2.5 % | +3.0 % |
| GDP price index | 1.5 % to 1.9 % | 1.6 % | +2.2 % |
| Real Consumer Spending - Q/Q change | 1.8 % to 2.7 % | 2.2 % | +2.4 % |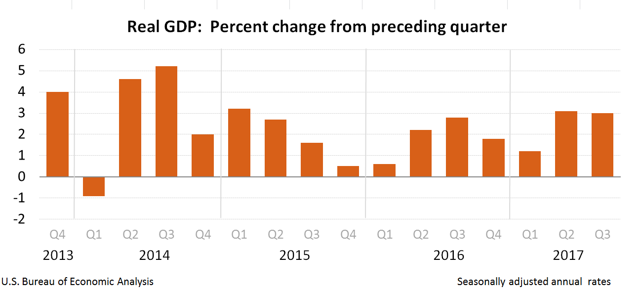 Consider:
This advance estimate released today is based on source data that are incomplete or subject to further revision. (See caveats below.) Please note that historically advance estimates have turned out to be little more than wild guesses.
Headline GDP is calculated by annualizing one quarter's data against the previous quarters data. A better method would be to look at growth compared to the same quarter one year ago. For 3Q2017, the year-over-year growth is now 2.3 % - up marginally from 2Q2017's 2.2 % year-over-year growth. So one might say that the rate of GDP growth improved from the previous quarter.
Real GDP Expressed As Year-over-Year Change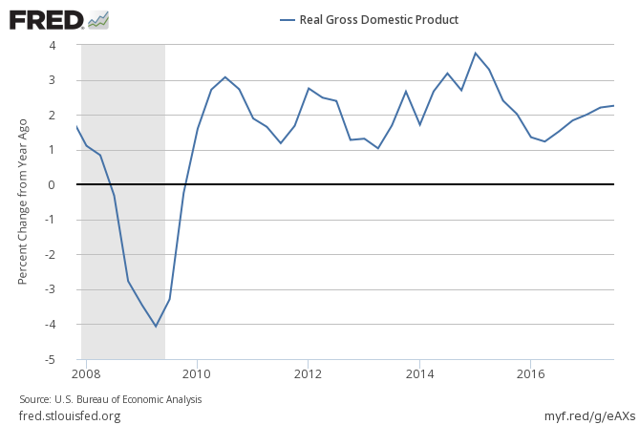 The same report also provides Gross Domestic Income which in theory should equal Gross Domestic Product. Some have argued the discrepancy is due to misclassification of capital gains as ordinary income - but whatever the reason, there are differences.
Real GDP (blue line) Vs. Real GDI (red line) Expressed As Year-over-Year Change

Real GDP is inflation adjusted and annualized - and Real GDP per capita remains on a general upward trend.
Real GDP per Capita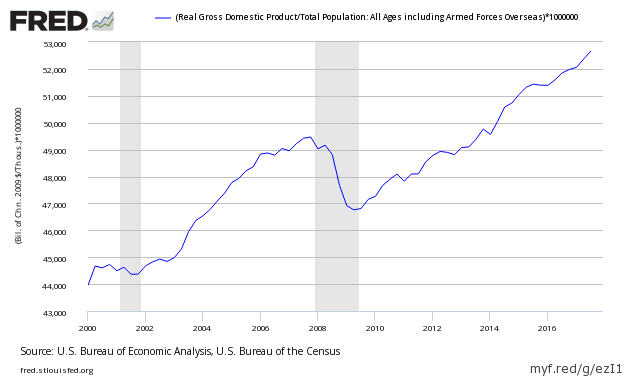 The table below compares the previous quarter estimate of GDP (Table 1.1.2) with the advance estimate this quarter which shows:
consumption for goods and services improved adding 1.6% to GDP.
trade balance improved adding 0.4 % to GDP
inventory change added 0.7 % to GDP
fixed investment growth added 0.3 % to GDP
federal spending insignificantly decline
The following is Table 1.1.2 before the annual revision: [click to enlarge]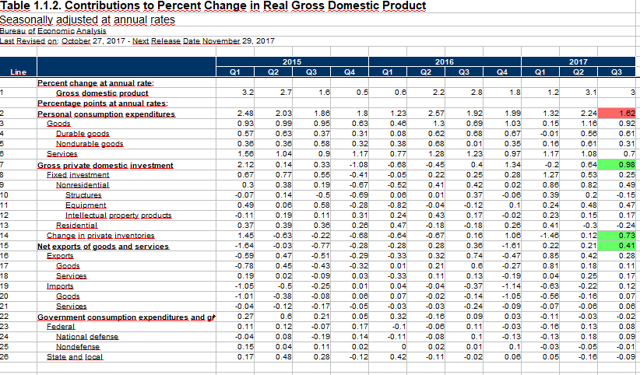 For a complete analysis [here].
Other Economic News this Week:
The Econintersect Economic Index for November 2017 returned to the range of normal growth after last month's brief dip. Still, the economic fundamentals are somewhat chaoic. Six-month employment growth forecast is now indicating slowing growth.
Bankruptcies this Week from bankruptcydata.com: Rooster Energy, Privately-held Think Finance, Privately-held M & G Polymers USA
Visit our landing page for a complete summary of all of our analysis this past week.


Disclosure: I/we have no positions in any stocks mentioned, and no plans to initiate any positions within the next 72 hours.