The headlines say the durable goods new orders improved. Our analysis shows the rolling averages continued its decline.
In the adjusted data, the major strength was civilian aircraft. This series has wide swings monthly so our primary metric is the unadjusted three-month rolling average - which declined. The rate of growth of the rolling averages is below the values seen over the last year.
Note that inflation-adjusted new orders are deep in contraction.
Econintersect Analysis:
unadjusted new orders growth decelerated 1.2 % (after decelerating 3.5 % the previous month) month-over-month and are down 4.5 % year-over-year.
the three month rolling average for unadjusted new orders decelerated 1.6 % month-over-month, and down 2.6 % year-over-year.
Year-over-Year Change of 3 Month Rolling Average - Unadjusted (blue line) and Inflation Adjusted (red line)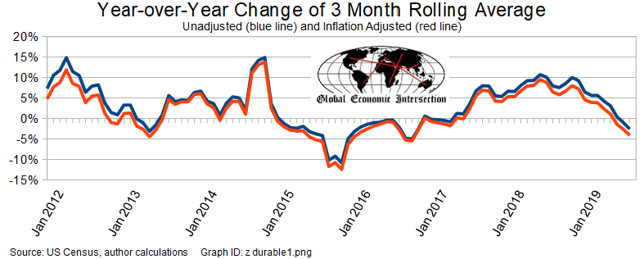 z durable1.png
Inflation-adjusted but otherwise unadjusted new orders are down 6.0 % year-over-year.
Backlog (unfilled orders) decelerated 1.2 % month-over-month and is down 0.5 % year-over-year.
The Federal Reserve's Durable Goods Industrial Production Index (seasonally adjusted) growth up 0.4 % month-over-month, up 1.4 % year-over-year [note that this is a series with moderate backward revision - and it uses production as a pulse point (not new orders or shipments)] - the three-month trend is accelerating.
Comparing Seasonally Adjusted Durable Goods Shipments (blue line) to Industrial Production Durable Goods (red line)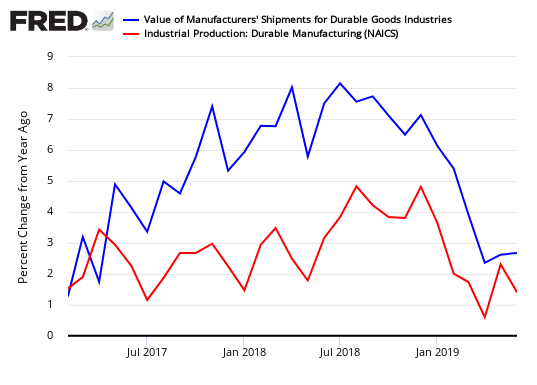 note this is labeled as an advance report - however, backward revisions historically are relatively slight.
new orders up 2.0 % month-over-month.
backlog (unfilled orders) down 0.7 % month-over-month.
Note that year-to-date new order growth is now 0.0 % over 2018. Unfilled order year-to-date growth is -0.5 %.
the market expected (from Econoday):
| | | | |
| --- | --- | --- | --- |
| | Consensus Range | Consensus | Actual |
| New Orders - M/M change | -1.5 % to 2.2 % | +0.7 % | +2.0 % |
| Ex-transportation - M/M | 0.0 % to 0.5 % | +0.2 % | +1.2 % |
| Core capital goods - M/M change | 0.0 % to 0.3 % | +0.2 % | +1.9 % |
Durable Goods sector is the portion of the economy which provides products which have a utility over long periods of time before needing repurchase - like cars, refrigerators, and planes.
Econintersect concentrates on new orders as it is the entry point for future production - and somewhat intuitive economically.
Indexed and Unadjusted Durable Goods New Orders - Orders (blue line) and Orders Minus Transports (red line)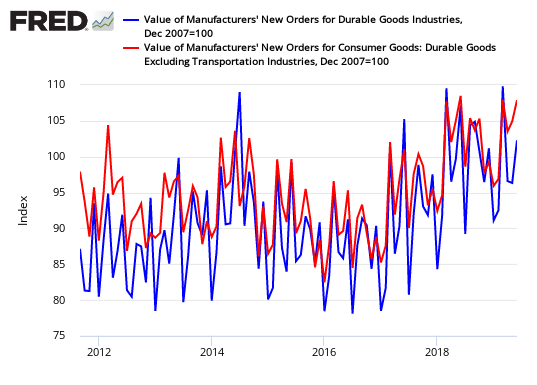 The long term trend is improving.
For unfilled orders (graph below), the growth trend (red line in the graph below) is decelerating.
Unadjusted Durable Goods Unfilled Orders - Current Value (blue line, left axis) and Year-over-Year Change (red line, right axis)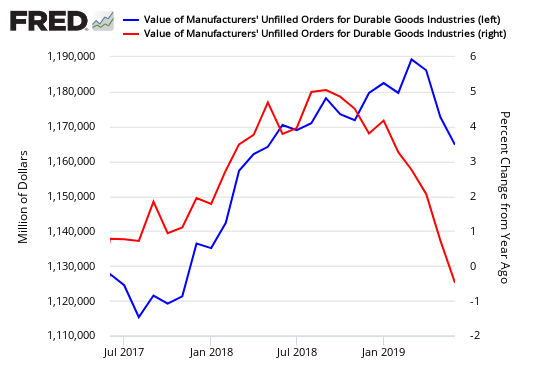 To visualize the drivers of durable goods - the chart below shows transport (mostly aircraft is the volatile element in durable goods.
Unadjusted Durable Goods New Orders Year-over-Year Growth - Consumer Goods less transport (blue line), All Durable Goods (green line), and Transport (red line)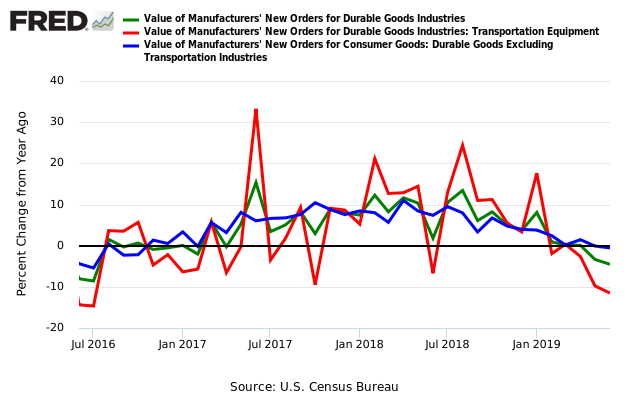 One final look at the Durable Goods data in our search for a slowing economy is for inventory buildup. Although this series is noisy, it appears inventory levels are currently marginally elevated.
Unadjusted Inventory to Sales Ratio
Please visit our landing page for a summary of all of our analysis this past week.
Disclosure: I/we have no positions in any stocks mentioned, and no plans to initiate any positions within the next 72 hours.