A simple summary of the headlines for this release is that productivity growth slowed and labor cost growth was completely revised and is now growing faster than productivity.
The overall view this quarter is that productivity is up 1.8 % from the same quarter one year ago (last quarter productivity was up a revised 2.3 %), while unit costs are up 2.5 % (last quarter labor costs were up a revised 2.4 %).
Consider that GDP per capita is NOT growing year-over-year if one eliminates transfer payments. This down and dirty view suggest there is little productivity growth.
Note the following from the BLS:
Measures of output for the business, nonfarm business, and nonfinancial corporate sectors, and measures of compensation for all sectors incorporate revised National Income and Product Accounts (NIPA) data for first-quarter 2014 through first-quarter 2019 released on July 26 by the Bureau of Economic Analysis (BEA), U.S. Department of Commerce. As a result, all measures incorporating output and compensation were revised, including labor productivity and unit labor costs. Current dollar output and the implicit price deflators for the business and nonfarm business sectors were also subject to further revisions back to 1947 due to rounding. Measures of output for the manufacturing sectors incorporate regular updates of source data for the first quarter of 2019 and the fourth quarter of 2018.
The market was expecting from Econoday:
| | | | | |
| --- | --- | --- | --- | --- |
| seasonally adjusted quarter-over-quarter at an annual rate | Consensus Range | Consensus | Preliminary Actual | Final Actual |
| Nonfarm productivity | 0.7 % to 2.5 % | +1.5 % | +2.3 % | |
| Unit labor costs | +0.2 % to 2.8 % | +2.0 % | +2.4 % | |
Please note that the following graphs are for a sub-group of the report nonfarm > business.
Seasonally Adjusted Year-over-Year Change in Output of Business Sector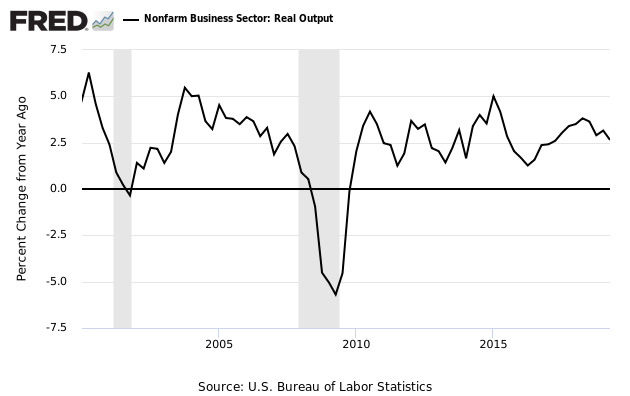 Seasonally Adjusted Year-over-Year Change of Output per Hour for the Business Sector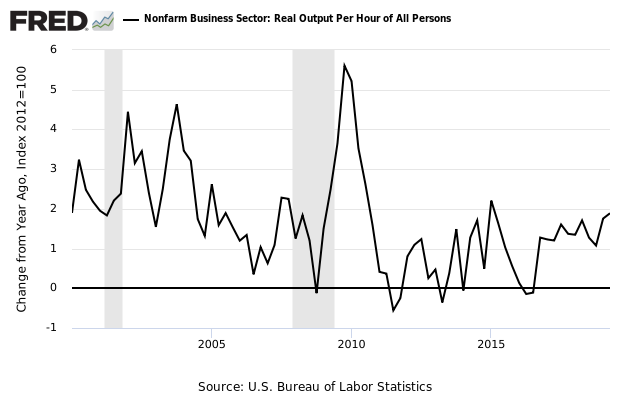 All this is happening while business sector unit labor costs are growing.
Seasonally Adjusted Year-over-Year Rate of Change of Unit Labor Costs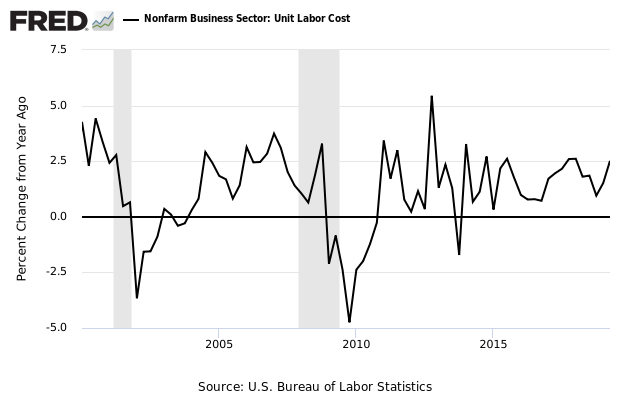 The headlines from the press release:
Nonfarm business sector labor productivity increased 2.3 percent in the second quarter of 2019, the U.S. Bureau of Labor Statistics reported today, as output increased 1.9 percent and hours worked decreased 0.4 percent. (All quarterly percent changes in this release are seasonally adjusted annual rates.) From the second quarter of 2018 to the second quarter of 2019, productivity increased 1.8 percent, reflecting a 2.6-percent increase in output and a 0.8-percent increase in hours worked.
Final Chart for 1Q2019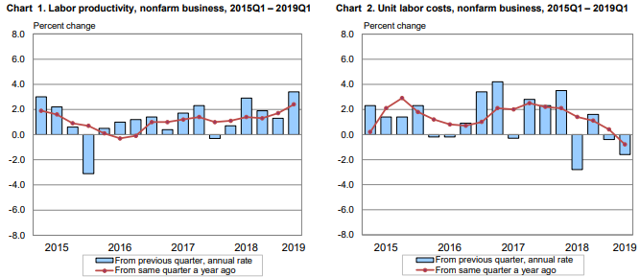 Preliminary Chart for 2Q2019

Please visit our landing page for a summary of all of our analysis this past week.
Disclosure: I/we have no positions in any stocks mentioned, and no plans to initiate any positions within the next 72 hours.