The headline seasonally adjusted BLS job growth was near expectations and rather weak. This was not a good report.
The establishment and household surveys did not correlate. This was a rather poor jobs report. Jobs growth in 2019 continues to be worse than any year since 2010. The trends clearly continue to show a slower growing employment picture.
The economically intuitive sectors were mixed.
The year-over-year rate of growth for employment was unchanged this month (red line on the graph below). The year-over-year growth rate is below the rate of growth one year ago. This is a year-over-year analysis which has no seasonality issues.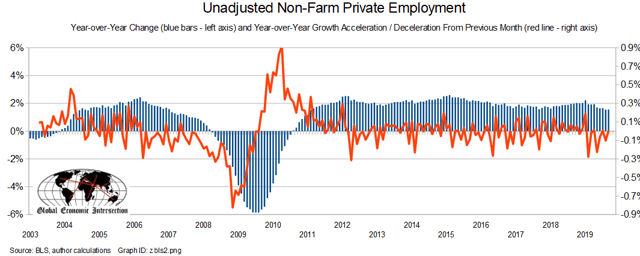 Economic intuitive sectors of employment mixed.
This month's report internals (comparing household to establishment data sets) did not correlate with the household survey showing seasonally adjusted employment growing 391,000 vs the headline establishment number expanding 136,000. The point here is that part of the headlines are from the household survey (such as the unemployment rate) and part is from the establishment survey (job growth). From a survey control point of view - the common element is jobs growth - and if they do not match, your confidence in either survey is diminished. [note that the household survey includes ALL jobs growth, not just non-farm).
The household survey added 117,000 people to the labor force.
The National Federation of Independent Business (NFIB)'s monthly Jobs Report is at the end of this post.
A summary of the employment situation:
BLS reported: 136K (non-farm) and 114K (non-farm private). The headline unemployment rate declined from 3.7 % to 3.5 %.
ADP reported: 135K (non-farm private)
In Econintersect's September 2019 economic forecast released in late August, we estimated non-farm private payroll growth at 120,000 (based on economic potential) and 100,000 (fudged based on current overrun / under-run of economic potential).
The market expected (from Econoday):
| | | | |
| --- | --- | --- | --- |
| Seasonally Adjusted Data | Consensus Range | Consensus | Actual |
| Nonfarm Payrolls - M/M change | 120,000 to 179,000 | 145,000 | 136,000 |
| Unemployment Rate - Level | 3.6 % to 3.8 % | 3.7 % | 3.5 % |
| Private Payrolls - M/M change | 105,000 to 166,000 | 135,000 | 114,000 |
| Manufacturing Payrolls - M/M change | -12,000 to 6,000 | 3,000 | -2,000 |
| Participation Rate - level | 63.0 % to 63.2 % | 63.1 % | 63.2 % |
| Average Hourly Earnings - M/M change | 0.2 % to 0.3 % | 0.3 % | +0.0 % |
| Average Hourly Earnings - Y/Y change | 3.1 % to 3.4 % | 3.2 % | +2.9 % |
| Avg Workweek - All Employees | 34.4 hrs to 34.5 hrs | 34.4 hrs | 34.4 hrs |
The BLS reports seasonally adjusted data - manipulated with multiple seasonal adjustment factors, and Econintersect believes the unadjusted data gives a clearer picture of the job situation.
The following chart compares the jobs gains this month with the same month historically: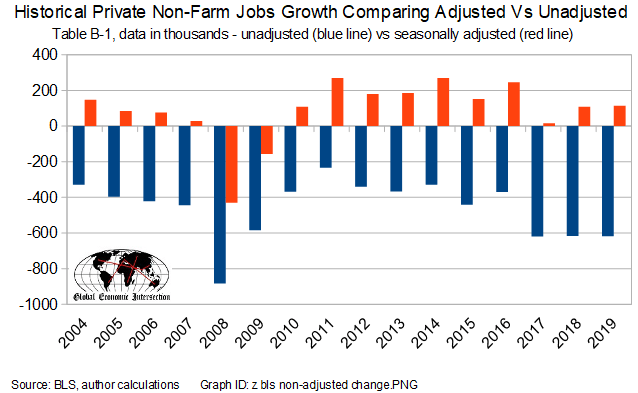 Year-to-date unadjusted employment growth is 599,000 people below the pace of last year - and the worst year-to-date growth since 2010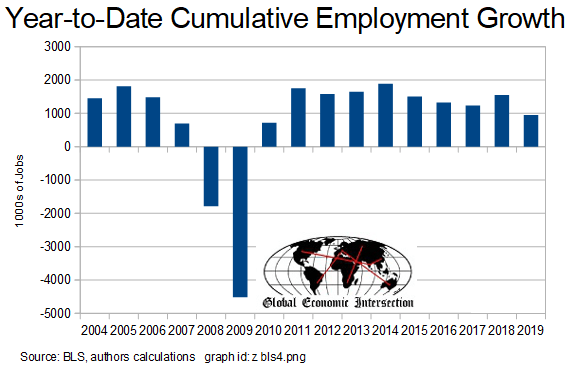 The last month's headline employment gains were revised upward. Generally speaking, the INITIAL employment gain estimate is overstated when the economy is slowing and understated when the economy is accelerating.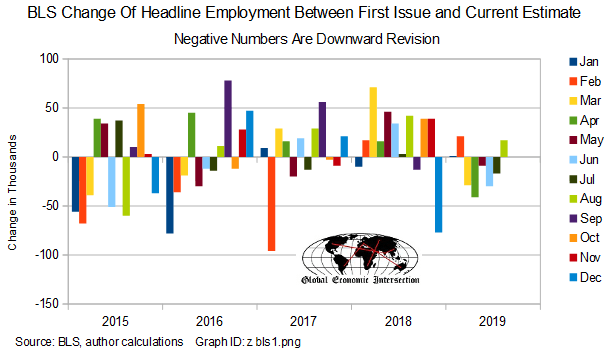 Most of the analysis below uses unadjusted data and presents an alternative view of the headline data.
Unemployment
The BLS reported U-3 (headline) unemployment was 3.5 % with the U-6 "all-in" unemployment rate (including those working part-time who want a full-time job declined from 7.2 % to 6.9 %. These numbers are volatile as they are created from the household survey.
BLS U-3 Headline Unemployment (red line, left axis), U-6 All In Unemployment (blue line, left axis), and Median Duration of Unemployment (green line, right axis)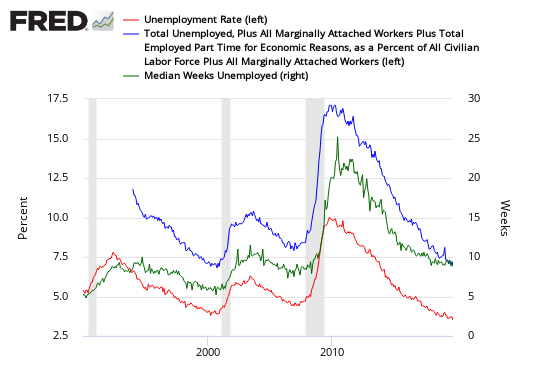 Econintersect has an interpretation of employment supply slack using the BLS employment-population ratio, demonstrated by the graph below. The employment-population ratio improved from 60.0 to 61.0.
Employment-Population Ratio
The jobs picture - when the employment/population as a whole - has been on an uptrend since mid-2011. This ratio is determined by the household survey.
Econintersect uses employment-population ratios to monitor the jobless situation. The headline unemployment number requires the BLS to guess at the size of the workforce, then guess again who is employed or not employed. In employment-population ratios, the population is a given and the guess is who is employed.
This ratio has been in a general uptrend since the beginning of 2014. The employment-population ratio tells you the percent of the population with a job. Each 0.1 % increment represents approximately 300,000 jobs. [Note: these are seasonally adjusted numbers - and we are relying on the BLS to get this seasonal adjustment factor correct]. An unchanged ratio would be telling you that jobs growth was around 150,000 - as this is approximately the new entries to the labor market caused by population growth.
The growth in employment since the Great Recession has been in full-time jobs.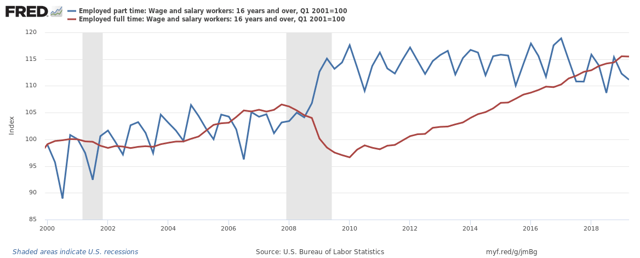 Employment Metrics
The growth trend in the establishment survey's non-farm payroll year-over-year growth rate was trending up in 2018. The year-over-year growth rate is declining in 2019.
Unadjusted Non-Farm Payrolls Year-over-Year Growth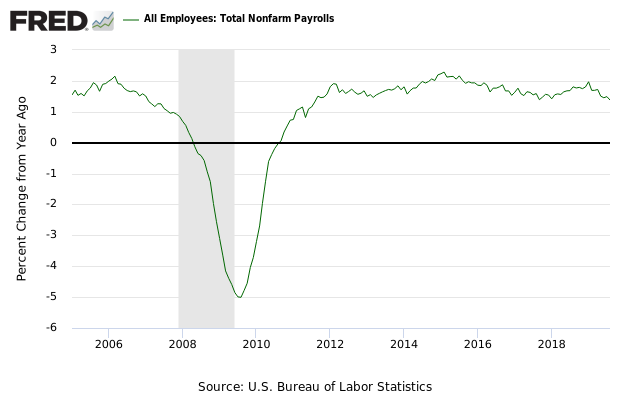 Another way to view employment is to watch the total hours worked where trends vary based on periods selected.
Percent Change Year-over-Year Non-Farm Private Weekly Hours Worked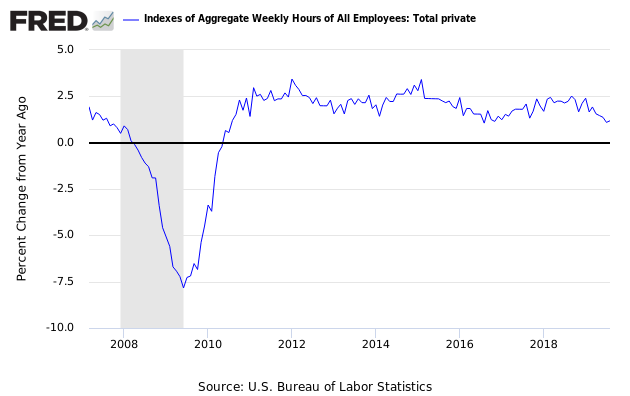 The bullets below use seasonally adjusted data from the establishment survey except where indicated:
Average hours worked (table B-2) was unchanged at 34.4. A rising number normally indicates an expanding economy.
Government employment rose 22,000 (22K) with the Federal Government down 2K, state governments up 10K and local governments up 14K.
The big contributor to employment growth this month was health care/social services (41.4K)
Manufacturing employment down 2K, and construction grew 7K.
The unemployment rate (from the household survey) for people between 20 and 24 (Table A-10) worsened from 7.0 % to 6.3 %. This number is produced by a survey and is very volatile.
Average hourly earnings (Table B-3) was down $0.02 to $28.09
Private Employment: Average Hourly Earnings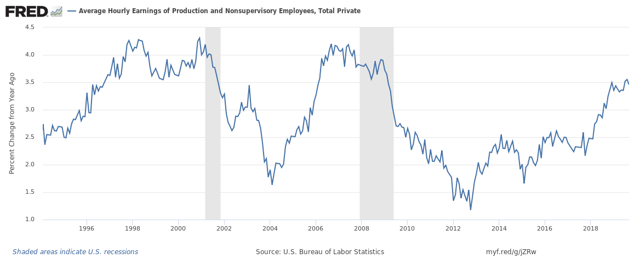 Economic Metrics
Economic markers used to benchmark economic growth (all from the establishment survey).
The truck employment was down 4.2K
Truck Transport Employment - Year-over-Year Change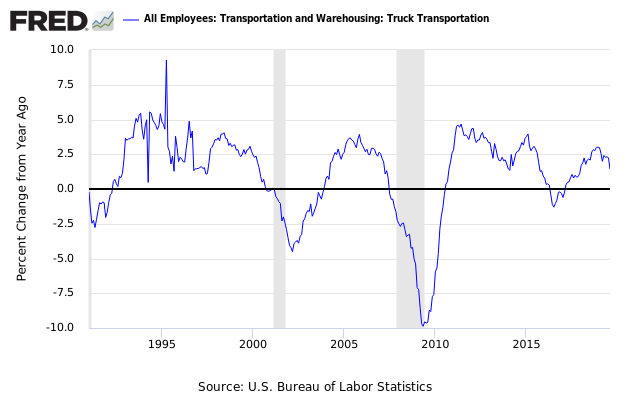 Temporary help was up 10.2K.
Temporary Help Employment - Year-over-Year Change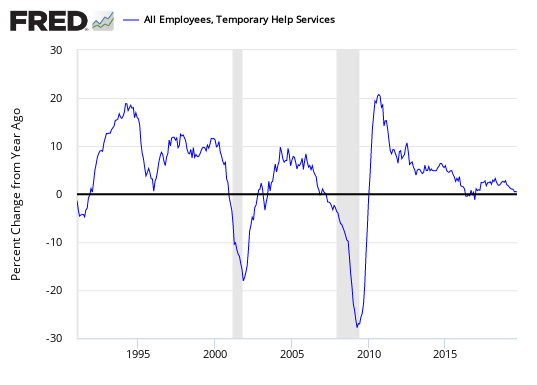 Econintersect believes the transport sector is a forward indicator. Others look at temporary help as a forward indicator.
Food for Thought
Who are the victims in this employment situation? It is not people over 55.
Index of Employment Levels - 55 and up (blue line), 45 to 54 (red line), 35 to 44 (green line), 25 to 34 (purple line), 20 to 24 (light blue line), and 16 to 19 (orange line)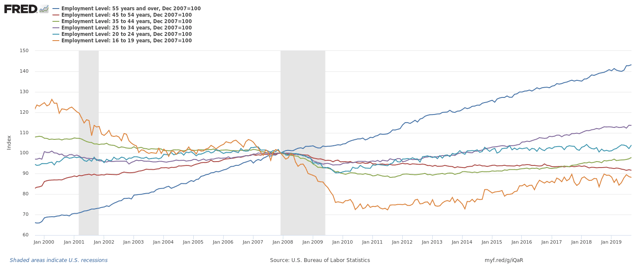 Women are doing better than men.
Index of Employment Levels - Men (blue line) vs Women (red line)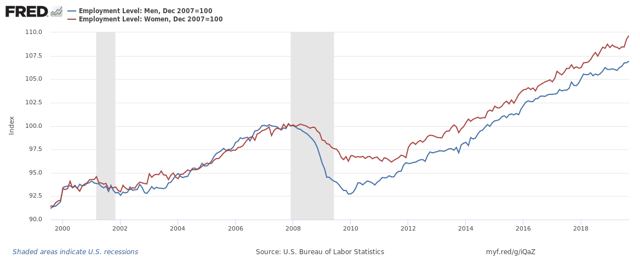 Mom and Pop employment remains historically low.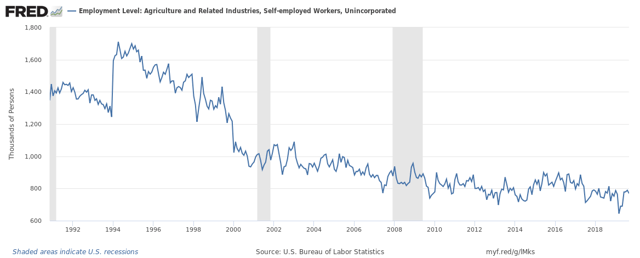 The less education one has the less chance of finding a job.
Index of Employment Levels - University graduate (blue line), Some college or AA degree (orange line), high school graduates (green line), and high school dropouts (red line)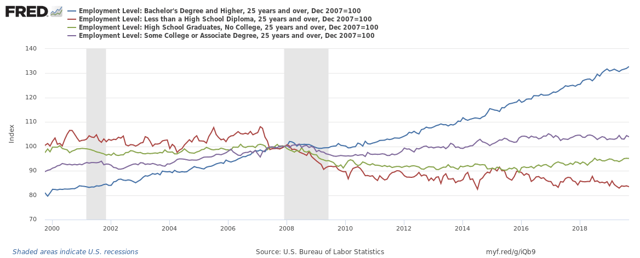 Here is an indexed view of employment levels.
Index of Employment Levels (from the BLS Establishment Survey) - Hispanic (blue line), African American (red line), and White (green line)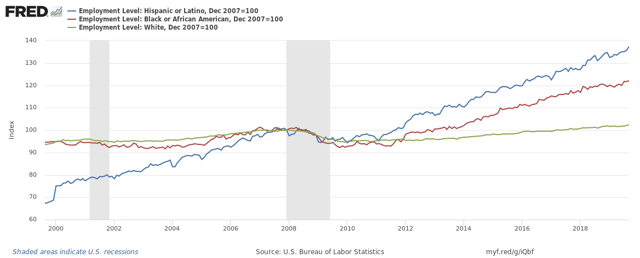 However, keep in mind that population growth is different for each group. Here is a look at employment to population ratios which clearly shows NO group has recovered from the Great Recession:
Employment / Population Ratios (from the BLS Household Survey) - Hispanic (blue line), African American (red line), and White (green line)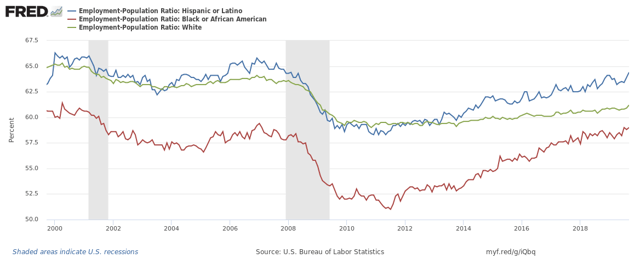 National Federation of Independent Business (
NFIB
)'s monthly Jobs Report Statement:
Small businesses created jobs at a steady, yet slower, pace in September despite continued difficulty in finding qualified workers, according to NFIB's monthly jobs report. Owners added an average addition of 0.10 workers per firm, down slightly from August's reading of 0.19. Finding qualified workers remains the top concern for small businesses with 23% of owners reporting it as their No. 1 problem.

"Although small business hiring dipped a bit in September, thanks to the lack of qualified workers, many owners are still committed to creating new jobs and raising compensation to attract and retain workers," said NFIB's President & CEO Juanita D. Duggan. "Owners want to create more jobs, but fewer did in September, because they can't find workers to fill them."

Fifty-seven percent of owners reported they are hiring or trying to hire. Of those owners, 88% reported finding few, if any, qualified applicants for the open positions.

Thirty-five percent of all owners reported job openings they could not fill in the current period, which is a historically high number. In construction, 56% had job openings, while 37% reported openings in manufacturing and 38% in retail.

Despite the labor shortage, a seasonally adjusted net 17% of owners are planning to create new jobs. Not seasonally adjusted, 18% plan to increase total employment at their firm and 6% plan to decrease total employment.

Owners are continuing to raise compensation, with a seasonally adjusted net 29% of owners reporting raising worker compensation and net 18% of owners are planning to do so in the next three months.

"Hiring has slowed down, but it's due to the inability to find qualified workers, not because of a lack of customers," said NFIB's Chief Economist Bill Dunkelberg. "The strong labor demand is a clear indication that small business owners are optimistic about prospects for the economy."

Other findings include:

Fourteen percent of all firms reported using temporary workers.
Thirty-one percent of owners have openings for skilled workers, and 15% have openings for unskilled labor.
Reports of "few or no qualified applicants" were the most frequent in construction (64%), non-professional services (49%), and manufacturing (43%).

Click here to view the entire NFIB Jobs Report. For more information about NFIB, please visit NFIB.com.

Please visit our landing page for a summary of all the analysis this past week
Disclosure: I/we have no positions in any stocks mentioned, and no plans to initiate any positions within the next 72 hours.