Each morning I read the headline Wall Street Journal news on a corresponding day in the Great Depression. It is a time machine to experience the news daily as investors would have lived it day by day.
Every day there was good news and some bad news – similar to today. Except I know the outcome of the Great Depression – and the outcome of today's depression is yet to be revealed.
In hindsight, everything seems obvious. After reading today's news and analysis, a quick read of the analysis and news for a corresponding day during the Great Recession adjusts your view of current events.
News so far in 2010 has a ominous tone. Many believe the Euro is doomed because of overspending by the PIGS. There is looming default by the cash starved States. Commercial real estate defaults will devastate already crippled small and medium sized banks wiping reserves. The residential mortgage market is only being supported by the government (and not private funding sources) – and the entities Freddie, Fannie and FHA are on life support. Values of residential and commercial real estate are falling pushed by falling rents.
We are still in the mother of all debt crises.
Yet, history has taught us the worst case seldom manifests. What we can quantify and describe – we are capable of building a defense.
And when put into perspective, some problems may not be a large as they initially seem. The following chart from Clusterstock shows the historical sovereign defaults and restructuring since 1800.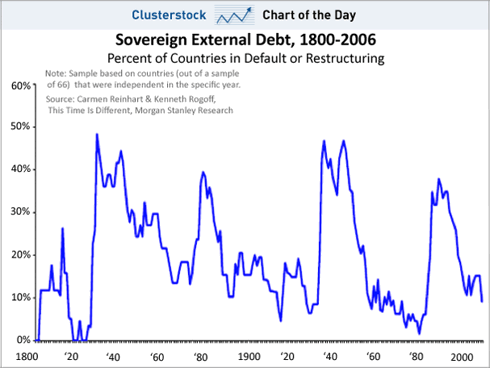 However, the chances of all of our current crises passing without further economic damage is small. The solutions for these problems are apt to weaken the "moderate" recovery we are experiencing.
It is unlikely that the events of the Great Depression will repeat. Our untested solutions will likely create a far different path.
Where I am going with this dialogue is that the investing path remains as uncertain as it was 6 months ago. What will end up being the correct investing path will be obvious months from now – just as it is now obvious that equities were the place to be in 2H 2009.
The good news is that the coincident indicators are stable with an upward bias. The little growth that will occur represents real, not technical growth. The equities have already been priced for this event, and at this point may be a little ahead of itself as many were convinced this recovery would be stronger then what actually manifested. Now most investors are aligned on the "moderate" growth expectation.
I remain neutral to positive on equities as the coincident indicators will most likely follow their current trend lines. These trend lines are relatively flat with a slight upward bias overall.
Just do not expect equity value growth as we saw in 2H 2009. I shifted into an income oriented asset preservation mode in 4Q 2009. In a debt driven recession recovery, bonds will most likely be the most volatile investment for 2010.
And because the negative news we are hearing is real, close attention needs to be paid to an exit strategy if a black swan event is triggered.
Finally, I find it difficult to believe a real recovery can begin without a healthy banking sector. I do not consider Goldman Sachs a bank.

Transport
Transport is telling us the economy is growing – but still inside a depression well off our pre-recession levels. It may take many years for our economy to regain its former levels.
This is a repeat of the Great Depression. Our economic fall was more moderate, and so our recovery growth cycle may be moderate also.
Using container counts expressed as TEU, American exports to the world continue to strengthen – and imports continue to falter. The graphs are based on the TEU counts from the ports of Los Angeles and Long Beach.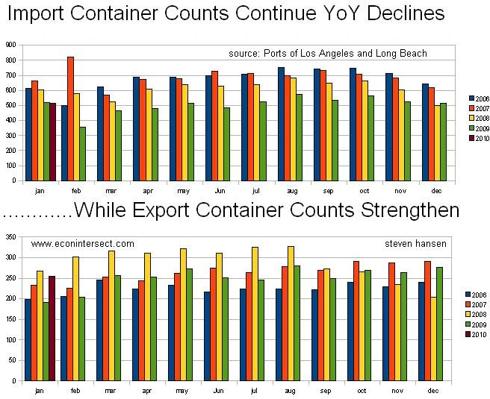 Containers are the shipping method of most consumer items except cars, and for most industrial items except bulk commodities. This is a good economic pulse point, and the Census import / export data continues to validate container counts as an advance view of hard data.
With hat tip to Railfax, the rail traffic within the USA has improved slightly YoY – but currently has a negative trend line.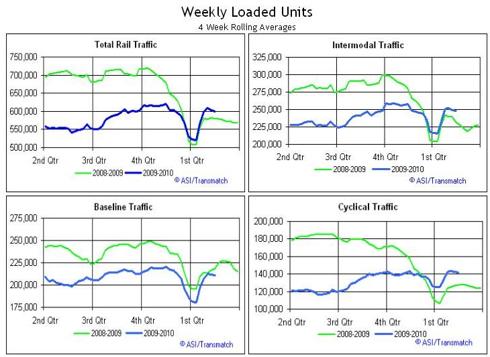 Rail is still significantly below the pre-recession levels.
Two weeks ago, I introduced the Ceridian-UCLA Pulse of Commerce Index™ which is based on diesel sales across the USA. This is the first source of data on diesel sales in almost real time. Diesel in the USA is the fuel used almost exclusively to move goods and materials. If there is an increase in diesel sales – it is pretty good evidence the economy is improving.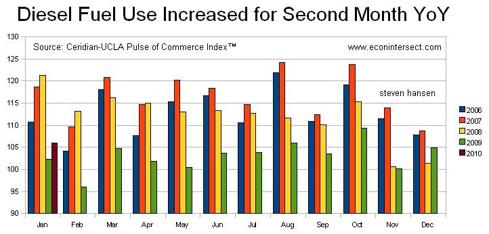 Advanced data released from the American Trucking Association (ATA) shows 3.1% trucking tonnage growth in January 2010.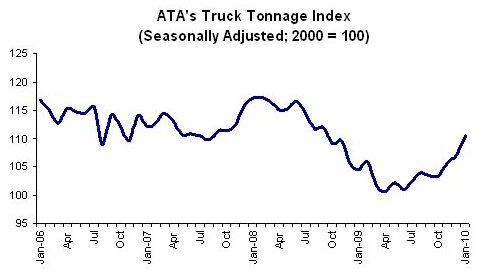 Based on the transport pulse points, the economy has turned the corner and is growing.
Housing
There is a lot of opinion out there on housing prices. Most people who have spent time mining housing data believe we are in for another leg down – not necessarily large, not necessarily small.
The pressure caused by oversupply, regardless of government invention, is causing the home price decline.
Housing should react to the laws of supply and demand. Having gone through several buy / sell cycles recently, I have to give seller's credit for hanging tough. There is no panic in the streets regardless of the inventory. This is creating an interesting dynamic.
The discounted properties are generally short sales – with a motivated seller who wants out (and a reluctant lender who only God knows what he will eventually do). These properties can be full of surprises for the unsuspecting buyer. The sellers of quality property want their price and are resistant to selling much below their already compromised price.
This slows the rate of house value decline.
S & P / Case-Shiller home sales data was released for December 2010. Part of their statement:
"As measured by prices, the housing market is definitely in better shape than it was this time last year, as the pace of deterioration has stabilized for now. However, the rate of improvement seen during the summer of 2009 has not been sustained," says David M. Blitzer, Chairman of the Index Committee at Standard & Poor's. "In the most recent months we are seeing fewer and fewer MSAs reporting monthly gains in prices. Only four cities saw month to month improvements in December over November, when you look at the raw data. We are in a seasonally slow period for home prices, however, so it is not surprising to see better statistics in the seasonally-adjusted data, where 14 of the markets and the two monthly composites all rose in December. Similarly, the National Composite fell by 1.1% in the fourth quarter, but rose by 1.6% on a seasonally-adjusted basis."
In simple english, the home prices on average slipped in the USA slightly 0.2% on both the 10 and 20 city composite indexes. As Case Shiller is a 3 month moving average – look for the loss to grow in January 2010.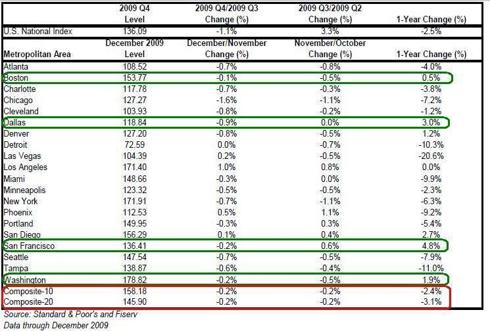 The National Association of Realtors (NAR) data for January 2010 is telling the same story.
Existing-home sales – including single-family, townhomes, condominiums and co-ops – dropped 7.2 percent to a seasonally adjusted annual rate of 5.05 million units in January from a revised 5.44 million in December, but remain 11.5 percent above the 4.53 million-unit level in January 2009.
Lawrence Yun, NAR chief economist, said there is still some delay between shopping and closing that affected current sales. "Most of the completed deals in January were based on contracts in November and December. People who got into the market after the home buyer tax credit was extended in November have only recently started to offer contracts, so it will take a couple months to close those sales," he said. "Still, the latest monthly sales decline is not encouraging, and raises concern about the strength of a recovery."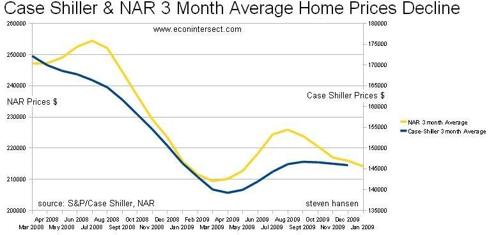 New home sales based on
January 2010
data are at at a record low point. Hat tip to
Calculated Risk
for the following graphs: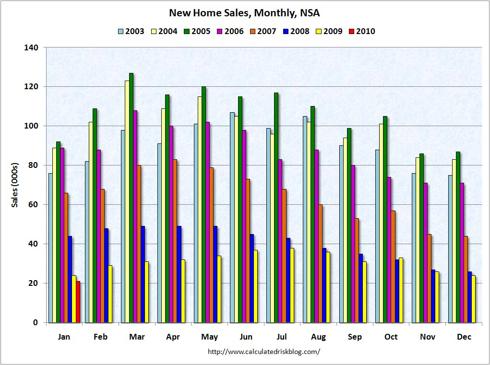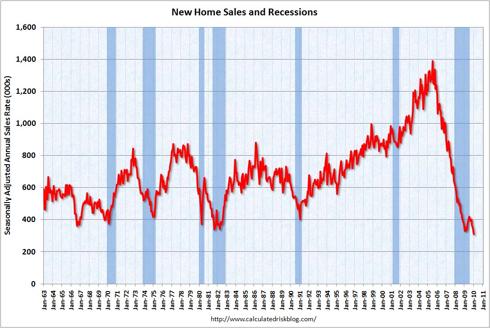 The weekly Mortgage Bankers Association new mortgage application data for the week ending 19 February 2010 was relatively unchanged and remains about half of the level of early 2009 using seasonally adjusted data. The 30 year fixed mortgage rate was up 9 basis points to 5.03%.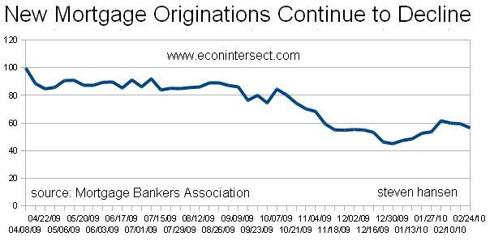 For weeks, I have been advising the serious drop in mortgages originations. Hat tip to David A. Rosenberg at Gluskin Sheff who assembled a long term graphic to illustrate the severity of the drop.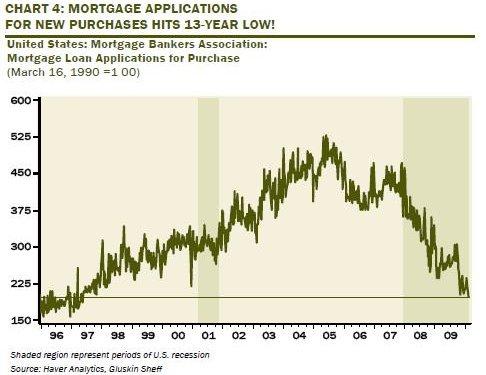 Mortgage applications are now at a 13 year low. No economic recovery in the past has followed such poor deteriorating home ownership data.
We are following a "recovery" path unlike any other in our modern past. We have no historical evidence to show how a "recovery" occurs without rising new home sales.
I chuckle when I read supposedly knowledgeable people suggesting a certain economic outcome. We are on a path unlike any others – and the outcome is far from certain.
Calculated Risk has produced several expansions of the real estate market issues which are worth additional reading: Housing: Price-to-Rent Ratio and Q4 Report: 11.3 Million U.S. Properties with Negative Equity
Consumer Confidence
Consumer confidence was down across the board this month.
The Conference Board's February 2010 consumer confidence survey dropped. Their statement:
The Conference Board Consumer Confidence Index®, which had increased in January, declined sharply in February. The Index now stands at 46.0 (1985=100), down from 56.5 in January. The Present Situation Index decreased to 19.4 from 25.2. The Expectations Index declined to 63.8 from 77.3 last month.
Says Lynn Franco, Director of The Conference Board Consumer Research Center: "Consumer Confidence, which had been improving over the past few months, declined sharply in February. Concerns about current business conditions and the job market pushed the Present Situation Index down to its lowest level in 27 years (Feb. 1983, 17.5). Consumers' short-term outlook also took a turn for the worse, with fewer consumers anticipating an improvement in business conditions and the job market over the next six months. Consumers also remain extremely pessimistic about their income prospects. This combination of earnings and job anxieties is likely to continue to curb spending."
I am not a big fan of consumer confidence as I believe it is a rear view mirror / lagging indicator of the economy. Yes, it is feedback – but not an indicator of where we are going. It is a map of of where we were. Hat tip to David A. Rosenberg at Gluskin Sheff whose graphic shows how big of a consumer confidence hole we are in :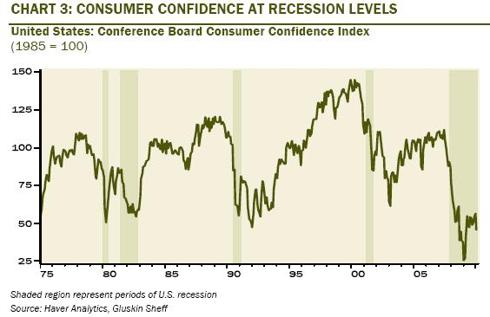 ABC's news consumer numbers this week echoed The Conference Boards results. Their statement:
The ABC News Consumer Comfort Index hit the dreaded -50 mark for the first time in nearly four months this week, a mere four points from its record low in 24 years of weekly polls.


While the change isn't statistically significant from recent levels, -50 is a psychological barrier –and not a happy one – for the index. This marks just the 25th time in 1,260 weekly polls the CCI has been this low. Remarkably, 23 of them have occurred in the past 16 months.


Figure on a scale of 100 to -100, the index has averaged -48 so far this year, matching its 2009 average, its worst full year on record. Compare those to its long-term average, -13, much less its best year, +29 in 2000, and its best week, +38 in January that year.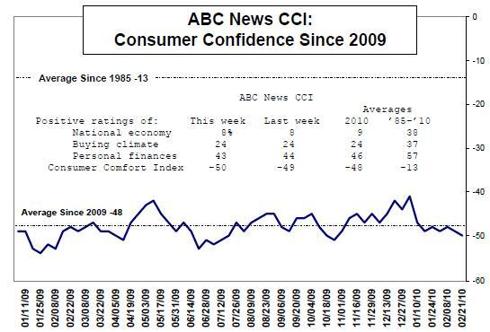 The University of Michigan consumer confidence survey for February 2010 was down slightly. Their comments which I consider interesting:
Rather than a renewed slump in confidence, the latest survey found that consumers continued to judge their income and job prospects less favorably than at any other time in the more than sixty year history of the surveys. The widespread realization among consumers that income and job prospects will remain uncertain for an extended period has heightened the importance of increasing precautionary savings and reducing debts. This will reduce the pace of spending growth, but not cause outright declines in spending. Overall, the data suggest consumer spending will rise by just 1.8% in 2010.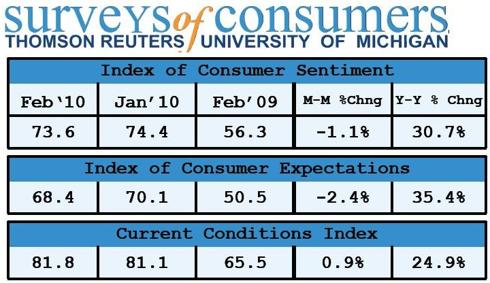 Jobs
Initial unemployment claims for week ending 20 February 2010 showed a small rise.

The nagging question remains why the unemployment claims data so far in 2010 continues to defy the laws of gravity. The recent rises have been attributed by some to weather. I remain skeptical.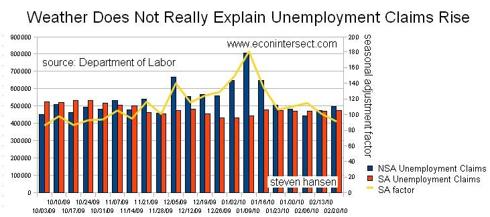 I reviewed the seasonal adjustment factors used since 2000 in this period and find the resulting adjusted data fairly consistent. Therefore the seasonal adjustment factor does not seem to be the issue.
What is happening since the beginning of the year has been an break in the long term downward trend line. The weather no doubt added data accuracy issues.
It could be that some businesses which operate on calendar year accounting have entered a second rationalization process. If this is true, the downward trend will re-emerge soon.
There are no economic issues which would account for a slight rise in terminations.
Manufacturing
The government's statement for the advance data for the January 2010 durable goods in part:
New orders for manufactured durable goods in January increased $5.2 billion or 3.0%. This was the second consecutive monthly increase and followed a 1.9% December increase. Excluding transportation, new orders decreased 0.6%. Excluding defense, new orders increased 1.6%. Transportation equipment, up four of the last five months, had the largest increase, 15.6%.
Unfilled orders for manufactured durable goods in January, up following a record fifteen consecutive monthly decreases, increased 0.1%. This followed a 0.9% December decrease. Primary metals, up seven of the last eight months, had the largest increase, 3.2%.
The unadjusted data for new orders was up sharply 10% YoY. This is the first month since March 2008 where YoY data comparison revealed a positive number. Despite whatever analytical crap one puts out, there is no improvement unless there is a YoY increase. One month is not a trend.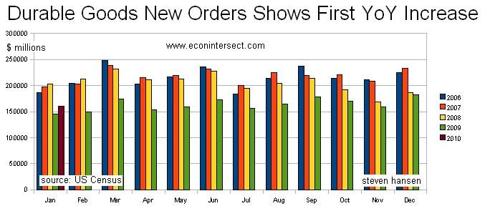 Unfilled orders for durable goods was down almost 9% YoY, but has increased for the last three months. This is positive evidence of bottoming of durable goods manufacturing.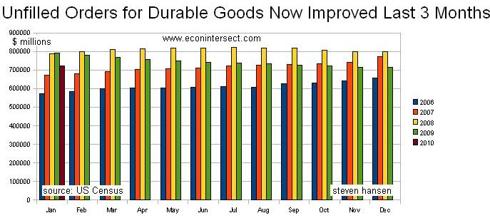 The Chicago Institute for Supply Management released their February 2010 purchasing manager's report. It forecasts that the hard data will show a continuing pattern of growing new orders, and a building of backlog when February 2010 data is released.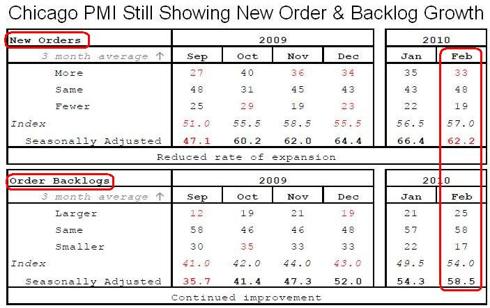 Other Economic News
This week Fed Chairman spoke to the House Financial Services Committee to present the Fed's semi-annual monetary policy report to Congress. I found nothing noteworthy beyond the subjects covered in the January 2010 FOMC meeting minutes.
After the Fed's slight adjustment upward of their discount rate, you might have expected a slight movement in the Treasuries. But they ended the month on almost the same note they entered.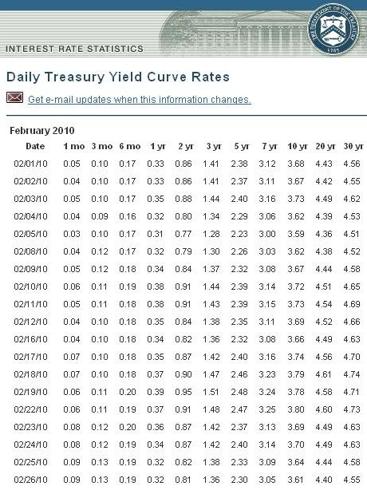 The government released their second estimate of GDP for 4Q 2009. Their statement:
The second estimate of the fourth-quarter increase in real GDP is 0.2 percentage point, or $6.1 billion, higher than the advance estimate issued last month, primarily reflected upward revisions to private inventory investment, to exports, and to nonresidential fixed investment that were partly offset by an upward revision to imports and downward revisions to PCE and to state and local government spending.
As this week's economic analysis is fairly long, I will analyze this in a separate article.
The Chicago Fed National Activity Index (CFNAI) data was released showing the Great Recession has ended by changing the criteria. For a read of the article, the link: CFNAI Says the Great Recession Is Over.
Bankruptcies this week: HC Innovations

Economic Forecasts Published this Past Week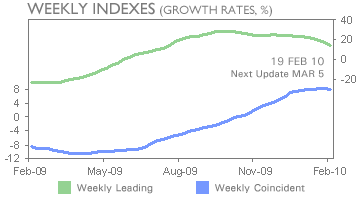 The Economic Cycle Research Institute (ECRI) released their Weekly Leading Index which has been declining for eleven straight weeks. Lakshman Achuthan, Managing Director at ECRI added:
The decline in WLI growth to a 28-week low reinforces our earlier expectation that economic growth would begin to ease by mid-year .
Disclosure:
GLD, XPH, XLB, XLV, FTR, IOO, HYG, KSWS, PIN, XHB, WMT, GDX, Physical Gold - as well as numerous puts and calls which comprise less than 3% of my portfolio