My materials from the European Lead Battery Conference in Paris arrived late last week and while there weren't many presentation graphs that were simple or clean enough for an investing blog, Norbert Maleschitz, the technical director of Germany's Banner Battery and the winner of the 2012 International Lead Award for lifetime contributions to the lead acid battery industry used this graph to show the dynamic charge acceptance differences between normal lead-pastes and lead pastes with carbon additives.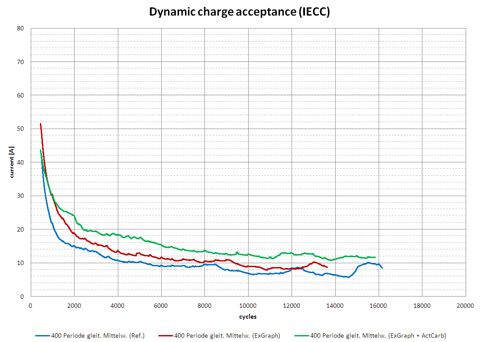 It's unclear whether the batteries were flooded or AGM, but Banner is a primary battery supplier to both BMW and Audi so my best bet is that he was comparing AGM rather than flooded batteries.
The thing I like most about this graph is that it clearly shows while carbon additives do improve DCA, the gains are unimpressive when you remember that automakers want DCA in the 100+ Amp range for today's heavy micro-hybrids and even higher for their next generation micro-hybrids. It is worth noting that Exide Technologies (XIDE) has hitched its wagon to the carbon additives star.
In his presentation, Enders Dickenson of Axion Power International (OTC:AXPW) reminded delegates that the 2010 test results from Axion and BMW showed stable DCA of 100 Amps through 50,000 cycles. He also reported that Axion's current dual battery system demonstration is using a charge current of 150 Amps for a dual battery system where 91% of the charging load is absorbed by the PbC and 9% is absorbed by the flooded starter battery.
If the PbC performance lines were superimposed on the Maleschitz graph, the old values would be near the bottom of my first paragraph and the new values would be near the top of my first paragraph.
Disclosure: I am long OTC:AXPW.