Since many stockholders of Axion Power International (OTCQB:AXPW) are following the progress of our development work at ePower Engine Systems and it's been five weeks since I offered any detail, I thought a lightly edited version Jay Bowman's most recent shareholder update would be worthwhile.
Sorry for the delay in sending this out, but the last thirty days have been full of ups and downs in our testing at heavier gross vehicle weights, or GVW. We started our testing to determine at what GVW and speed our system would equal the performance characteristics of a typical line haul truck. Typically a line haul truck is ordered with a drive train (engine, transmission and rear end ratios) that allow the tractor to haul a specified GVW and maintain freeway speed on a one percent grade without shifting into a lower gear. This is commonly called a truck's "gradeability" performance.
In testing of our previous prototypes, the gradeability requirement was our most difficult challenge. Our system is equipped with a gen-set that has only the ability to maintain freeway speeds on level terrain. At higher GVW, our gradeability performance is dependent on the battery system for boost power. We spent several weeks working to collect data for the Marathon Electric engineers and Cummins engineers to obtain optimal performance from our gen-set. This time has paid off as we now have the ability for the first time to produce a steady 128 KW of gen-set power to the system with periodic runs up to 150 KW. This in its self has increased the performance of our third generation prototype compared with the two earlier versions.
We also made an attempt to increase our gradeability performance by changing our rear end ratios to bring our electric motor's torque curve to an optimal level of 1800 rpm at 64 mph. The first attempt was not successful as we lost low end speed and hauling performance with the 3:55 ratio. We changed to a middle range ratio of 4:11 and this we have found to be a good compromise. Remember we are only running a five speed transmission. This makes the correct rear end ratio critical to the performance of the system and has a greater impact on performance than it would in a typical drive train. Our future plans to integrate an Eaton UltraShift 10 speed transmissions will help correct this and provide greater flexibility for a driver while navigating hilly terrain.
While road testing over the last 30 days we have had several non-drivetrain truck repairs that were required to keep the truck safe and operational. These breakdowns kept us from gathering useful data on several test runs. I do believe that the truck is now in good operating condition and testing should proceed without this type of problem. We have experienced one problem due to the hotter summer time temperatures and higher GVW testing we have been doing. We have not in the past been able to operate the cabs air conditioning system in versions one and two, due to several control issues and operating our engine at a constant 1800 rpm. As temperatures approached the low 90s we started to experience relay failures in our run and cruise control systems. This is mainly due to the location of these components under the sleeper's bed in the truck's cab. We have a ventilation system for the electronics located under the bed but with the higher temperatures and lack of air conditioning these components started to fail intermittently. Not to mention Mario and Andrew not enjoying the uncomfortable conditions. With our increased knowledge of integrating older truck electronics to work with our systems electronic controls we were successful in providing an operational air conditioning system this week. Mario and Andrew are performing much better as well as the relays.
For the last two years we did the bulk of our testing on a short local course that kept the truck close to the shop in case of breakdown to avoid high tow bills. As our data collection abilities improved, we found that the original course did not provide the optimal conditions for evaluating performance at heavier GVW. This was mainly due to the four stops that were contained in the course. In early July we mapped out a new course that eliminates the turn around points and gives us a closer approximation of freeway travel in this area.
The new course runs south and north on interstate 75 for a distance of 40 miles in each direction. The route includes one turn around point in a remote location without traffic. The majority of the grades range from 1.5% to 1.9% with an average climb of 65.2 feet per event. To put this in to perspective, this is the typical height of a six-story building. I once asked a local, why Kentucky breeds great race horses and he told me it was the terrain," not a flat spot to be seen and this builds strong legs on a horse". In choosing this course I anticipate the same results for our system.
Truck Ready to Run New Test Course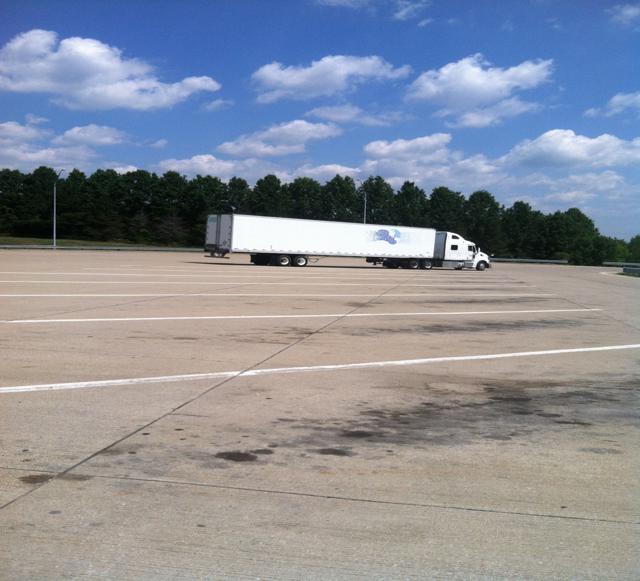 The following graph integrates data that our GPS, ECM and BMS systems recorded on yesterday's test run over the new course. John Petersen has made a great effort to synchronize and integrate our raw data into a simple graphic overlay that includes a huge amount of information. Starting from the top and working down, the lines represent:
Elevation changes in the course which range from 800 to 1,000 feet;
The travel speed, which stays fairly steady in the 60 mph range with minor slow-downs for longer and steeper climbs;
Instantaneous voltage of our battery string, which fluctuates between 450-V and 650-V as the system draws power to climb and recovers power on downhill segments;
Instantaneous amperage of our battery string, which fluctuates between -150-A as the system draws power to climb and +100-A as the system recovers power on downhill segments; and
Instantaneous fuel economy, which varies significantly depending on engine load.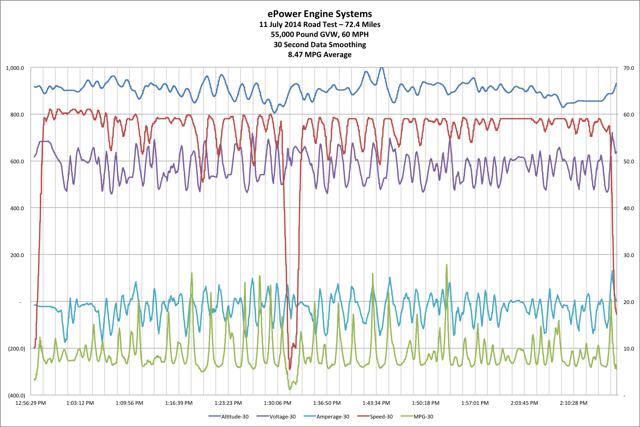 The testing to date has been at a maximum GVW of 72,090 lbs. At the higher GVW we found our gradeability performance to be less than a typical line haul truck. All other specifications are being met by our system. We dropped our GVW to a point that we could meet normal gradeability standards and found that our current limit is a GVW of 55,000lbs. Our experienced line haul driver Charlie drove the truck on one of our test runs last week. I will summarize his feelings with the following comment from Charlie "I'm happy and the truck is happy running at 55 mph but requires additional power at higher speeds to match what I am accustomed to as far as my trucks performance". Since Charlie drove the truck I have made several programming changes that I believe will raise this missing performance to the 60 mph mark. Charlie will drive the truck next week to confirm that I am correct.
Our new test course was chosen because it has a lot of hills in a relatively short distance, which gives us better data to fine-tune the system. The only drawback is that tougher terrain resulted in a 1-mpg decline in reported fuel economy because of all the hills. Two tenths of this decline is due to having an operational air conditioning system on the truck and the rest due to the increase in numbers of grades and percentage of climb over the previous course. We can possibly make some additional gains in gradeability through additional programming changes but these will be small in comparison to other options available to us. By raising the state of charge in our battery packs we can remove load from the gen-set by providing additional boost power from the battery packs. This would up our gradeability performance and should increase fuel mileage numbers across the board.
Axion will be sending an engineer to work with us on this a week from Monday, we have already discussed our options and have a plan in place to test before and during his visit. From past testing we know this increase load capabilities and performance. Cummins is also involved and have stepped up their efforts to work together. We will be undergoing an application engineering review by a team of their engineers to ensure they are a good fit for our application. This is part of the ongoing process to approve us for use of Cummins products in our system. We will begin this engineering review within the next two weeks. I look forward to their involvement.
Next week we will make an 800 mile round trip to test our system under typical line haul conditions. We will drive the truck with a loaded trailer (55,000 GVW) to Grand Rapids Mi, where will be meeting with a senior engineer from Cummins. We have been talking over the last few days and he wants to talk about the data that he has received from us this week. He has some ideas that he feels could boost our fuel economy. I will also be very interested to see our mpg rates on level terrain, we see glimpses of this in our area and they appear to be in the 10 to 11 mpg range. We should have some documented results after the trip to Michigan. I will let everyone know how the trip went on Thursday when we return. Please contact me with any questions or concerns.
Thanks
Jay
Disclosure: The author is long AXPW.