Most of my readers know that I keep close tabs on FINRA's Daily Short Sale Volume reports for Axion Power International (AXPW) but they don't know why I think the statistics matter. Today I'll try to explain how I use the FINRA short volume reports to track the flow of shares into the market from investors who originally bought their shares in unregistered transactions. The legal distinctions in the following discussion are a bit arcane, but they're very important.
The Securities Act of 1933 is an extraordinary law because it prohibits any sale of securities that is not:
Covered by an effective registration statement; or
Exempt from registration.
It's the only major law I know of that begins with a absolute prohibition "thou shalt not sell investment securities" and then carves out a series of narrowly defined exceptions to the rule. The more typical structure presumes conduct is legal unless it's specifically prohibited.
Because of the general prohibition in the Securities Act, the public stock markets could not exist without a sweeping exemption in Section 4(1) for transactions by persons who are not "an issuer, underwriter, or dealer". Investors rely on this exemption every time they hit the sell button and most of them don't realize that the mere act of selling shares would be illegal without the Section 4(1) exemption.
While buying and selling shares doesn't pose any regulatory risks for investors who only trade shares that they bought in the open market, the Securities Act provides that any person who buys securities from an issuer with a view to redistributing those securities is an "underwriter." While normal investors can buy and sell in the open market with impunity, underwriters can only resell shares into the public market under an effective registration statement.
In an IPO, an issuer files a registration statement with the SEC and professional underwriters buy the securities from the issuer and redistribute them to the public in a single day. Issuers can also file a registration statement with the SEC for a "registered direct transaction" and then sell the securities to the public. In both cases, the purchasers are not classified as underwriters and they can rely on the Section 4(1) exemption like everyone else.
In an unregistered transaction, an issuer sells stock to a group of investors and then files a resale registration statement that allows those investors to redistribute their securities to the public over time. It's a slow-motion version of an IPO that can take weeks, months or even years to unfold. From a regulatory perspective, however, all investors in an unregistered transaction stand in the same shoes as the underwriters of an IPO. As long as the securities remain in the hands of the investors who bought them from the issuer, the securities are restricted and resale transactions can only be effected pursuant to a registration statement or an available exemption.
While most investors will never need to understand the intricacies of securities registration and resale transactions, all investors should know that exempt open market transactions do not give rise to any special back-office procedures but resale transactions by underwriters do. That extra paperwork makes it very hard for an underwriter to comply with T+3 delivery requirements and usually means the transaction will be flagged as a "short-sale" for FINRA reporting purposes.
If we scrutinize Axion's history, there was only one financing transaction in 2012 where an SEC registration statement was filed and declared effective before the stock was sold to investors. While the 2012 investors ended up in the same regulatory position as open market purchasers, all of the other investors who bought stock from Axion in 2004 through 2011 and in the 2013 PIPE fell into the "extra paperwork" class, which means that resales by those investors ought to show up as short sales in the daily FINRA reports.
The following is an enhanced version of the FINRA graph that I send the Axion Power Host every week. The blue and red columns are keyed to the left-hand axis and show total reported trading and short sale volumes on a monthly basis since January 2010. The green line is keyed to the right-hand axis and shows the monthly short percentages since January 2010.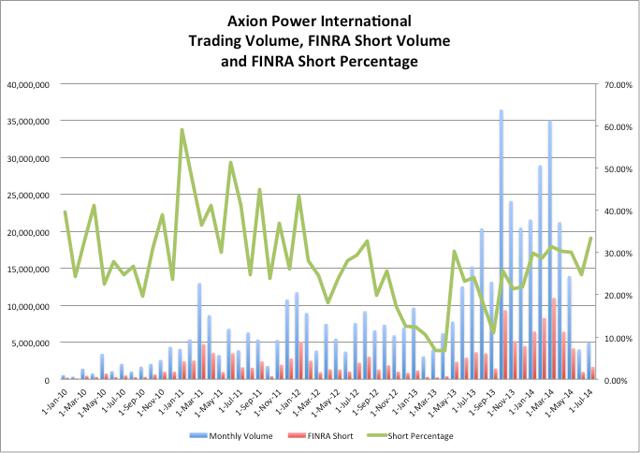 Over the last couple years I've written several detailed analyses of who the principal sellers have been since January 2010. Prior to the 2013 PIPE transaction, I was able to identify holders who bought a total of 61.5 million shares from Axion in unregistered transactions and subsequently resold them into the public market before the spring of 2013 when the monthly short percentage bottomed out at about 6.8% for two consecutive months. During that 40-month period, the cumulative daily short sales reported by FINRA aggregated 59.6 million shares. By the time I make allowances for the quirkiness associated with a couple million shares that were resold in connection with bankruptcy proceedings, it's the closest thing to a perfect match I've ever seen. It also meshes perfectly with my experience that OTC market makers never take a long or short position in a stock unless they're forced to.
Since May 2013 there has been a sea change in the FINRA short sale reporting dynamic that I don't have enough information to explain. During that period 110 million shares were issued to the PIPE investors but only 72 million shares flowed through the FINRA daily short reports. The most reasonable explanation for the discrepancy is that one of the four PIPE investors found a way to expedite back-office processing or otherwise avoid having their trades flagged as FINRA short sales. I don't know how the magic was done, but experience tells me there's no such thing as loophole free regulation.
If I assume that the selling behavior that flowed through the FINRA short sale data mirrors the selling behavior that avoided being tagged as short sales, it looks like the PIPE investors as a group have resold between 96 million and 100 million shares and continue to hold small stock inventories that they'll sell into the market over time. That being said I don't foresee a lot of pushing and shoving around the pay window because the PIPE investors no longer have a chance to sell at depressed prices and recoup their losses in the next scheduled payment.
The bottom line of this new analysis is that we have passed "ZRPSOD," zero remaining PIPE share overhang day, but we have not yet arrived at "ZRPSID," zero remaining PIPE share inventory day. I think the PIPErs continue to represent 60% to 70% of daily sell-side trading activity, but they've throttled back enough to avoid crushing the price. When I first started talking about the supply and demand inflection point I said I wanted to see two things happen:
A collapse in the daily trading volume; and
A sustained collapse of the FINRA short percentages into single digits.
The first half of the test has been met. I'm still waiting for the second. My conviction that there have been no substantial defections from the retail stockholder base remains unshaken.
In any stock market, the most motivated seller always sets the price. We've long known that the PIPErs were highly motivated sellers and the FINRA data tells me they're not out of stock yet. Their inventories are running low but they're not exhausted. Unfortunately I can't offer a more detailed estimate of the size of their remaining PIPE investor holdings or the time required to take them completely out of the picture.
For now, I'm simply waiting for the FINRA data to tell me ZRPSID has arrived.
Disclosure: The author is long AXPW.