Regular readers know that I frequently condemn excessive hype from companies that are just starting down the road to commercialization on innovative battery technologies. This week we saw another fine example of a company that was so busy trying to create a buzz that the truth got kicked under the electric bus.
On February 27th, privately held Envia Systems announced that cells using their proprietary technology had "achieved the highest recorded energy density of 400 Watt-hours/kilogram (Wh/kg) for a rechargeable lithium ion cell." Further review of the press release and hyperlinks made it clear that the tested cells were first generation prototypes made by a contract manufacturer. I was impressed enough to dig a bit deeper to see whether Envia might be a company worth following.
When I landed on their "Company" page (hat tip to SA user wtblanchard), I was surprised to see the following graphic that purported to show Envia's ranking on the Lux Research Innovation Grid.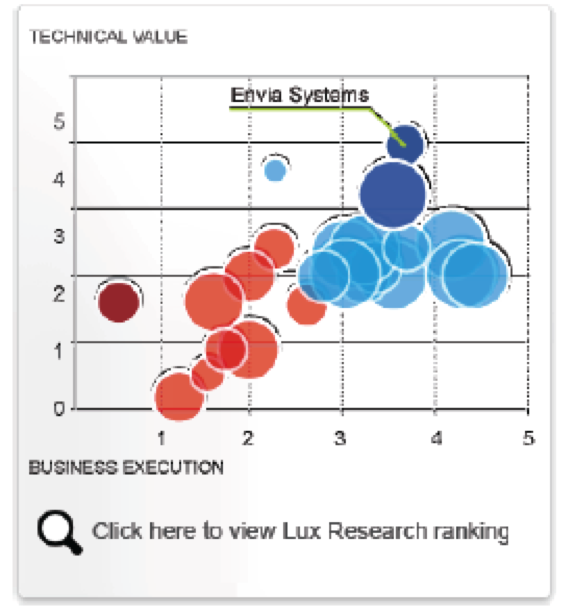 I wasn't surprised that Envia used the Lux graphic, but I was shocked that that they altered it first. I wouldn't have even noticed if I hadn't used the same graphic in a recent article titled "Lithium-ion Battery Stocks: Investment Opportunities or Subsidized Laggards?" The original from Lux follows.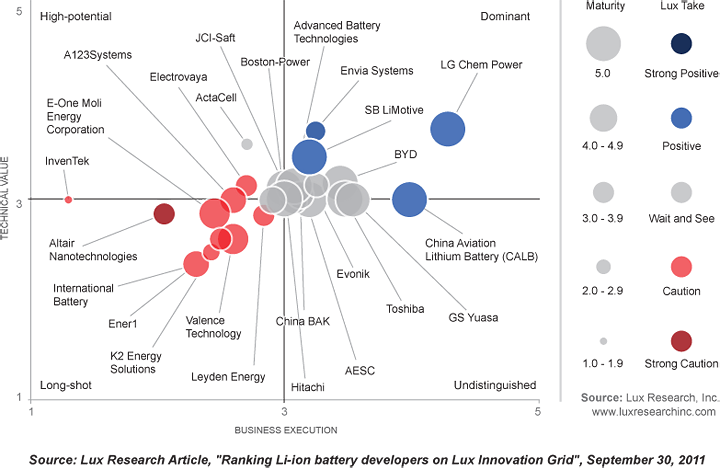 What our friends at Envia did was take the center of the graph, renumber the scale and present it as the competitive universe, cutting out both CALB and LG Chem in the process.
I understand the difference between hype and deception. I'm saddened to learn that Envia Systems does not. While they have since taken the altered graphic down, this is an incident I'll long remember.
I've archived a screen print of the offending Envia "Company" page in my iCloud public folder.