A Potential Billion Dollar Heart Drug That Could Catapult Shares Of Gene Biotherapeutics Much Higher
Please Note: Blog posts are not selected, edited or screened by Seeking Alpha editors.
Long/Short Equity, Special Situations
Seeking Alpha Analyst Since 2014
My investment experience includes a Wall Street career spanning over 35 years. I am retired now, and spend my time as a full-time trader and investor. I especially enjoy the research process and am always looking for the next big ten-bagger. My focus is on small caps, undiscovered companies and special situations.
Summary
We have discovered another special situation micro-cap, that offers huge upside potential for those investors with an appetite for extreme risk.
As we have stated previously, finding companies with a dynamic catalyst is what drives our research process, and ultimately our investment decisions.
After almost 25 years of development, and two phases of successful clinical trials, this company is approaching a very important inflection point, with an upcoming Phase 3 trial scheduled to begin in June.
After an extended period of delinquency in its SEC filings, the company has been working towards filing audited financials for the past three years of operations, and being designated as OTC pink current.
Restoring financial transparency is paramount to the company's ability to attract investors, and to begin re-establishing credibility with Wall Street.
If you have followed Altitrade Partners for any length of time, you know that we seek out high-risk, high-reward, opportunities in the very speculative micro-cap universe. Our newest idea is Gene Biotherapeutics; (OTC:CRXM). 

Source: Gene Biotherapeutics
Before you begin to chuckle, you might want to take a look at our track record when it comes to picking micro-cap stocks.
We have authored numerous articles outlining our approach to micro-cap investing, and we encourage readers to go back and spend time with past articles. Also don't forget to check our blog pages; here and here.
We base much of our initial screening on two things; finding a macro-trend with a long runway in front of it, and looking for some sort of a catalyst which will change the investment dynamics of a company.
In the past 7 years, on Seeking Alpha, we have only written detailed articles  about 3 companies; Celsius Holdings, Inc. (CELH), Glucose Health, Inc. (OTCPK:GLUC) and Blue Biofuels (ALLM).
Our very first article on Celsius Holdings, Inc. appeared on January 28, 2015, when CELH shares were trading at around $0.50 cents a share. The stock peaked 6 years later on January 20, 2021 at a price of $70.66.
We discovered Glucose Health in the Spring of 2017 when the shares were selling at approximately $0.10 cents. The shares of GLUC reached an all-time high of $8.98 on January 5, 2021.
We began writing about our third micro-cap company, Blue Biofuels (ALLM), just 3 months ago, when shares were trading at around $0.14 cents. Today, they changing hands at around $0.45 cents a share.
Finding profitable micro-cap ideas isn't easy, but we have managed to turn over more than a few rocks to discover some truly exceptional "diamonds in the rough" as they say.
We say this over and over to all of our readers, and at the risk of alienating a few of you, we are going to say it again --- MICRO-CAP STOCKS ARE RISKY !!!
In fact, they are very risky. 
Virtually, every stock that we invest in is subject to the "penny-stock rule", so if you are not familiar with the characteristics of penny stocks, we advise you to educate yourself on what they are and how they work from a trading and investment standpoint.
At Altitrade Partners, we play almost exclusively in this highly-speculative sandbox. We advise and counsel those investors who are contemplating investing in speculative, high-risk micro-caps, not to invest any money that they cannot afford to lose.   
We will be even more explicit:
DO NOT INVEST ANY AMOUNT OF MONEY IN OUR MICRO-CAP IDEAS UNLESS YOU CAN AFFORD TO LOSE 100% OF YOUR INVESTMENT.
What attracted us to Gene Biotherapeutics, Inc. are a number of factors, chief among them being the development of a drug named Generx for treatment of refractory angina. 
We first became familiar with this company back in 2003, when it was named Cardium Therapeutics. At that time, were attempting to raise capital for a struggling micro-cap company, located in San Diego, CA that had developed a self-heating container for beverages such as coffee and tea, as well as low-viscosity soups. The name of that company was Ontro, Inc.
Along with us, one of the investors in that company was Chris Reinhard, the CEO of Cardium Therapeutics. To make a long story short, we were unable to secure financing, on favorable terms, for Ontro and the technology was ultimately acquired by a private investor, when the company went through court-appointed receivership.  
We were intrigued by what Mr. Reinhard was doing,  in the field of heart health over at Cardium Therapeutics, and we decided to put the company on our secondary watch list. Over the course of the next 18 years, we occasionally checked-in on the company too see what progress being made.
Over the last 18 years, we saw Cardium Therapeutics go through a number of name changes and subsequent changes in where the stock traded; at one time being an NYSE-Amex listed company trading under the symbol CXM. 
The strategic business plan for Cardium Therapeutics was to create a portfolio of bio-medical products and therapies, both through in-house development, as well as through the acquisition of innovative technologies, from other medical companies, which could then be further enhanced commercially by partnering with others for the ultimate goal of monetizing those assets.   
Two years after its founding, in October 2005
Cardium acquired a portfolio of cardiovascular growth factor therapeutics from the Schering AG Group, Germany, including the later-stage product candidate, Generx, and completed a $30 million financing. Generx (alferminogene tadenovec) is a DNA-based, myocardial-derived growth factor therapeutic being developed for potential use by interventional cardiologists as a one-time treatment to promote and stimulate the growth of collateral circulation in the heart of patients with angina pectoris.

Source: Biospace
In 2009, the company saw the first asset monetization from the Company's biomedical investment portfolio, when it sold its InnerCool technology to Royal Phillips, N.V. in a deal worth $12.75 million. 
Cardium Therapeutics had previously acquired the InnerCool technology for roughly $6 million from the original developers of the process for inducing hypothermia in patients, where the cooling of blood to the brain was found to be beneficial in reducing the risks of brain damage and other ancillary neurological damage as a result of a person suffering a heart attack or stroke.
This was a validation of the company's business model, and represented the first commercial success for the sale of one of the assets in the company's bio-medical portfolio. 
In 2014, Cardium Therapeutics announced that it had reached an agreement with China-based Shanxi Taxus Pharmaceuticals Co., Ltd. to provide Cardium with funding of up to $5.0 million in exchange for stock to be purchased at a 10% premium to the then prevailing market price of CRXM shares.
The details of the financing terms were discussed in the company's 2015 10-K filing with the Securities & Exchange Commission, on page 32:
On February 28, 2014, we entered into a strategic collaboration and funding arrangement with Shanxi Taxus Pharmaceuticals Co., Ltd., which is based in the Peoples Republic of China and is affiliated with Shenzhen Forntsea Taxus Industry Capital Management ("Shanxi Taxus"), to support the worldwide clinical and commercial development of Cardium's advanced regenerative medicine therapeutics products, including the Generx product candidate and Excellagen. In connection with the agreement, Shanxi Taxus acquired an initial tranche of $0.5 million by purchasing 714,286 shares of common stock at $0.70 per share.

On May 12, 2014, Shanxi Taxus acquired a second tranche of $1.5 million by purchasing 2,330,278 shares of common stock at $0.6437 per share. The common stock issued to Shanxi Taxus is unregistered, but under the terms of the Stock Purchase Agreement, we agreed to grant the investor piggyback registration rights in the event that the Company files a registration statement for other shares of common stock. No warrants were issued in connection with the transaction. Under the terms of the securities purchase with Shanxi Taxus, the strategic investor agreed to purchase an additional tranche of securities in the amount of $300,000, priced at a 10% premium to the market price of our common stock.

Following the completion of these three investment tranches, at year-end 2014, Shanxi Taxus had invested $2.3 million in Taxus Cardium and owned 3,510,620 shares or 27.5% of the Company's common stock.
The company's name was subsequently changed from Cardium Therapeutics, Inc. to Taxus Cardium Pharmaceuticals Group Inc. to better reflect the newly-formed strategic collaboration between the two companies. The stock symbol was also changed from CXM to CRXM. 
According to the press release announcing the collaboration between Shanxi Taxus and Cardium Therapeutics, Shanxi would help support the ongoing  commercialization efforts of two of Cardium Therapeutics primary bio-medical  products, Generx® and Excellagen®  through purchases of unregistered shares of CRXM's common stock.
This combination of the two companies, also provided new opportunities for commercialization of these two important products in the People's Republic of China healthcare market.
The second asset sale from the company's bio-medical portfolio was to New York-based company Olaregen in September of 2018.
Olaregen purchased the company's Excellagen flowable dermal matrix for wound healing at a price of $4.0 million, with an initial upfront payment of $650,000 in cash, along with another $3.35 million to be paid from future consideration received by Olaregen in the form of royalties received on the company's future sales of Excellagen.
Excellagen is an FDA 501-K cleared aseptically-manufactured, syringe-based, ready to use 3-dimensional wound conforming matrix that supports a favorable wound healing environment.

It is designed to accelerate granulation tissue growth by providing a structural scaffold for cellular migration and proliferation, and activates platelets, triggering the localized release of endogenous growth factors including Platelet-Derived Growth Factor (PDGF), a key biological mediator of wound healing.

Excellagen is indicated for the management of wounds including: partial and full-thickness wounds, pressure ulcers, venous ulcers, diabetic ulcers, chronic vascular ulcers, tunneled/undermined wounds, surgical wounds (donor sites/graft, post-Mohs surgery, post-laser surgery, podiatric, wound dehiscence), trauma wounds (abrasions, lacerations, second-degree burns and skin tears) and draining wounds.

Source: Excellagen
We should note that Gene Biotherapeutics retained the rights to develop and market Excellagen in greater China, along with the Russian Federation, and 11 other countries within the Commonwealth of Independent States; these eleven include Armenia, Azerbaijan, Belarus, Kazakhstan, Kyrgyzstan, Moldova,  Tajikistan, Uzbekistan, Turkmenistan, Afghanistan, Mongolia, so it was not a true global agreement, in that sense.
Another company name change took place in January of 2018 when Taxus Cardium decided to change its name to Gene Biotherapeutics Inc. The stock symbol, however, remained the same. 
This decision was predicated on the fact that the company's fortunes were seen as being tied to its work in developing gene-based biotherapeutics for the oncology and cardiology markets. 
These biotherapeutics are focused on the regenerative nature of human cell tissue, and finding ways to accelerate this natural phenomenon by focusing on the various pathways in the human body not only to engage and activate, but also to accelerate this regenerative process.    
So, what exactly is regenerative medicine?
Regenerative medicine is a branch of translational research in tissue engineering and molecular biology which deals with the "process of replacing, engineering or regenerating human cells, tissues or organs to restore or establish normal function".

Regenerative medicine is a relatively new field of study that treats injuries and diseases by harnessing the body's own regenerative capabilities.

Encompassing a broad range of scientific disciplines (from molecular biology and genetics to immunology and biochemistry), regenerative medicine research generally focuses on the following key principles including understanding the physiological mechanisms of stem cells, knowledge of how cells grow and die, what makes stem cells change into other cells and learning more about the supporting structure between cells.

Human adults already have some regenerative capabilities. For example, the liver is able grown back to its original size if part of it has been lost to injury or disease. Our skin is another part of our body that is able to renew and repair itself.

Some tissues and organs do not have that ability but scientists believe that they could enable them to do so.

Regenerative medicine is a rapidly advancing area of medicine providing the some of the most significant results as it delivers Cellular Tissue Products, stimulating the body's natural healing process by activating the body's own ability to repair and regenerate. Innovative therapies are available that aid in healing or reconstruct damaged tissue and support the regeneration of injured cells and organs.

Source: Olaregen.com
When it comes to regenerative medicine, one of the areas with the greatest potential for driving future revenues, along with the ability to add significant  value for Gene Biotherapeutics shareholders, is the market for Generx®, the company's solution to the problems associated with refractory angina.
Refractory angina afflicts between 600,000 and 1.8 million people in the United States, and an estimated 7 million individuals in the United States, EU5 countries (Germany, Spain, Italy, France and United Kingdom) and Japan, with 75,000 new patients in the United States diagnosed each year. 
As suggested by Centers for Disease Control and Prevention, in United States about 18 million adults age 20 and older have coronary artery disease, which is accounted by about 7% of total population.According to the American Heart Association, an estimated 16 million Americans aged 20 years and over have coronary artery disease. According to the 2016 American Heart Association report, there are approximately 15.5 million Americans with coronary artery disease, 50% of who have symptomatic angina pectoris.

Higher Prevalence of Refractory Angina is observed among males as compared to females in 7MM.Refractory Angina, or RA, prevalence is increasing globally and the case burden is expected to rise among adults in whom the disease is particularly fatal.

Source: Research and Markets
Generx has been under development by a majority-owned subsidiary of Gene Biotherapeutics named Angionetics. 
The Angionetics subsidiary is focused on late-stage clinical development and commercialization of Generx, which is an angiogenic gene therapy product that is designed for the medical regeneration of vascular tissue in patients with myocardial ischemia and refractory angina due to advanced coronary artery disease.
Patients experiencing chronic and disabling stable angina despite conventional forms of treatment represent a significant, rapidly growing, and "no option" patient population. "Refractory Angina" is the term used to describe these patients, and is characterized by myocardial ischemia and chronic, disabling stable angina despite conventional forms of treatment. Patients with refractory angina are no longer responsive to optimal medical therapy for angina (treatment with at least two classes of drug at maximally tolerated doses), and are not candidates for, and would receive no prophylactic therapeutic benefit from percutaneous coronary intervention, or PCI, involving the use of balloon catheter angioplasty and stents, or coronary artery bypass graft surgery (CABG).​

Patients suffering from Refractory Angina often avoid physical activity in order to avoid angina symptoms, resulting in an increasingly sedentary lifestyle which may promote further declines in functional capacity and quality of life. It is estimated that over 80% will make lifestyle changes to adapt to their angina, and compared to the general population, patients with refractory angina report higher rates of depression, loss of vitality, diminished physical function and overall health, and a reduced quality of life.​

It is estimated that approximately 12% of patients with angina due to coronary artery disease have refractory angina. Available estimates suggest that refractory angina affects up to 1.8 million people in the U.S. It is anticipated that the incidence and prevalence of refractory angina will continue to increase as populations age and mortality from coronary heart disease decreases.

Source: My Refractory Angina

The angiogenic biological process driven by the Generx® product candidate is referred to as "medical revascularization," in contrast to the classic "mechanical revascularization" procedures that include coronary artery bypass surgery (CABG), and percutaneous coronary intervention, or PCI, involving angioplasty and stents.

Source: Press Release February 7, 2017
In the past 35 years, the FDA has given its approval to only one anti-anginal drug. That is a drug is called Ranexa (ranolazine). 
The clinical development for Ranexa began at Syntex Corp. in 1985. The drug went through a total of 61 studies until 1994, when Roche acquired Syntex in a deal worth $5.3 billion. 
In 1996, CV Therapeutics licensed the rights to Ranexa in North America and Europe from drug giant Roche Holdings. Then, 10 years later, in 2006 CV Therapeutics acquired the remaining worldwide rights to ranolazine from Roche. 
The FDA rejected an application to review Ranexa in October of 2003, but the drug finally gained FDA approval three years later in 2006, after 21 years of development and testing.
That is worth repeating; it took 21 years of development and testing before Ranexa was finally approved by the FDA.
CV Therapeutics was subsequently acquired by Gilead Sciences in 2009 for $1.4 billion, with Ranexa being one of the prized drugs in the CVT portfolio.
With only one FDA-approved drug for the treatment of refractory angina, the field is wide open to a competitor that is able to demonstrate efficacy along with safety to the FDA regulators.
An article in Scientific American, from January of 2017, featured an interview with Gabor Rubanyi, a co-founder of the Angionetics subsidiary of CRXM along with Gene Biotherapeutics CEO Chris Reinhard.
Angionetics is developing new treatments, to boost the growth of collateral arteries in the heart, that center around something referred to as a fibroblast growth factor, or FGF. 
In vitro studies identify FGF-4 as a key biologic regulatory protein that orchestrates the angiogenic growth factor and mediates the cascade of events required for therapeutic angiogenesis; the development of new blood vessels.
Preclinical studies confirmed and optimized Generx's receptor-mediated uptake and level of transgene expression in the heart, and demonstrated an angiogenic mechanism of action; echocardiography.
Human clinical studies confirmed Generx's angiogenic mechanism of action, demonstrated increased cardiac perfusion following a one-time treatment (SPECT imaging), and improvements in exercise treadmill testing (ETT).
The protein encoded by this gene is a member of the fibroblast growth factor, or FGF, family. FGF family members possess broad mitogenic and cell survival activities, and are involved in a variety of biological processes, including embryonic development, cell growth, morphogenesis, tissue repair, tumor growth and invasion. This protein functions as a modifier of endothelial cell migration and proliferation, as well as an angiogenic factor. It acts as a mitogen for a variety of mesoderm- and neuroectoderm-derived cells in vitro, thus is thought to be involved in organogenesis.

Source: NCBI (National Center for Biotechnology Information)
The FDA-approved Phase 3 AFFIRM study is designed statistically, based on prior Generx clinical study data, to meet or exceed ETT outcomes that formed the basis for FDA approval of Ranexa.
The company has developed a proposed treatment algorithm, with a mechanism of action as an angiogenic gene therapy.
Generx is single administration, angiogenic gene therapy which is administered during a basic diagnostic angiogram procedure by a interventional cardiologist for those patients with refractory angina.
To be eligible for the Ad5FGF-4 trial, a patient will have to had failed anti-angina drug therapy, and not be eligible for mechanical revascularization, e.g., bypass surgery or stent. 
There is an significant unmet, medical need, which formed the basis for the Generx product, which is now being designated with FDA Fast Track status.
The goal is to offer patients, with chronic myocardial ischemia, a new class of  therapeutics which are being referred to as "medical revascularization".
Currently, for those individuals suffering from refractory angina, there are only two options available for treatment. The first is maximal anti-anginal drugs, and the second is mechanical revascularization.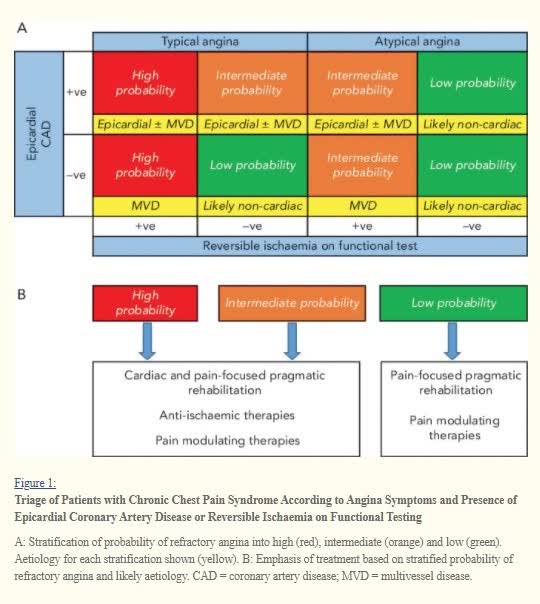 Source: NCBI
A few researchers have turned to gene therapy as a way of circumventing some of the problems caused by the use of proteins. The idea is to inject genes that contain the molecular instructions for creating FGF or other proteins directly in the heart, usually by placing the genes into a relatively benign virus that infects cardiac cells. Once implanted successfully, the genes can turn on the necessary growth factors and pathways for an extended period exactly where they are needed.
Although scientists have in fact induced the appearance and maturation of collateral blood vessels in the hearts of lab animals, no large-scale clinical trials of gene therapy for human hearts have so far demonstrated significant benefit; perhaps because the injected genes did not reach enough cardiac muscle cells.
Angionetics, has identified what may be a more effective method of delivering the genetic material to a broader area of the heart, which is essential to the formation of a significant number of new collateral vessels. 
The biggest risk facing investors in CRXM is that the company will ultimately fail to get FDA approval for their blockbuster drug, and/or that they run out of capital to see the product through to completion. 
We have confidence that Gene Biotherapeutics will prevail in their quest to bring this novel drug therapy to market, and apparently we may not be the only ones who feel this way.  
In May of 2020, CRXM reached an agreement with New Jersey based Nostrum Pharmaceuticals, LLC to become a strategic partner, while also receiving a much-needed capital  infusion of $1.7 million, by issuing a new class of Series B Preferred Shares. 
These Series B Preferred shares are convertible into CRXM common shares at a price of $0.0113. This translates into, upon conversion, increasing the number of outstanding common shares by 150,442,478, which would then  represent a controlling interest of 91.2 percent by Nostrum; effectively giving Nostrum control of the company, and all of its assets. 
We doubt very seriously that Nostrum Pharmaceuticals, LLC wants to own 91.2% of nothing, so they must believe in the future of Generx, and they must also have confidence that the FDA will one day grant clearance for the product.
If that were to happen, and Generx were to be adopted by the cardiologist community worldwide, we could easily see a situation develop where the drug became so increasingly attractive to Big Pharma, like Renaxa was to Gilead Sciences. Inc., that CRXM gets an offer for the rights to it, or simply gets an offer to be acquired by a large Pharma company.
As we previously alluded to, Gilead Sciences, Inc. paid $1.4 billion for CV Therapeutics in 2006 to own the rights to Ranexa. A similar buyout of Gene Biotherapeutics, even with Nostrum's 150+ million shares after conversion of its Series B Preferred shares, and assuming that on a fully-diluted basis we could possibly be looking at an outstanding share count of 250 million, that would still translate into a share price for CRXM of $5.60.  
As part of this May 20th agreement with Nostrum, Gene Biotherapeutics agreed to use $120,000 in proceeds from the sale of Preferred B shares, to hire the accounting firm of Marcum, LLP to assist the company with the preparation of its financial statements for the years ending December 31, 2017, 2018 and 2019, which are required to be filed with Securities and Exchange Commission, so as to meet all of its reporting obligations, pursuant to the 1934 Exchange Act, and to return to its status as a fully-reporting company with the SEC.
Investors have been anxiously awaiting the filing of this "Super 10-K" to see just what things are looking like "under the hood" so to speak. The company continues to promise that the filing is coming soon, but so far investors have only gotten talk with no action. 
Having experienced these same accounting calisthenics before with other companies, we understand that going back and covering three years of operations to produce audited financials is very complicated and complex in nature, especially since the auditors want every "i" dotted and every "t" crossed.
We have a feeling that when they are finally released, depending on what they reveal, CRXM stock will experience a relief rally, similar to what we saw in another one of our micro-cap stocks; ALLM.
With FDA approval, Generx would be the first Gene Therapy for the treatment of refractory angina that would bring this new and revolutionary technology into mainstream cardiovascular medicine; truly an historical achievement. 
As, what would then be, the only other FDA-approved drug available for the treatment of RA, other than Ranexa, we have no doubt that the attention which Generx would garner from both the medical community and large Pharma, would quickly put micro-cap company Gene Biotherapeutics, Inc. solidly on the map, and on to the radar screens of Wall Street investors.
After all, we doubt that Chris Reinhard has spent the last twenty-five years of his life chasing a dream, and running a race, only to give up at the final turn.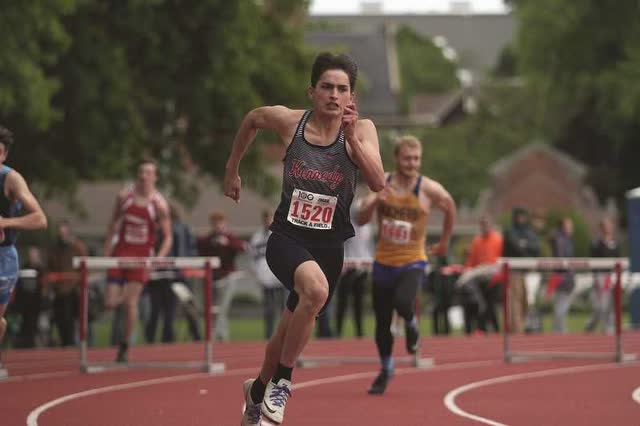 Source: Pamplin Media Group
Analyst's Disclosure: I am/we are long CRXM.
Disclaimer: We are not responsible for updating this article, or our opinion on any of the stock(s) that are mentioned in our articles. We are not in the business of giving investment advice and ask that readers refrain from asking us for it. Please do your own due diligence before investing. We are not responsible for any actions that you take based on the opinions that we express on Seeking Alpha. Please remember that this article is a reflection of our current opinion on CRXM. It is based on information that is publicly available at the time we wrote the article. Additional public information may be available but was not brought to our attention at the time we authored the article. We provide sources and links to factual information that we include in our articles but take no responsibility for the accuracy of their content. An investor should consider that new information may become available regarding the company's business activities, financial condition or corporate governance. It is the responsibility of each investor to make sure that they stay abreast of any new developments which may arise, that could have an impact (negative or positive) on their investment. Gene Biotherapeutics is considered a developmental-stage company, and carries a much greater investment risk than an established company. The company will likely need to raise additional capital to continue operations. There can be no assurance that they will be successful in obtaining additional financing in the future The company's auditors have questioned whether the company can remain a going concern. Investors should take this into consideration when deciding to invest in the equity securities of CRXM. There always remains the possibility that an investor in CRXM could lose 100% of their investment. We currently own an investment stake of greater than 10% of the outstanding common stock of Gene Biotherapeutics, Inc. We are not considered to be an affiliate or control person of Gene Biotherapeutics, Inc. and exercise no influence over decisions made by the company, its CEO, or the Board of Directors. An investor should carefully take this information into consideration when assessing the value of our opinions. We make every attempt to be objective in our articles, but there is always the potential for a conflict of interest to exist by virtue of our substantial equity ownership in the company. Altitrade Partners is not an investment advisory service, and is not a registered investment advisor or broker/dealer. Investors should base any buy and sell decisions on their own due diligence and preferably with the advice of their own financial, tax and investment advisors. The views and opinions expressed in this report are purely those of Altitrade Partners. No views or opinions should be misconstrued as advice as to whether or not to buy or sell any securities. Altitrade Partners does not offer investment advice, or investment services, and is not compensated to provide opinions, write research reports, or to comment on news related to any publicly traded company. Each investor is responsible for making his or her own investment decisions, with the assistance of a licensed financial advisor, investment advisor or tax professional to determine whether or not an investment is suitable based on their personal financial goals, circumstances and risk-profile. Readers must understand and acknowledge that there is a very high degree of risk involved in buying and selling securities, especially micro-cap stocks, and any investment decision should be based on a thorough analysis of a company, its business, its financial condition and the securities in its capital structure. No investment decision should not be based solely on what is read in a research report, viewed on a web site, or seen on the Internet. The Principals of Altitrade Partners may hold positions in the equity securities of companies or industries discussed here; including, but not limited to common stock, preferred stock, convertible debt, as well as listed put and call options. Any such positions are disclosed to readers, so that they may be aware of any potential conflicts of interest as a result of the author's position (long or short) in a security which they are writing about. Understand that such disclosure is made at the time that the opinion is posted, and is subject to change. Such changes may include increasing or decreasing the number of shares held, increasing or decreasing the number of options which may be exercised into common stock, along with hedging strategies designed around taking an offsetting position in the same security, or convertible securities, to manage risk. The information contained in this article may include or incorporate by reference "forward looking statements" including certain information with respect to business results, plans and strategies of publicly-traded companies. For this purpose, any statements incorporated by reference that are not statements of historical fact may be deemed to be forward-looking statements. Without limiting or forgoing the words "should", "could", "may" "believe", "anticipate", "plan", "expect", "project" and similar expressions are intended to identify forward-looking statements. Such statements are subject to risks, uncertainties, and assumptions about each company, economic and market factors in industries in which the companies do business, among other factors. These statements are in no way guarantees of future performance, and actual events, along with results, may differ materially from those expressed or forecasted by the companies due to many factors. The information contained herein contains forward-looking information within the meaning of Section 27A of the Securities Act of 1993 and Section 21E of the Securities Exchange Act of 1934 including statements regarding expected continual growth of the company and the value of its securities. In accordance with the safe harbor provisions of the Private Securities Litigation Reform Act of 1995 it is hereby noted that statements contained herein that look forward in time which include everything other than historical information, involve risk and uncertainties that may affect the company's actual results of operation. Factors that could cause actual results to differ include the size and growth of the market for the company's products, the company's ability to fund its capital requirements in the near term and in the long term, pricing pressures, unforeseen and/or unexpected circumstances in happenings, pricing pressures, etc. Investing in securities is speculative and carries risk. Micro-cap stocks carry additional risks beyond those of higher classes of securities including, but not limited to trading outside of a listed exchange, potential liquidity issues, dealing with penny-stock rules, lack of margin eligibility, a possible absence of transparency regarding BBBO quotes, a limited number of Market Makers willing to provide depth to the order book, potential issues regarding financing activities, inadequate capital to execute on the company's business plan, going concern caveats, and the potential inability to compete with larger companies due to limited financial and personnel resources. Please invest responsibly. We encourage individuals to only invest what they can afford to lose, up to a maximum of 100% of their investment.
Seeking Alpha's Disclosure: Past performance is no guarantee of future results. No recommendation or advice is being given as to whether any investment is suitable for a particular investor. Any views or opinions expressed above may not reflect those of Seeking Alpha as a whole. Seeking Alpha is not a licensed securities dealer, broker or US investment adviser or investment bank. Our analysts are third party authors that include both professional investors and individual investors who may not be licensed or certified by any institute or regulatory body.