Investment Thesis
Twenty years ago, not many people would have thought that Amazon (AMZN) would become an online retail giant. They have grown from an online book store to an online retail giant that sells almost anything. Its recent announcement to acquire Whole Foods (WFM) dropped a bombshell to brick-and-mortar grocery stores. Grocery retailers including Costco (COST), Kroger (KR), and Walmart (WMT) all felt this impact as its stock price dived following the news of the announcement.
In this article, we will briefly discuss about Amazon's acquisition of Whole Foods and the impact on online grocery shopping.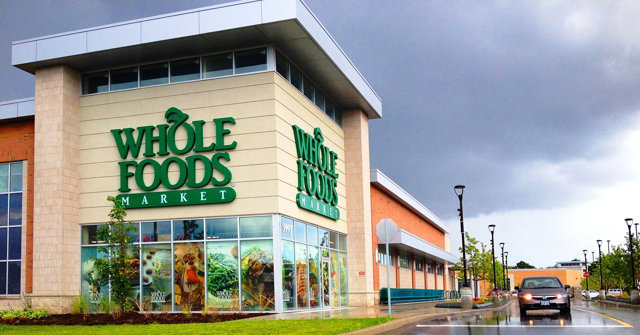 A Whole Foods Market in Ontario, Canada (Source: Wikipedia.org)
Amazon's Entry into Grocery Market
For a long time, investors thought that grocery stores will be the least impacted by E-Commerce among all retail sectors. However, Amazon's acquisition of Whole Foods appears to change their perspective, at least in the near-term.
Providing discounts to Amazon Prime members on Whole Foods' grocery is one way to increase Amazon's membership value and draw its prime members to Whole Foods. On the other hand, more Prime members will likely be drawn to Whole Foods stores. On the other hand, its Whole Foods acquisition will result in more Prime memberships.
However, the fact that Amazon is buying a traditional grocery retailer indicates that there is always demand for instore shopping. Perhaps, Amazon is eyeing a hybrid approach where customers ordered it online and pick it up in store. This is exactly what Home Depot has been doing to grow its online store as nearly half of its online revenues are from those who shop online and pick it up instore.
However, Amazon's goal is more than this. I believe what Amazon wanted to do with Whole Foods is to use the grocery retailer as a vehicle to experiment different ways to improve its online shopping experience and perhaps implementing a hybrid shopping approach. Its Whole Foods acquisition enables Amazon immediate access to 'big data" to allow Amazon to gain an important piece in its puzzle, its customers' offline shopping behavior. This will help Amazon to find ways to to improve its online or hybrid grocery shopping experience and grab market share from other retailers.
Good Consumer Experience is the key
Good customer shopping experience is the key to online shopping success. If Amazon can achieve good consumer experience, it is possible that consumer behavior will gradually shift towards some forms of online shopping. Amazon have done that in the past by gradually luring consumers towards shopping books and other products online. For example, book reviews, having a preview of contents inside a book, suggesting books that other customers bought on the topic that consumers are looking for, etc. are some ways that Amazon did to improve its customer's online shopping experience. In doing so, Amazon gradually transformed its customer's behavior in book shopping.
Online grocery shopping is much more complicated though. While customers may not necessarily need the book they ordered right away, customers buying grocery online do care about the quality and freshness of the fruits and vegetables they bought regardless of whether this is a delivery order or instore pickup order. Speedy delivery or fast availability for pickup is also the key. With its acquisition of Whole Foods, Amazon will the vehicle to experiment different approaches to improve its customer experience.
Since consumers still prefer shopping groceries by picking and choose fresh items themselves, it will be much more difficult for consumers to switch their behaviour. The process to shift consumer behavior to shop groceries online will likely take longer. Since the margins for retail groceries are already low among retail sectors, shipping or instore pickup will inevitably increase it operating expense. Some forms of new technology adaptations will be necessary to keep the shopping process efficient and in the same time keeping its margin.
In addition, we all know Amazon has a history of heavy investing in order to build its competitive advantage. As a result, its quarterly expenses and earnings can fluctuate quite a bit quarter over quarter. Its experiment on online grocery shopping or a hybrid approach to grocery shopping will likely drive up its expenses thus resulting in lower operating margin.
Investor Takeaway
Amazon's success in online grocery shopping will depend on its ability to provide positive shopping experiences to its customers. This will depend on delivery speed, pricing, and quality and freshness of grocery. Grocery delivery or pick-up orders are much more complicated than other deliveries. Amazon will have to experiment different approaches to provide consumers with positive shopping experiences. This will inevitably impact Amazon's near-term margin.
Disclosure: I/we have no positions in any stocks mentioned, and no plans to initiate any positions within the next 72 hours.