Unlike most blockchain-based businesses, IP Exchange (IP.SX) is trying to make money by buying and selling a real product IP (Internet Protocol) addresses rather than a token.
IP Exchange ended its Token Generation Event on March 5th. Now IPSX can concentrate on providing an enterprise solution rather than selling tokens. More importantly, that enterprise solution is being built by an established provider of SERP tracking and analytics tools.
"Our major advantage is that we have a working product - an enterprise solution," founder and CEO George Bunea said. "We just needed to make integration with the blockchain and a user interface for the end user. We're not building anything from scratch. We have been active players in this market for many years."
The team behind IP Exchange has been providing search engine optimization (SEO), rank tracking, API, search engine results page tracking, and other data-mining services through its company GeoRanker since 2011.
A Big Problem with IP Addresses led to Blockchain Platform
The idea for IP Exchange came from a difficulty the GeoRanker team had finding enough IP addresses for data mining. "We had a big problem with IP addresses," George admitted.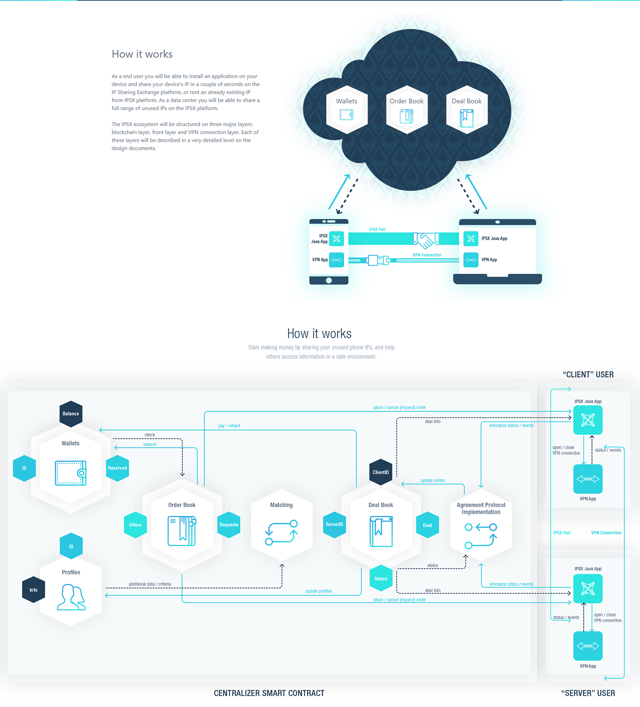 Data-mining tools like web crawlers need hundreds of IP addresses to operate but the addresses are hard to find. That often prevents data miners from servicing all their clients. At the same data centers and private individuals have unused IP addresses.
"That means, if you want to run a custom data mining project and you need 5,000 IP addresses for that, it will be difficult and challenging to find," George said. Meanwhile, data centers and millions of computer owners have unused IP addresses.
That gave Bunea and his team an idea for an exchange where individuals or owners can sell others the right to use their IP addresses. Bunea, a long-time cryptocurrency investor, thought that blockchain would be the perfect medium for such an exchange.
"One of the problems identified is that IP addresses are high-value assets with a very low level of liquidity," George said. IP Exchange intends to provide that liquidity by allowing users to exchange unused IP addresses for IPSX tokens.
"Big data companies need a huge volume of IPs," he said. "You are lucky to find all the IPs you need with one supplier."
Acquiring IP addresses can be tricky because of ownership issues, and lack of communications. That problem exists because there is no easily accessible market for IP addresses; IP Exchange is supposed to be that market.
"There will be a trading engine for IP addresses," George said of IP Exchange. "And a smartphone mechanism to verify that people own the IP address. And a payment done through blockchain."
Transforming a cost into a form of revenue
Address owners will be attracted to IP Exchange because they can receive almost instant payment for addresses through the IPSX token. Since IPSX is an ERC20 token, it can be quickly solved for Ethereum (NYSE:ETH) or Bitcoin (BTC).
IP Exchange's API should provide "almost instant payment rather than long-distance SWIFT payment that can take up to three days," George Bunea said. SWIFT is the international system for transferring funds between banks.
Such a system can help data centers transform a cost into an asset, he explained. "Data centers have a huge volume of IP addresses but they don't have a simple solution to share them. Those IP addresses are generating costs, they're sitting there unused."
There are vast numbers of IP addresses available, which can provide a large pool of liquid assets for IP Exchange to tap. He noted that for broadband, you actually need huge numbers of IPs. Beyond data centers, many individuals have high-value IP addresses but no way to monetize them. IP addresses from countries like Romania, where there are no internet restrictions, are in demand from data miners, George explained. Yet owners have no way to sell them.
Building a Marketplace for IP Addresses
Even though IP Addresses are hard to find, they are vital to the success of data miners. To get information from search engines like Google, hundreds of IP addresses are necessary.
"Let's say that I want to withdraw information from Google," Bunea said. "If I use only one IP address to do that, Google will ban it right away. You need to simulate that thousands of people are searching for it. "
Potential buyers of IP addresses include virtual private network (VPN) providers, cybersecurity firms, marketers, big data, and any other organization that needs to do large-scale research online, George revealed. Many of those organizations are unable to conduct basic research for want of IP addresses.

IP Exchange is currently in discussions for partnerships with major IP providers that control up to 30 million domestic addresses and 150,000 data center IP addresses, a company document revealed. If the discussions are successful, IP Exchange might get access to as many as 30.15 million IP addresses.
"On one side, there is a huge demand, on the other side there is unused IPs," George said. IP Exchange is designed to bridge that gap. Beyond large corporations, individuals would also be able to sell IP addresses from devices like personal computers. A typical user might be a small businessperson who would sell the IP addresses from three or four PCs that are not in use.
"End users would be able to sell their IPs," George Bunea explained. "Some IPs are more valuable based on quality and location. There are IPs with no restrictions such as those in Romania. There are other countries where there are a lot of restrictions."
Potential to enter $60 billion and $168.7 billion industries
One of the biggest markets for IP addresses is the VPN industry. Data collected by Bunea's team indicates that VPN is one of the fastest-growing segments of the digital world.
"We analyzed the market from the data that we have, and we discovered that the VPN market is around $60 billion per year and increasing 16% a year," George said. Statista projected the size of the VPN market at $60 billion in 2019. Since around 25% of all internet users utilize VPNs on a daily basis, the potential for market growth is vast.
An even greater opportunity is big data, which encompasses everything from marketing research to intelligence agencies. Statista estimated big data revenues at $168.7 billion for 2018; those revenues are expected to grow to $188.8 billion in 2019, and $210 billion in 2020.
"I'm even afraid to make any predictions," Bunea said of the true size and value of Big Data. "There are thousands of companies doing data mining. The main customers will be Big Data."
Georanker already has experience selling a wide variety of services and information to Big Data companies.
IP addresses have many applications in data analytics including advanced analytics for negotiations, process-efficiency improvement, market intelligence, supplier portfolio optimization, fraud detection, predictive server quality, risk management, and improvement of payment terms and conditions. Around 57% of chief procurement officers spent money on data analytics for negotiations in 2017, Statisa data indicates.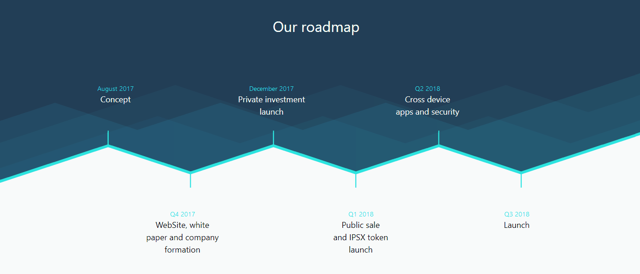 Opportunities in Cybersecurity and Fraud detection
Cybersecurity and fraud detection are two of the biggest uses for IP addresses right now, George revealed. "One of the most frequently-asked questions we receive is how we are going to help people identify who is using their IP addresses," he said. Many companies and individuals need to learn whether identity thieves have hijacked their IP addresses.
Georanker can create times of IP address use that can show authorities and others when somebody was actually using an IP address. "It can always show to law enforcement that you were not using your IP," George said. Bots and fake Telegram users are among the biggest problems that Georanker can help ICO companies solve.
Another use for IP addresses is to combat fake news. Like other forms of fraud detection, finding fake news involves huge amounts of data mining. "In order to identify all the websites involved in fake news you would need custom data mining. You would need to centralize all the information," Bunea said. "For that you need a huge volume of IP addresses."
It is even possible for data miners like Georanker to build applications for fraud or fake-news detection that are based on IP addresses. A fake-news detector would need hundreds or thousands of IP addresses to search the web for specific information. "This is only an example of a project you can build on top of it," Buena said of a fake-news detector.
Building Solutions for VPNs
"One of the major consequences of IP sharing is that you can become a VPN provider," Bunea revealed.
A company can use IP addresses to build a VPN targeted at specific users such as gamers or businesses in a certain industry. The virtual private network would encompass the IP addresses purchased through IP Exchange.
"We are not interested in becoming a VPN service provider," Bunea said. "Instead, we are interested in partnerships with VPN service providers. We want to solve their problems with liquidity."
IP addresses have many potential uses for VPN service providers and their customers including getting around restrictions on internet content and censorship. Many users need a different IP address to access certain internet content.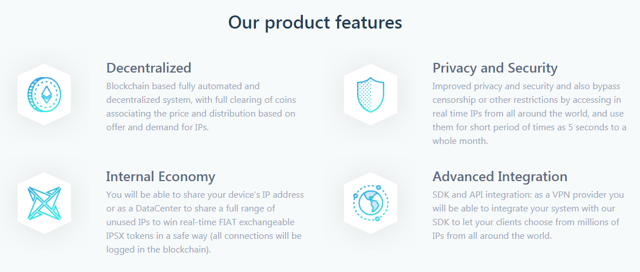 "As a practical example, if you are from Switzerland and you want to look at a TV show on Netflix while visiting Romania and you need a Swiss IP address, but the show is very popular," Bunea said. "And if many Swiss will look at the same show, the VPN provider will not have enough IP addresses."
Building Infrastructure with IP addresses
The customer or the VPN provider would be able to use an IP address from IP Exchange to view the program. The provider can even create a VPN network for specific customers.
The network will actually be built on a layer of IP addresses that can be utilized for other purposes. Such networks can serve as an infrastructure that supports a wide variety of solutions. The networks and solutions can be built by the VPN providers or by IP Exchange. Bunea said his team can build almost any IP address-related solution customers need.
"It's very flexible and possibilities are endless," Bunea said of the solutions and projects that IP Exchange can build with IP addresses. "We can help VPN providers, data providers, everybody else to scale their businesses."
No Direct Competitor
"What is unique for our project, we are not competing with anyone," Bunea observed. "At the moment we don't have a direct competitor." The lack of a direct competitor might explain the easy time IP Exchange had attracting private investment. When IP Exchange held a private sale of the IPSX token in December, it attracted three times the amount of money initially sought, Bunea revealed.
"We said all we need is a maximum hard cap of $10 million and we got $30 million," George said. "We were not prepared for that. We were oversubscribed."
Bunea attributes the success of the private sale to his reputation in the blockchain space. He thinks investors were willing to take a risk on IP Exchange because of him.
The success of the private sale enabled IP Exchange to survive a somewhat disappointing public sale of the IPSX tokens in February. The company ended up burning around 5% of the IPSX because it was unable to sell them.
"We launched the public sale on 28 February and closed it on the 5th of March," Bunea said. "The market conditions turned out bad and we did not sale everything."
"We raised 6,500 Ether (ETH) from private investors at that time it was around $7 million," Bunea said of the sale. IP Exchange was able to sell 95% of the IPSX tokens available.
New Source of Revenue from the TGE
Interestingly, IP Exchange identified a new source of revenue from the sale. The stability and security of its token sale revealed a new service the company can sell.
"What's interesting is that we never lost security in our in-house AGI system," George Bunea said. IP Exchange experienced no security problems during the token generation event (NYSE:TGE). This has impressed many companies that want to buy IP Exchange's KYC system for their TGEs and ICOs.
"Many ICOs have security problems," George said. "We have a lot of requests from other ICOs. We created a new revenue stream."
IP Exchange is formalizing plans to sell its Know your Customer (KYC) and AGI solutions to other companies planning ICOs and TGEs. Companies will need to contact IP Exchange or Bunea directly to learn about the ICO security solutions.
IP Exchange Release coming Soon
The next step for IP Exchange will be to release a demo of its platform, which should occur by the end of March, George said. The tokens will be released at the same time.
Unlike many blockchain companies, IP Exchange has a physical address and legal ownership that can be legally tracked. Its website states that IP Exchange is owned and operated by Geralka Project AG Address: Bahnhofstrasse 4, ZIP: 6052, City: Hergiswil NW, Switzerland.
Geralka Project was incorporated in Switzerland, but its operations are headquartered in Bucharest, Romania. The company also has offices in Calgary, Alberta, Canada. The company is also growing, George revealed. "We have about 60 employees and will reach 100 soon," he said.
"I want people to know that we are trying to create a network," Bunea said in conclusion. "We are opening a business of billions that is regularly closed to end users."
For more information, please visit:
Decentralized IP Sharing Exchange
Local SEO Tools, Local Citation Finder and Local Rank Checker & Tracker by GeoRanker
https://www.linkedin.com/in/gbunea/
If you have any questions about IP Exchange, IPSX, or Georanker, Bunea can be reached through Telegram at:
Disclosure: I/we have no positions in any stocks mentioned, and no plans to initiate any positions within the next 72 hours.