There is no doubt that the narrative surrounding Alibaba (NYSE:BABA) started with pure optimisim since its IPO (at a market capitalization of 168 billion dollars, $68 per share) - shares rocketed 50% in first trading day and gradually collapsed back to $60 per share. Despite dipping in late 2015 amongst fears of the inflated equity market and the imminent rate hike, the narrative has flipped and suddenly, Alibaba is a great stock rallying almost 25% year to date to reach the current market capitalization of 234 billion dollars ($94 per share). The real question is: does this rally have legs or will it eventually topple on itself?
Valuation
To grasp Alibaba's valuation I have conducted a comparable analysis using peer group companies that have been selected by merit of size, region, target market, and operational similarity. By taking into account relevant rivals such as Tencent, Amazon, eBay, JD.com, and Baidu, the comparable valuation yields a result of $98.5 per share based on the median PE multiple. Please consult the illustration below: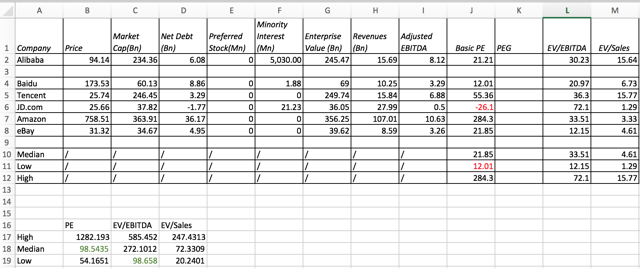 P/E multiple
Based on the PE metric, we can attest that Alibaba has a PE ratio of 21.21, which is slightly lower than the median PE of 21.85 obtained from all the comparable companies. This implies that Alibaba is slightly undervalued relative to its peers, with a target share price of $98.5.
EV/EBITDA multiple
Alternatively, if we take a look at the EV/EBITDA metric, we can see that Alibaba's enterprise value should be 17% higher to stand at 272.1 billion dollars, relative to the median. It is also important to note that we have based our analysis on earnings instead of sales, during a defining moment in e-commerce where big players in the industry such as Amazon and JD.com are explicitly undercutting margins to boost revenue. The basis of their strategy is to deliver products and services below cost, with the long-term vision of being so ingrained in people's lives they will refuse to abandon it.
A comparable valuation using the the conventional PE and EV/EBITDA multiples tells us that Alibaba's current share price of $94 is priced within short range of it's intrinsic value. In fact, with current upward momentum it is very likely that Alibaba will hit the $105 resistance level. However, it would be rash to assume that this projected value holds much weight beyond a speculative play as it is concieved from an slightly exuberant market at present. The recent gains and upward momentum surrounding Alibaba has occurred as a result of a "catch-up" trade, following negative market sentiment at the beggining of the year - as opposed to gains fueled by innovation. Following this line of reasoning and evidence from my comparable analysis, $105 should be expected given the relative undervaluation of the company and the momentum it contains.
On the other hand, it is easy to forget that Alibaba was once touted as the most expensive IPO at 168 billion dollars - which only happened two years ago. Credited investor Aswath Damodaran states that a well-priced IPO is usually one where the stock springs 10-15% on the offering day - this rewards key clients with a quick profit, and generates press buzz that complements share price momentum. The fact that the IPO was set at 168 billion dollars might imply that the undewriting bankers believed that the fair price was about 180-200 billion dollars; well below its current capitalisation. Therefore, I would be very wary of jumping into the BABA wagon beyond skimping on a quick profit based on the pricing game, as opposed to its intrinsic valuation - especially with the recent rally.
Pseudo-valuation
However, that is not to say that Alibaba is a poor long-term investment (by long I mean atleast a 5 year holding period); in fact, it is the exact opposite if you can brave the stormy market cycles. It's hard to truly grasp the intrinsic valuation of Alibaba given its diversified business and sporadic holdings in hundreds of medium-sized companies. Yet we can all agree that it has essentially monopolised e-commerce in China, and is bringing out one of the most definining social and economic classes in the world.
Let's get metaphorical in our pseudo-valuation. In the premodern era of Chinese history, the strict monopolisation of salt (which still exists today in a less extreme form) by the government was long a significant source of revenue for the state- second to land tax. Nowadays, Alibaba and Tencent embody a similar sense of power by controlling and defining the platform business in China. If the monopolisation of salt was so succesful, how wildly succesful can a virtual platform that caters to 1.35 billion people become? To place things into context, Amazon, being the premier online retailer that dominates the American and European segments, serves approximately 900M people (rough aggregate of the segments) and has a market capitisation of 363 billion dollars. On the other hand, Alibaba which serves 1.35 billion people almost exclusively, is valued at 244 billion dollars. Whilst many pundits view Amazon to be heavily overvalued, one can easily see why it is that Alibaba is 'relatively' undervalued.
Takeaway
Alibaba was known as the biggest IPO in history, garnering a total of 168 billion dollars, carrying the dream of China's middle class on it's back. 2 years later, the company has soared 50% in value and question remains as to whether this rally will sustain. Given the current state of the bull market, as well as the sky-high valuations of peer group companies, Alibaba does appear to be slightly undervalued on a relative basis. But more importantly, a pseudo-valuation tells us that Alibaba is much more significant than what the market prices it to be- it is the driver of consumption in China, from city centres to urbanising rural communities. Instead of taking a cab to your favorite mall to do your shopping and visit your favorite theatre, Alibaba organises for you through Taobao, Tmall, Didi Taxi and Alipay. With the advent of big data and Alibaba's venture into this new industry, I cannot even imagine what the implications will be. The stock is not cheap, but fact is, the Chinese middle class is booming and will continue well into the future.
Disclosure: I/we have no positions in any stocks mentioned, and no plans to initiate any positions within the next 72 hours.