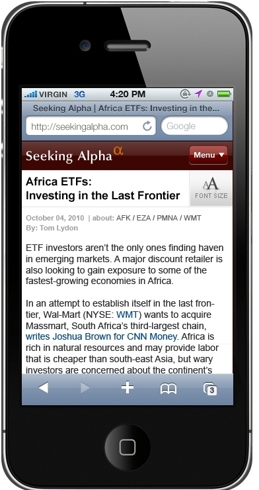 In our efforts to bring you more exposure, we are happy to announce that this week we launched our
mobile
site.  This will enable anyone with a smartphone to view
Seeking
Alpha
'on the go' in a cleaner, simpler layout designed specifically for
mobile
browsing. 

There's no need to install anything, simply type

seekingalpha.com

 into your
mobile
browser. The
mobile
site has been specifically optimized to work with iPhones/iTouches and we hope to add support for Blackberries in the near future.




Improved Dashboards
You may have noticed that we've updated all dashboards on the site to include a "most popular" articles unit and a "currently discussed articles" unit in the right-hand column.  These new features will help highlight your popular and high interest articles and discussions.

After receiving feedback from our users and authors, we've decided to change the "Global Markets" dashboard and have renamed it "Global Investing."  Also, we are excited to announce that Europe is now part of the dashboard. You can see the changes here.

Finally, don't forget to check out our new "Investing for Income" dashboard, which provides extensive ideas for retirees and other income-oriented investors on dividend stocks, bonds, and ETFs.  You can also receive the "Investing for Income" newsletter by e-mail by clicking on the "Get Investing for Income by email" button at the top of the page.

New Tech Currents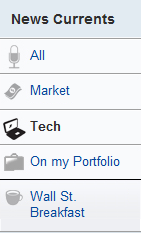 Thanks to your suggestions, we've expanded our popular Market Currents product to include Tech Currents which we expect to become a must-read for anyone interested in tech stocks.

Like Market Currents, Tech Currents will be a lively, edgy, running narrative of news and commentary relating to the tech industry.  It will help investors not only keep up to date with breaking news and commentary, but subtly help them understand the 'so what' behind the news, and lead them ultimately to make more timely, better informed decisions. 

Whenever possible, we will link to your articles from our highly trafficked Market and Tech Currents sections to bring you more exposure.
We've made searching for your topics on the site much easier and more efficient. You can now search for your favorite topics on the site and see results from articles, transcripts, and market currents organized by tabs. See a sample search

here

.
Win a FREE iPad from ChartFacts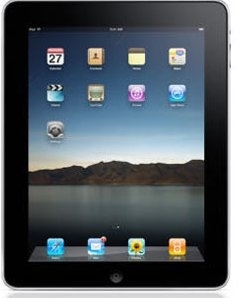 ChartFacts is giving away an iPad! Just write an article that includes a chart from

ChartFacts

, and you will be entered for a chance to win.  You will receive one entry for each article you write using a ChartFacts chart.

To Enter:
Simply email a link to your the article to ChartFacts at
ipad@chartfacts.com
. All articles written and submitted between Tuesday, November 9th and 11:59pm ET on Sunday, November 21st will be eligible. Please send one email per link.

With millions of charts on economic data, market data, company financial performance and more, there is plenty of inspiration at ChartFacts. And, ChartFacts makes it easy to compare data, customize charts, and publish them anywhere. To help you use its service, ChartFacts will be holding two live 20-minute long tutorials this week. Details are below. Alternatively, there are four

brief tutorial videos

in the upper right section of the application homepage.

Conference Call Tutorial Details:
      Dates: Thurs., Nov. 11 and Mon., Nov. 15
      Time: 1:00p ET (10:00a PT)
      Dial-In: (218) 936-4141, Access Code: 4900588