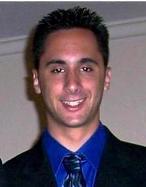 Eric Karnis recently joined Seeking Alpha as a marketing intern for our Marketing & Sales team.  He is looking to gain experience in digital media and advertising.
Eric worked as a Student Ambassador for the State University of New York where he gave tours to prospective students.  He also served as Treasurer and President of his fraternity.  He was awarded the John O'Dasher Scholarship/Leadership award in 2008.  He enjoys snowboarding during the winter and hiking and swimming during the summer. 
Eric graduated with a B.A. in Communication and Media from the State Univeristy of New York at New Paltz in May.
Welcome to Seeking Alpha, Eric!