As part of Seeking Alpha's continued drive to aid our contributors in improving their research capabilities, we have added yet another subscription service to our trove of research tools available free of charge. Our latest partnership is with Zacks Investment Research: the innovator of the Zacks Rank and a stalwart Wall Street firm for over 20 years.

Starting today, all Seeking Alpha authors are eligible for a FREE, one year subscription to Zacks Premium.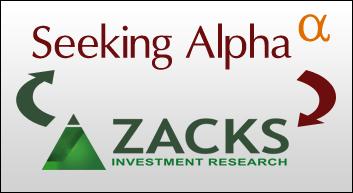 There are two aspects of the premium  service that many of you will find  particularly valuable. The first is the  stock and industry screening tool.   Users can utilize pre-made screens or 
 customize their own by adjusting up to 150 attributes. Additionally, users can screen by the Zacks Rank for both stocks and industries. The Zacks Rank, driven by earnings estimate
 revisions, is assigned to a stock or industry based on a quantitative model that accounts for the direction and degree of change in earnings estimates.

The second aspect, full access to Zacks Equity Research, is the fundamental research needed to round out the insight provided by the Zacks Rank. Zacks Equity Research provides users with research reports produced by Zacks' 50 independent and unbiased analysts who follow small, medium, and large cap stocks. 

We are pleased to provide you with this quality service completely free.  At Seeking Alpha, we always strive to provide our authors with the best tools available to ensure you have the strongest and most informed voice in the blogsphere.  In exchange, Zacks requests only that you link to its service in the body of posts that utilize the Zacks Premium service.

To sign up for this offer, simply contact us at contributors@seekingalpha.com.

Accounts are good for one year and will be automatically renewed at no charge for active SA contributors.
Free InfoNgen and Gridstone Research Accounts


Don't forget, authors are also eligible for free InfoNgen and Gridstone Research accounts. 

If you have not already requested a free account, email us at contributors@seekingalpha.com with your name, phone number, and mailing address and we will be happy to set one up for you.

Please visit our benefits page for further information and more contributor offerings. Have a suggestion for additional tools, perks or partnerships you believe would benefit your fellow authors? Let us know by emailing us at contributors@seekingalpha.com.