This week you'll notice we've implemented several of your suggestions to improve website usability and to bring you more exposure on Seeking Alpha.


Please note: All screenshots include random data and do not accurately reflect the content of our site. Click on screenshots to enlarge the image.


Most notably, when readers view any of your articles, they will now see additional information highlighting you and your business and/or blog at the end of each article (see full screenshot).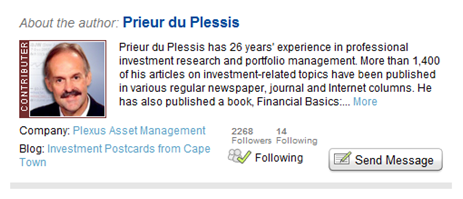 Also at the end of each article, you will see an option for readers to track comments on articles of interest, even if they haven't commented on it themselves.




You can also stop following any individual articles by unchecking the same box.

Lastly, we've made it easier to follow comments on your articles by adding an orange banner to any new comments that have been added since you last viewed the page (see full screenshot).




As always, please enjoy these latest updates and continue to forward on your suggestions on how we can make the Seeking Alpha website benefit you most.

All my best,
Boaz Berkowitz
Director of Contributor Relations
Seeking Alpha