All active Seeking Alpha contributing authors are now eligible for a free 1-year subscription to
XTF
.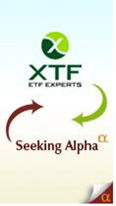 XTF

provides comprehensive and robust
 data for your research and articles.
XTF

 enables investors, traders and financial 
 investors the ability to make informed 
 decisions about Exchange Traded Funds
 (ETF).
XTF
allows ETF investors to
 make relative comparisons amongst
 similar ETFs by asset class (stock,
 bonds, commodities) or by geography.
XTF
begins coverage of a security once
 it starts trading. After six months on the
 market, the firm will give it a rating. Clients can get ratings on equities, fixed income, currencies, commodities, real estate and multi-asset products. The ratings process is unique, quantitative, rules-based, and transparent which ensures that the research is unbiased and usable. It also allows users to review the up-to-date performance of all ETFs or to choose among fifteen categories. Some categories include large, mid and small cap stocks, real estate, commodity, value, growth, international, and leveraged.
You can read more about our partnership with
XTF
here.


To sign up for a complimentary account, please click

here

.
(You must be logged in to access this form).