All active Seeking Alpha contributing authors are now eligible for a free 1-year subscription to the I-Metrix Professional service, a $4,800 annual value.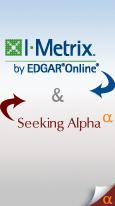 I-Metrix from Edgar Online provides:
 faster access to better data on the
 Web or in Excel, complete company
 overviews and profiles, accurate, and
 transparent data that boosts
 confidence in decision-making, and  
 comprehensive screening and robust
 modeling. I-Metrix delivers the very   
 latest disclosures including preliminary,
 final, restated, and amended financials -
 available to customers within 24 hours
 of filing, and is the industry's fastest
 way to obtain data. In addition to U.S. and foreign SEC filings, I-Metrix also covers Chinese public company data from the Shanghai and Shenzhen Stock Exchanges.

You can use the I-Metrix Screener to filter through thousands of companies against all data including earnings estimates, market data, key financial ratios, fundamentals, and industry comparisons and create your own custom
ratios.

I-Metrix uses the XBRL format, which maintains data structure and eliminates the potential for corruption and redundancies by assigning individual tags to thousands of data points.

You can read about our partnership with I-Metrix here.
To sign up for a complimentary account, please click here.
(You must be logged in to access this form).