The ball was set rolling by dominion, US, in mid- 2013, for which the speed set for calibrating the occurrence of events shows that now it seems to be rudderless for sometime, now.
Initiating from West, anti-clockwise, the tremors were experienced by currencies waging a war along with commodities till date. The aftermath has been inconsequential even for the central banks which now hold the ball-game for debt markets across world, notably, FR, ECB, BoE, PBoC, BoJ, to name a few. Does it really bother the developed nations the imperatives of growth engine are slowing/dying down with Japan going the fiscal-death path along-with Europe which after carrying due-diligence seems to make the world understand that everything is in order where the demand-supply is being controlled by itself.
Of all, China seems to be playing the sport in right spirit ( most of you are not going to agree) with less transparency and only opening the plug-holes releveant as per time. Opening HKSSC(Hong kong Shenzen Stock Connect), CIPS( China inter payment System), controlling oil prices, favoring Russia for the partner which has one of the highest proven oil reserves, etc. The world where US predominantly dictates the reserve currency status China seems to be on path of opening up and against the political dominion on its will, in maverick designing, politically, economically as well as geographically, as recent as South China Sea affairs where it clearly pronounced its dejection against the Intl law of arbitration.
The first playgorund was set apart more than a decade ago to become the commodity play-ground by China by becoming the absorbent of commodities like Copper, iron-ore, etc and following very strongly with fixed- currency regime against USD to make it appealing and attractive for US and its allies. It clearly demonstrates the sheer power of behemoth like US and China to keep thwarting each other where one becomes the creditor nation running one of the largest current account surpluses, China and US, printing currency with biggest debt floating around world and constantly seeking buyers to keep them afloat. This "love & HATE" relationship will continue and now when China is coming around the SDR(NYSE:IMF) basket starting this October, they have had their closest ally Japan to opt for fresh spending, 13th, since GFC( Global Financial Crisis, post Aug 2008) to have their allies stick to the very consumption of the debt basket, staring at IG(investment graded) US corporate debt.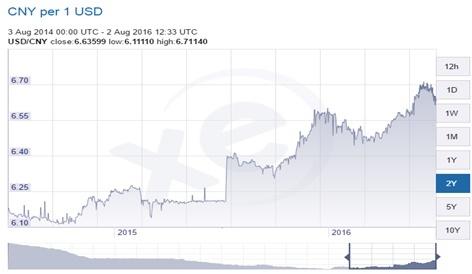 The currency behavior of CNY, in above chart, dictates a 3.0% increase over an average of 6M(onths) in last one year indicating headwinds in short term at 6.63/6.62 (with strong support at 6.6) should be crossing 6.85 with every peak set in last one year before end of CY 2016.
The currency headwinds/commodity roleplay discounting seasonality of Aug/Sep months will set the pace with weak quarterly earnings across the world including emerging markets. China will be poised to ensure that the inclusion formally happens in SDR basket by Oct 1, 2016. All three indices set by China, CFETS, BIS & SDR indices will ensure that when volatility picks up during these months it should be able to absorb the shocks and becomes harbinger for the foreign money invested onshore. China will have to gradually follow the path of devaluing renminbi every year by at least 4-5% for the next couple of years to ensure that the exports driven economy transforms its service sector and balances the growth of GDP which has been clearly driven by manufacturing sector for more than 2 decades.
Remember one thing, equity markets of China, notably, CSI 300 index touched its zenith in summer of 2015 does not play pivotal role in circulating currency/borrowing by the local companies but its the debt basket stage set by PBoC which bears the burden of growing China, approximately, 2/3rd. In meantime the 10Y China treasury bond is trading at 5bps higher than the 2.74 yield touched in Dec 2008.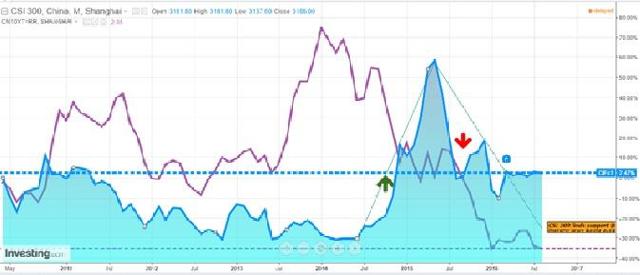 The debt has been issued to the local banks on long duration basis and the overnight liquidity via monetary tools has been kept under tight control by PBoC. Generally, when yields are in decreasing mode as demonstarted in chart from 4.26% in mid 2014 to 3.65% in June 2015, CSI 300 reached an acme of 5361 during same time.
And the scenario as of now stands to be witnessing a significant downward trend in the yield movement of the 10Y China bond by 23% till date, 2.79%. But now the ball has been shuffling from equity to debt(largely) as RQFII quota, even though increased by CSRC seems to be least attractive for heavy foreign equity inflows seen during CY 2014 till half of CY 2015. This was due to happen as the currency which was over-valued saw intervention by PBoC to win the SDR baspet space. There is still a significant gap between US 10Y TB and China 10Y which will keep the debt books running with the foreign money intact as far as the momentum of devaluation seems to be consistent over the next couple of years.
US positional play to re-establish the supremacy of its reserve currency status on world turf is to gain the following 4 things:
USD ,as currency to sustain safe-haven status for decades to come.
Consumers are more confident in their own economy.
Trade partners/agreements are well-placed for future outcomes like TPP.
Last, but not least, a formidable ECONOMY.
While the CNY dynamic tactics for the past decade are inseparable parts of the same game.
Correct tactics always need to lead to positional sound positions with time. NO GAIN WITHOUT PAIN.
NOTE:
I wrote this article myself, and it expresses my own opinions. I am not receiving compensation for it. I have no business relationship with any country-specific economy mentioned in this article.
Additional disclosure: The article is based upon China's Behavior and its relevance on the varied outcomes ployed by developed world, US , Japan, etc to defeat deflation.