The idea behind writing this article is to bring to the fore , a new world which stays in a city named, TOXICITY, developed, bred and fed by $.
All central banks in the central/eastern part of the world are reeling under stress to avoid any sort of financial crisis of funding their corporates/banks either private or public in nature. All policies in the world are working divergently to the FED one. Bank of Japan, bank of England and European Central bank have been working day-in-day-out to keep the funding tap on for growing their GDP and stoke inflation. Despite the Fed trying( still, a Myth!!!) to balance the rate expectations and the dollar, I believe there exist opportunities and short term market inefficiencies in major currency pairs due to diverging central bank activity.
If you check the recent speeches made by BoE and BoJ, you will be cognizant of the fact that the expectations have either fallen below or exceeded the street anticipation. Usually, the purchase program has 4 main channels to transmit the real credit to REAL ECONOMY,
ANNOUNCEMENT effect; affects investor expectations
PORTFOLIO BALANCE effect; disseminates through both expectations on announcement & actual period of purchasing
LIQUIDITY PREMIUM effect; central bank purchases can restore market liquidity through stimulating 2-way market flows
REAL ECENOMY effect; whereby proceeds from central bank purchses are injected into real economy.
This is what happens every time market sets an outlook for Japan to move out of deflating gate and grow and central bank has got strong tendency to follow the above-said path.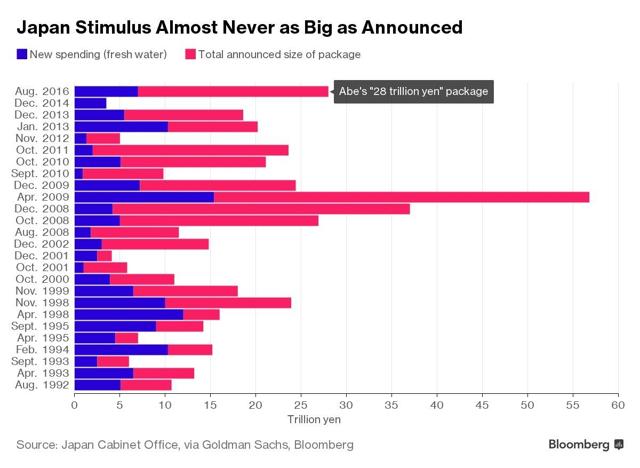 BoJ is going through a " comprehensive assessment " of the present conditions prevailing in the market by furher signalling monetary easing and overhaul of current policy framework. Whereas the FORWARD GUIDANCE somehow is becoming irrelevant where the triggers are set by one and only, US. Doubling the funding tap on the purchase of USD assets for its corporates to USD 24 billion from the present ,USD 12billion, clearly indicates the shortage of dollar funds across the market in Tokyo.
The same is happening to BoE too where the political situation arising in such volatile conditions made the central bank do a rate reduction for the first time in last 7 years and even paving the way for resuscitating the financial-crisis era bond-buying program to cushion its economy from the BREXIT shock. The dollar funding program has been switched on even in BoE to eschew the dollar shortage when LIBOR rate spikes have been unduly increasing to 2011 levels when the break-up of EU was making round of speculation .
In fact ECB is also facing the same shortage of USD based funds to keep the short term borrowing program alive but they have been somewhat reluctant to use the Fed-swap lines as of now due to the potential reputational damage such borrowing may cause. (Nevertheless , the Fed swap lines endow a natural safety valve to this funding anamoly).
The global reserve currency status does not mean that the rulings are hurt nations with increasing funding costs to keep their financial operations alive on short term basis. Although, this has got a "non-distress" explanation for current happenings in LIBOR world. It has more to do with money market reform rules issued by US SEC than anything else. Therefore, the funding costs of terms beyond Oct 4, 2016 have increased as demand for this tenureof debt has declined, given that 3 month LIBOR rate is the most commonly-used rate. The situation should resolve with such spikes settling down modestly by Oct 14, 2016 when the rules come into play, notably,
The Prime institutional Money Market funds will need to begin reporting floating net asset value(FNAV) on a MTM basis. Prime funds generally hold CPs' and other short term debt issued by companies and FIs'
Fund boards will be given complete discretion to limit redemptions and impose fees under certain conditions such as liquidity buffers are being breached during times of stress.
For many this newly transitioned money, therefore may be invested in government securities and is not avaialble to fund the non-US banks.
To deal with current shortage of dollar funds, central banks have been borrowing in other markets and in other currencies ( which are quite attractive due to the negative rates for ECB/BoJ deposits left by respective banks)and hedging the ensuing currency risk in the cross currency foreign exchange markets. Unfortunately, as a result of this huge demand for cross currency hedging, cross currency basis spreads have widened as well.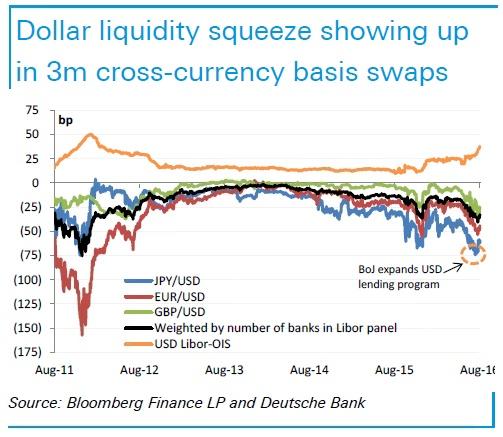 The chart clearly indicates the situation where divergent nations practically dont have much room left to create space for the monetary expansion in their respective policies. Everybody, it seems to be living at the whims and fancies of US, wherein the moment USD index is about to touch 100 remarks from various Fed governors become dovish and on decline the data outputs/global events like Brexit, middle east crisis, increasingly starts giving support to USD index.
The dollar shortage moves are not yet over and will continue to be more toxic in nature for some time to come. Further increases in dollar shortage could occur , particularly against other products tied to bank funding, such as Fed fund rate, presently at 0.39% and Treasury bills.
To ensure that such events do not knock at the gate of crisis, foreign banks should start divesting their US assets and must reduce their dollar funding. My persistent hope and appeal to US is to sow the seed of PARI PASSU amongst all nations.
Additional disclosure: I wrote this article myself, and it expresses my own opinions. I am not receiving compensation for it. I have no business relationship with any country-specific economy mentioned in this article.