With a looming bankruptcy filing within the next month, shares should lose ~90% of their value in a very short time period. All evidence points to this and it is the only thing that should matter to shareholders. Being able to sell now for $5.22 is a gift compared to the ultimate value that USU shares will be worth.
It's a sad story, too often repeated: The retail investor, deprived of even the most basic institutional tools necessary to make fully informed decisions, falls victim to the Siren's serenade only to find themselves suckered into surefire losing investments, their belongings and pride shattered against the rocks. An occupational hazard, some would say. The more callous among us would point to the old adage, "A fool and his money are soon parted", and deem this an appropriate and expected outcome.
But the story of USEC Inc. (NYSE: USU) is far too egregious to dismiss and ignore on the basis of caveat emptor. The underlying dynamics for the company are so perilous, the recent rise in its equity price so unsupportable, that a perfect storm crisis is certain, if not imminent. This article intends to show with near certainty the pending bankruptcy will result in a loss of AT LEAST ~90% (or more) within the next few months (and certainly within 9 months).
In order to establish what the likely value for USU's equity, we need to understand the underlying dynamic behind the stock and the broader market in which it operates. USU supplies low enriched uranium for commercial nuclear power plants worldwide. The company also performs contract work for the United States Department of Energy ("DOE") and related contractors. The opportunity with USU revolves around the American Centrifuge Project ("ACP"), which deploys advanced US gas centrifuge uranium enrichment technology to fuel commercial nuclear power plants. To date, over $5 billion has been invested by the American government and USU in this technology. The ongoing cash burn and uncertainty around the ACP is what has lead USU to its precarious position - USU owes $530 million to bondholders on October 1, 2014 and has no resources available to it with which to pay.
WHEN YOU OWE MONEY, YOU EITHER PAY UP OR TURN OVER THE KEYS!
USU raised $575 million in convertible senior unsecured bonds in 2007 with high hopes. From this amount raised, $530 million remains outstanding. With only $128 million of cash on hand, and a business that is not generating any cash flow, the company does not have the funds to repay these bonds. Recognizing this reality, bond holders trading in public markets have valued the bonds at 37.0 cents on the dollar. Acknowledging the impending crisis, USU has embarked on the path of restructuring given its inability to refinance at anything approximating similar terms. So let's take a look at their proposed plan.
The restructuring plan released on December 16, 2013 proposes an issuance of new common stock to each of: existing shareholders, bondholders and convertible preferred holders. The most important aspect of this reorganization is that it will result in a Chapter 11 bankruptcy filing on or before March 7, 2014.
So we know shareholders will be impacted by this bankruptcy filing, but what is the likely affect?
The proposed plan will replace the current $530 million in bonds with new debt and redistribute the majority of the existing equity of the company. Only 5% of the reorganized equity is allocated to existing shareholders as bondholders will attain the majority of the remaining value. Bondholders will receive $200 million in new notes and 79% of the new equity. Convertible preferred shareholders, Babcock & Toshiba, will receive 16% of the new equity.
This is not the first time that this has happened to retail investors. Similar situations existed at Excel Maritime Carriers (OTCMKTS: EXMCQ) and Patriot Coal Corp (OTCMKTS:PCXCQ). In both, "hope" buyers bid up the trading values, but inevitably each ended as a donut. USU's circumstances are even more clearly cut with an "agreed" bankruptcy whereby the key takeaway is that existing shareholders will be subject to 95% dilution.
MASSIVE DILUTION TO EXISTING EQUITY HOLDERS
As can be seen in the following chart, existing equity holders stand to lose the vast majority of their holdings through dilution. These calculations do not even address a liquidation scenario, a non-negligible possibility, where the equity holders would almost certainly get nothing, a 100% loss from today.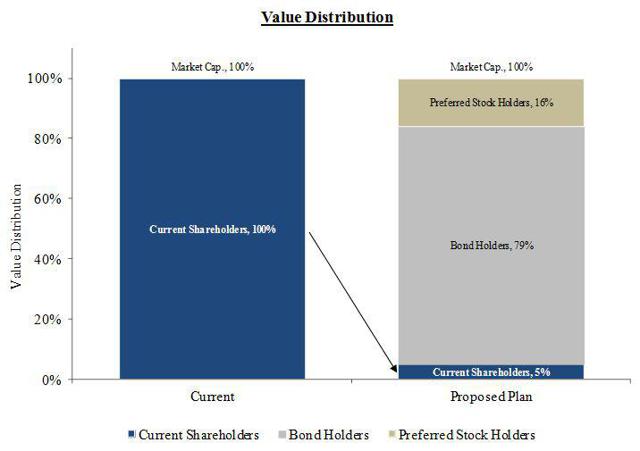 See an illustration of the likely value remaining to equity holders after implementation of the current proposed plan: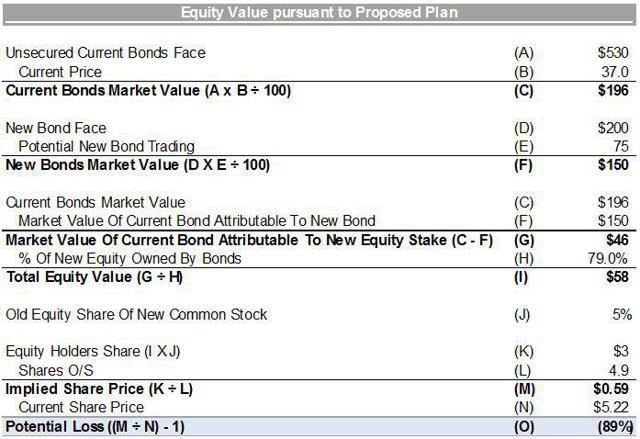 As can be seen in the calculations above, equity holders stand to lose significant value when accounting for the planned dilution. The current bonds have a market value of $196 million ($530 million face value of bonds outstanding trading at 37.0 cents on the dollar) and we will use this as a proxy for enterprise value (market cap + net debt). Let us assume the new bonds have a market value of $150 million (issuance of $200 million trading at 75 cents on the dollar). The implied new equity value is worth $58 million (($196 - $150) / 79%) of which existing equity holders will receive 5% or equivalent to $0.59 a share ($58 x 5% / 4.9 million shares outstanding). This represents a loss of approximately 90% when compared to current share price.
USU BONDS - GREATER SECURITY ALONG WITH EQUITY UPSIDE IN THE AMERICAN CENTRIFUGE PROJECT ("ACP")
If you are interested in investing in a restructured Usec Inc., the best way to do this is the current bonds which trade at 37.0 cents on the dollar. A shareholder is reasonable to take a gamble on the future of the company, but why have an investment with an all but certain ~90%+ loss right away. These bonds will attain $200 million in principal amount of new notes issued by USU and will respectively retain greater security than equity. Further, current bondholders will receive 79% of the new equity allowing you to participate in upside of the company and more importantly, an option on the ACP.
DON'T TAKE IT FROM US, HERE'S WHAT USU HAD TO SAY ABOUT THE ONGOING RESTRUCTURING PROCESS
The company indicated the potential for a restructuring over a year ago. On November 1, 2012 (Q3 2012 earnings call), John Barpoulis (NASDAQ:CFO): "In light of the uncertainties and challenges facing us and ultimately, this is part of our desire to improve our credit profile and ability to successfully finance ACP. We've indicated that we expect to pursue discussions with several key stakeholders regarding ways to improve the capital structure. Currently, we're working with advisors and developing options for a possible restructuring of our balance sheet and how to address our very key liabilities."
We highlight that at this point USU noted that they were working with several stakeholders (which may have included equity holders).
A few months thereafter, USU admitted that its equity could be significantly impaired. On May 22, 2013 (10-K 2012) "In order to increase the likelihood of successful financing and deployment of the American Centrifuge project and our participation in such project, we are engaged with our advisors and certain stakeholders on alternatives for possible restructuring of our balance sheet. A restructuring of our balance sheet could adversely affect the holders of our common stock through dilution or loss in value. However, we have no assurance regarding the outcome of any discussions we pursue with creditors or other key stakeholders." Management also clearly specified that their liquidity at the time was sub-optimal: "We do not have adequate cash to repurchase the notes."
USU's auditor, PricewaterhouseCoopers LLP, noted that there is "substantial doubt about its ability to continue as going concern". Here is the Public Company Accounting Oversight Board (PCAOB) view on going concerns. Management also noted this as a key risk "Uncertainty about our ability to continue as going concern could have an adverse impact on our liquidity, business and prospects." With any capital raising activities reducing the value of equity: "Any debt securities or preferred stock that might be issued could have liquidation rights, preferences and privileges senior to those of our outstanding common stock. The issuance of additional equity and other securities could also be dilutive to existing stockholders and we cannot predict the extent of this dilution."
On November 5, 2013 (Q3 2013 earnings call), John Welch (NYSE:CEO): "Our Board of Directors met at the end of October and we are pleased to have two additional directors join the Board. Michael Diament and Mikel Williams are successful businessman who have extensive experience in corporate governance. Their selection was made in consultation with certain note holders and I expect their experience in restructuring will prove valuable to the board." The Board member additions, selected by bond holders, were added to assist with the ongoing restructuring given Mr. Diament's prior experience with bankruptcies and restructurings.
Most recently, John Welch (CEO) indirectly hinted that equity does not even have a seat at the table as they made an agreement with bond holders (they do not mention equity as stakeholders). On Dec 16, 2013, "We are pleased to reach agreement with a significant number of our noteholders on a plan to improve our capital structure and enhance our ability to be a stronger sponsor of the American Centrifuge project."
Finally, USU stated its intended path forward on December 16, 2013 "In order to implement the terms of the agreement, USEC Inc. expects to file a prearranged and voluntary Chapter 11 petition for relief in the United States Bankruptcy Court for the District of Delaware in the first quarter of 2014." The details of this agreement state that this is even required to happen by March 7, 2014: "USEC fails to commence (NYSE:A) the Solicitation or (NYSE:B) the Chapter 11 Case in the Bankruptcy Court on or before March 7, 2014".
CONCLUSION - "RULE NO.1: NEVER LOSE MONEY. RULE NO.2: NEVER FORGET RULE NO.1." ~ WARREN BUFFET
Owning shares in Usec Inc. today is equivalent to throwing money away. With bankruptcy looming in the next month, the value of your shares will plummet as currently suggested by (a) the mass dilution the current equity will imminently face and (b) the current bond price which is where smart money is invested. Exit now before it is too late.
Disclosure: I have no positions in any stocks mentioned, and no plans to initiate any positions within the next 72 hours.
Additional disclosure: All market data as at February 20, 2014.