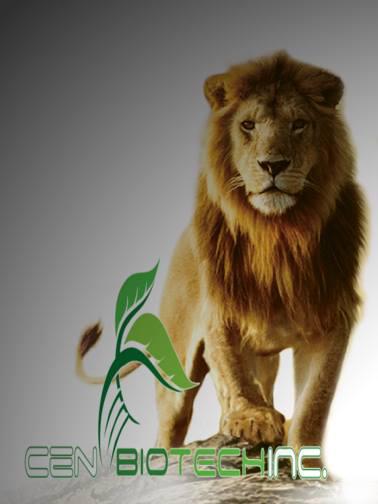 Image courtesy of Jerry Al-Mufleh
Yesterday was a day of joy and celebration to be an investor in Creative Edge Nutrition. (OTC:FITX)
The Annual report came out yesterday, and those who have been following this company immediately dug in and were delighted to find a treasure trove of nuggets concerning what a steady hand CEO Bill Chaaban has at the helm of this immense undertaking.
First, some background;
Many people invested early last year, or before, when announcements were made by him about him seeking to enter the Legal Medical Cannabis industry in Canada, with the intention to grow 600,000kg of high quality product under MMPR.
Since then we have seen him build a massive, modern and fully functional facility in Lakeshore, Ontario, Canada, that now sits inspected, and awaiting the license from Health Canada. (the Canadian equivalent of the FDA)
Since then, the first few companies that acquired a license, proved themselves to not be up to the task of producing, or maintaining there business up to the strict regulations, causing Health Canada to enact more stringent licensing requirements.
This has caused a significant delay in the process, which has created a window of opportunity for stock manipulators to operate in. They have employed the use of paid bashers, and other such nefarious detractors, to make derogatory and baseless claims against the company that most recognize as having the best chance of becoming the commanding force in the new industry.
As this sort of practice is not uncommon in the Pink Sheet markets, the Company has enacted a plan to spin off it's subsidiary, CEN Biotech, to gain entry to a higher exchange.
This news has caused the detractors to up there game, inventing more malicious attacks, and even having one there own publish articles in a major news outlet, despite his obvious ties to another much smaller MMJ company. Not being able to collaborate his story with credible sources, he relied heavily on statements from another basher who has already become recognized as the laughing stock of the industry. Those articles were written with no respect for honest journalism, and were seen to be very insulting to the intelligence of readers. The papers has not yet published a retraction.
Recent inventions from bashers.
The Detractors have not been able to create a story with any merit, but have continued to try. They have even produced to different samples of Bill Chaaban's signature, claiming that one must be a forgery, to cover up that he was"missing". It is not clear if by making such a blatantly preposterous claim, that they had given up, thrown in the towel, and sent in the bench-warmers.
Those who have followed Bill during all of his progress have enjoyed his pictures that he takes with noteworthy top level officials from whatever country he is building business relationships with. No matter where in the world he is, his loyal investors now expect him to do that.
Bill has had to run the business quietly for a while now, due to being in a SEC quite period, a necessary step in the process of the spin-off, so he could not respond to the claims.
Now the Financials.
The first part of the financials filed was the "Year End Reporting Obligations". as of September 30, 2014.
This section is only 8 pages long, and is in a standard dry financial form. but at the end, in the signature area, Bill has signed his name several ways, effectively taking the wind out of the detractors sails.
Then he closes with this sentence. "Signed free from duress, or media intimidation in the town of Lakeshore, Country of Canada."
With that he has sent a message that He is in control, and that the detractors hold no sway on him, and that' he's not missing, he's right where the shareholders need him to be.
Many investors saw that, and were so impressed by how deftly he stated that, that we literally burst out laughing!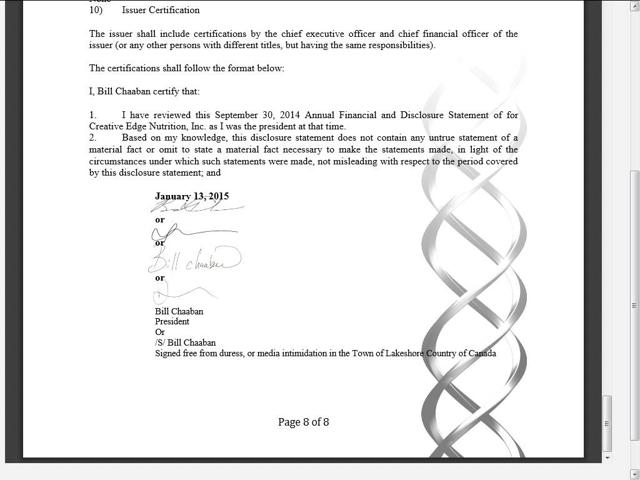 And then we saw the actual financial statement. With our good mood now fully established, we dug into those for whatever interesting nuggets we could find.
The company has shown a great deal of growth in the last year. and a remarkable ability to manage debt. It even renegotiated a potentially quite costly equity agreement into a mutually beneficial debt agreement. This gives all the future profits of the company to the shareholders.
There was even a statement concerning two consultants, and the President of the company loaning money to the company. This proves that He has enough faith in what he is continuing to do, in forwarding the growth of the company, to put his own money at risk.
This is also in direct opposition to the allegations of one of the detractors, who has been making claims that Bill has been milking the company as a cash cow.
By Bill putting his own money into the company, He has launched a full volley of cannon fire amidships of that basher's already floundering vessel.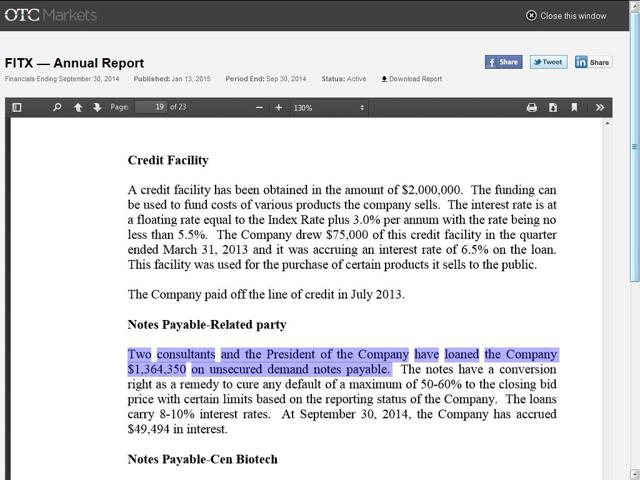 It is also important at this point to remember, these financials are dated September 30, 2014. We will see the next quarters financials in only 5 weeks, and the most Diligent of researchers have seen documentation to indicate an even greater quantity of information as to the overall health of this company, may be forthcoming.
As Investors, it is a rare treat to see financials with such an air of both humor and sophistication, and although we will see impressive gains from the imminent success of both Creative Edge Nutrition, and the Spin-off, CEN Biotech, we can also embrace the long term gains of staying aboard such well captained vessels for an extended voyage.
Disclaimer: I am in no way being compensated by any means writing these articles from CEN Biotech or Bill Chaaban. I am a regular investor that rely on the time and energy of a collaborative research pool of other investors to obtain invaluable due diligence regarding this company. Always conduct your own due diligence when analyzing stocks, and never invest more than what you can afford.
Disclosure: The author is long FITX.