Following a 17 points drop in Apple (AAPL) on Friday, and a 4 consecutive down days, it seems that the recent correction the market had, has been successful passed on to the "trillion-dollar" company. Ironically, it happened right after Bank of America Merrill Lynch raised price target from $730-770. So how far down will it go?
Inside the investors mind right now would possibly also be how will Apple share prices be like after the earnings on Tuesday, April 24, 2012 after closing bell.
Just some quick facts summarized:
i) MSN Money's Stock Scout is rating Apple a big 10 over 10.
ii) out of the 930 million shares available to be traded, 69.36% are owned by financial institutes (big players).
iii) Apple has got quite a number of legal issues, e-book pricing, 4G misleading marketing move in Australia and the China's pollution audit, just to name a few. (temporary bad news)
iv) record breaking $10 billion stock buyback plan along with the $8 billion in dividends.
v) 4 straight down days right after it hits $644, its 52 weeks high or even highest ever.
vi) Supports at: $597.59, $589.96, $576.40. Main resistance at $632.34, followed by $639.97
vii) the recent launch of the new IPad, should contribute to some good figures for revenue and outlook of the next few quarters of 2012.
viii) from the 3 years chart, it seems to show that 2 weeks leading up to earnings, Apple has most of the time climbed upwards, but perhaps only 60% of the time.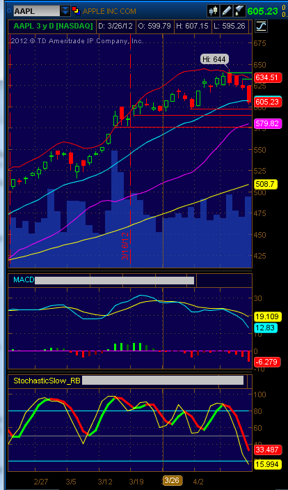 Based on these points plus with some chart analysis, I am long term bullish on Apple, but yet, within the week I would think that it will drop further from last week, if not trade sideways for the next two days. possibly crossing the 1st and 2nd support. And if it does crossed the 2nd support at $589.96, I would be very interested to do some weekly option trades, credit vertical put spreads in the region of $555-560 strikes for a $0.25 premium.
Or if it does goes up with 2 green days, depending on the stock price, I could also do a bull put spread in the region of $585-590.
Watching the market and Apple to see how it could possibly happen over the next few days. I will post an update again.
Disclosure: I have no positions in any stocks mentioned, but may initiate a long position in AAPL over the next 72 hours.