Before the open on Monday (article was not approved hence I changed it to become an instablog), I wrote that Apple (AAPL) would most probably come down even further from last Friday's drop, and indeed that happened yesterday, and today it dropped even further.
Based on my charts, it did come down so hard to cross all 3 support lines, but not long after shot up by at least 17 points (at the time of my screen shot)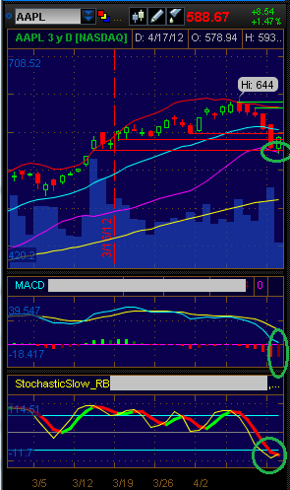 Too bad I wasn't watching the open, if not I would have gone into an options play, probably a bull put credit spread at 535-540 for at least $0.20 credit for 4 days of exposure on the weeklies. For an average week, AAPL will move within the range of 40-50 points in a week, corrections, a volatile week. So Monday and Tuesday it has already traded a 40 points range. We can pretty much assume very safely that the week's range will be another extension of about $10+ down from $571 or $10+ up from $610.. So my imaginary trade of BPS at 535-540 would be very safe to even initiate at today's open.
A small 4% ROI for 4 days exposure is pretty decent. Imagine making 4% ROI for 25 weeks, in a roll? You do the maths. We will see how AAPL fare tomorrow and see if its possible to get into a trade. Watch this space.
Disclosure: I have no positions in any stocks mentioned, but may initiate a long position in AAPL over the next 72 hours.