The Treasury Department Secretary issued a strange statement Sunday night about the health of the six largest banks. Tweet can be seen here. Not sure the rational behind the move but it appears to have thrown gasoline on a roaring stock market decline. The S&P 500 index (SPY) traded at low of 238.25 in pre-market trade, from Friday's 240.70 close.
Ironically, the Treasury Statement might help place a bid under US Treasury securities and help the Treasury sell $39 billion of 13-week T-Bills, $36 billion of 26-week T-Bills and $40 billion of Two Year T-Notes.
The Treasury Department also place a statement touting the anniversary of the tax cut. On December 21, 2017 when it passed the SPY closed at 267.58 and during pre-market trading on December 24, 2018 it hit a low of 238.25. This is a decline of nearly 11%.
It is tough to make sense of the plunging S&P 500 except to suggest it is reacting to a number of policy errors or suggesting a recession is around the corner.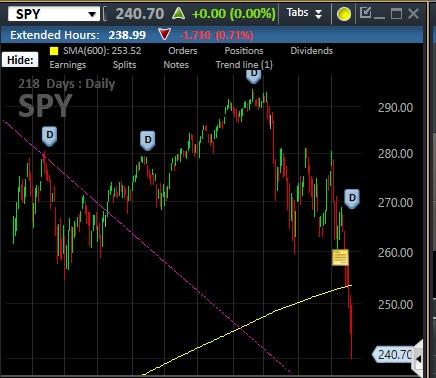 The S&P 500 index is fast approaching the level seen when President Trump was elected. 
The decision to shut part of the government down over less that $5 billion in spending (border wall) has destroyed hundreds of billions. (if not trillion or more), of shareholder wealth plus created more uncertainty. The decision was surprising as the Senate passed a bipartisanship CR on a voice vote. It would have been nice had the outgoing Speaker of the House put the CR up for a clean vote. I'd speculate it would have passed in bipartisan fashion and rid the GOP of a "Hastert rule" that only permits passing bills when the GOP can pass bills without any votes from democrats.
I normally would be tempted to set in an buy during the decline, but the quickness of the decline without a meaningful bounce is a concern that the stock market is worried about something major, not sure what. December 2018 is likely to go into the record books.
Looks like Santa is going to get in on the tax selling bandwagon for the balance of the year. Time will tell if 2019 is a good year.
Wishing one and all a Merry Christmas, Happy Holiday and Happy New Year! Hopefully, the market does not get your spirits down and 2019 is a better year.
Disclosure: I/we have no positions in any stocks mentioned, but may initiate a long position in SPY over the next 72 hours.