Encouraging Economic News July 5th
Below is a summary of encouraging headlines seen on July 5, 2012.
ADP reported 176,000 jobs were added in the private sector during June 2012 and revised higher the figure for May 2012.
Small business, under 50 employees, did the bulk of the hiring.
ISM non-manufacturing prices paid index at lowest since July 2009.
US Jobless Claims fell to 374,000 from 388,000 consensus was 385,000
US Planned layoffs at 13-month low in June - Challenger
US Average 30-Year Mortgage Rate Falls to 3.86% in June 29 Week.
Chart of the day: SPY
Notice that the 20-day moving average bounced off the 200 day moving average and is poised to break the 50-day moving average to the upside.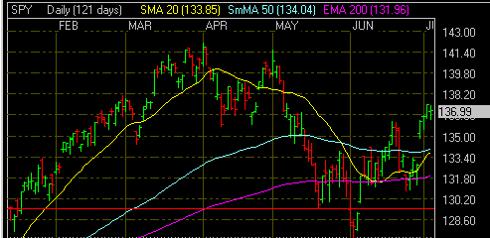 The nonfarm payroll employment report will be released Friday and after the ADP report there were some forecasters that increased the number of jobs expected. Time will tell if the economic picture is improving.
Question of the Day.
Did you see the Wall Street Journal article suggesting that healthcare inflation has been slowing?
Disclosure: I have no positions in any stocks mentioned, and no plans to initiate any positions within the next 72 hours.