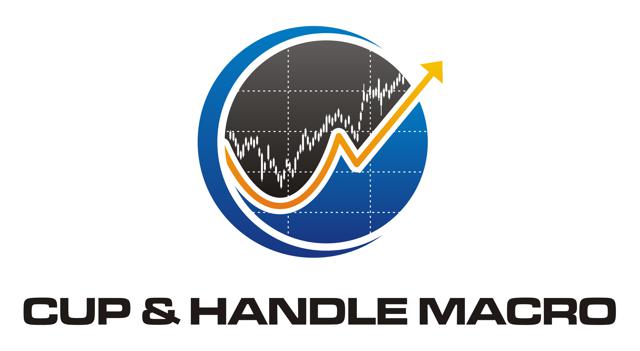 Greetings,
In case you missed it, last week we published an exclusive review of General (ret.) Wesley Clark's new book "Don't Wait for the Next War," available in stores starting today.
Cup & Handle's Review of Wesley Clark's new book
As we mention in the article, "Next War," which focuses on geopolitics and long-term national strategy, couldn't be hitting bookstores at a better time. Geopolitical threats are everywhere these days. Russia could be on the verge of total collapse. On September 25, the Kremlin drafted a law that would allow the government to seize foreign assets in Russian soil, and markets are increasingly concerned that Putin will implement capital controls. Mikhail Khodorkovsky, the one-time oil tycoon who spent a decade in Putin's prisons, said Russia is nearing an economic crisis that could fuel an uprising similar to the country's 1917 revolution.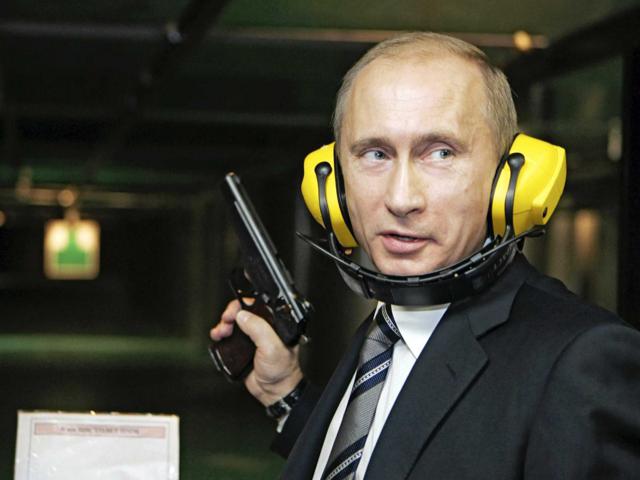 Meanwhile, there could be major power play taking place in North Korea, where Dictator Kim Jong-Un has not appeared in public for more than 25 days and missed a parliamentary session for the first time since becoming supreme leader three years ago. Hwang Pyong-so, a former vice minister, was recently "promoted" to second in command. Some believe Kim Jong-Un has been placed under house arrest by Hwang. It's also possible that the chain-smoking Kim Jong-Un is being treated for gout, hyperlipidemia, obesity, diabetes and high blood pressure.
North Korea, commonly known as "The Hermit Kingdom," is still a country with nuclear aspirations. The Department of Homeland Security has concluded that North Korea is capable of an electromagnetic pulse attack on the US that would disable the electrical grid. Kim Jong-Un is clearly a loathsome individual, but he's a known quantity. New leadership opens up a whole new list of questions and potential problems. As if the US didn't have enough on its plate in the Middle East…
Links to our other publications are below, to receive them directly, please follow us on Marketfy by clicking here:
The Macro Picture in 10 Charts (video)
Our latest investment pick is up >20% since we sent it out on September 25. If you'd like to receive our monthly notes, and stop missing these profitable trades please click here for more info.
Today's letter will cover several topics, including:
Argentina: A Portrait of Confusion
Strange times in Japan
Gold Sentiment
A Turnaround in Housing
As always, if you have any questions or comments or just want to vent, please send me an email at mike@cup-handle.com.
Until next time, tread lightly out there,
Michael Lingenheld
Managing Editor - Cup & Handle Macro
Argentina: A Portrait of Confusion
In July, Argentina defaulted on its sovereign debt for the second time in 13 years, and a US judge has since found the country in contempt of court for its failure to make payment. President Cristina Kirchner is an undisputed menace. She implemented capital controls earlier this year, and in September passed "supply laws" to cap prices on consumer goods, set profit margins for private businesses and levy fines on companies making "artificial or unjustified" profits. In others words, she'll decide who makes money in Argentina.
The country is already beset with out of control inflation, rising 40% Y/Y. The official exchange rate is hovering around 8 Pesos (NYSE:ARS) per US dollar, but it's more like 15 ARS/USD on the black market. And yet, the country's stock market is soaring.
MERVAL Index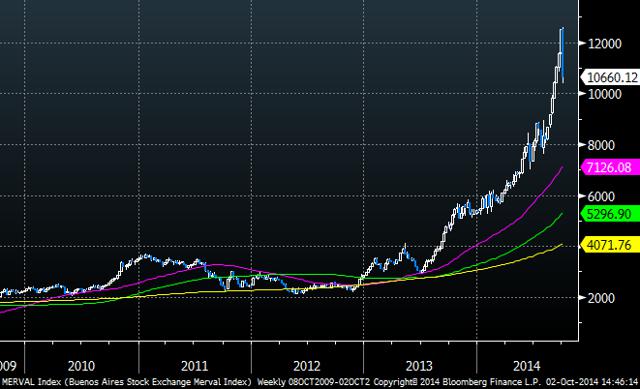 The MERVAL, Argentina's stock market, dropped 15% last week after Kirchner replaced Juan Carlos Fabrega as central bank governor, but is still up more than 100% YTD - 55% in dollar terms. George Soros's family office has been a big buyer, as well as hedge fund managers Daniel Loeb and Kyle Bass. Some are betting that the economy has bottomed, while others are counting on the 2015 Presidential election, from which Mrs. Kirchner is constitutionally barred, to boost shares. Candidates have vowed to work towards exiting default and getting the economy back on track.
Others say that the MERVAL has benefitted purely from capital controls. Many local companies and wealthy Argentines are buying stocks and selling depository receipts to secure dollars; a clever way to get around the government's controls.
Either way, it should be noted that these hedge fund managers are not buying the MERVAL directly. Instead, they're buying the US-listed shares of YPF - an integrated oil and gas company that was nationalized in 2012. The company's investment in exploration and production have risen 66% to $4.5 billion since 2012, and both oil and natural gas production have posted strong gains.
YPF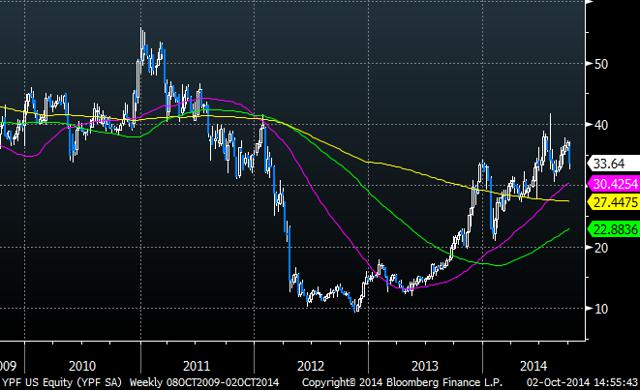 Soros Fund Management more than doubled its stake in YPF this summer, making it the largest single stockholding in the portfolio, according to a second quarter 13-F filing. It will be interesting to see whether the position increases or decreases in the third quarter, because Mr. Soros met with Mrs. Kirchner in New York on August 14 where they discussed the Argentine economy and energy sector. Surely he was interested in her market-moving outlook.
The BoJ's Biggest Fans
According to Nikkei, unrealized gains on stockholdings by Japan's three megabanks and four major insurers are above $99.5 billion as of last Tuesday - the most since 2007. Besides the fact they're making money from these assets, this is great news for banks because unrealized gains count toward capital ratios. Mitsubishi UFJ's gains, including government, foreign bonds and stocks, accounted for nearly 2% of the bank's 11.3% core Tier 1 capital ratio at the end of June. For insurance companies unrealized gains boost solvency margin ratios, freeing up capital for other investments.
Nikkei 225 Index (orange) - BoJ Balance Sheet (white)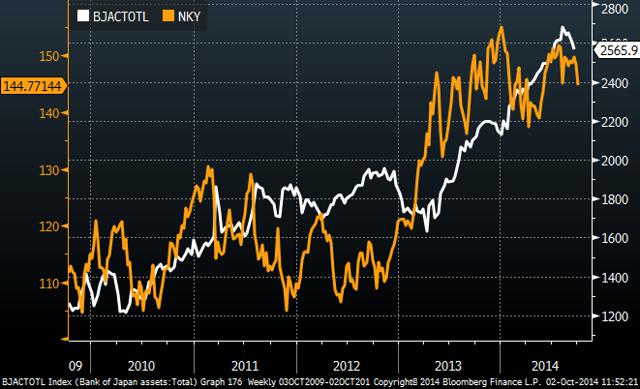 However, it's not as those they're great stock-pickers. Japanese stocks have largely mirrored the Bank of Japan's (BoJ) balance sheet since late-2012. The BoJ is currently in the midst of an unprecedented QE program designed to boost inflation above the 2% target. In April, BoJ governor Kuroda said he aimed to buy enough government bonds and others assets to double the monetary base by the end of 2014.
Two weeks ago, the BoJ bought one-year government debt at negative yields for the first time - meaning that it's guaranteed to lose money when the bills are redeemed. This has many concerned that the BoJ is simply bankrolling a government projected to spend almost twice as much as it collects in tax receipts this year.
Despite the radically stimulative policies, both fiscal and monetary, there are few signs of economic activity. In fact, Q/Q GDP growth was negative in the second quarter:
Japan Real GDP Q/Q
Some of this weakness can be attributed to the sales tax increase (from 5% to 8%) in April, but prices are still stagnant. CPI hit a six-year high of 1.5% Y/Y in April and has since stalled around 1.3%. Prime Minister Abe plans on raising the sales tax again (to 10%) in October 2015, although he has given himself until year-end to decide whether or not to proceed. Considering that Japan fell into a deep recession the last time sales taxes were raised in 1997, Abe would be wise to leave them be - or even cut them.
Quick Stat on Gold Sentiment
On Sept. 24, the average recommended gold exposure according to the Hulbert Gold Newsletter Sentiment Index stood at minus 46.9%, meaning the average short-term gold timer was allocating nearly half his clients' gold-oriented portfolios to going short. There's been only one time in the past 30 years when that index was lower. That came in June 2013, when it fell to minus 56.7%. Within a matter of weeks, by late August, the market added more than $200 to the price of gold. Stay tuned.
Head-Scratching Chart of the Week
Ok, so maybe this chart isn't head-scratching. In fact, it makes perfect sense. US homebuilder sentiment rose in September to its highest level in nine years as the improving job market has begun to unleash pent-up demand and builders have reported a sharp increase in buyer traffic since early June.
Homebuilding and remodeling account for more than 2/3 of US lumber consumption, hence the correlation. Bob Berg, chief lumber economist at RISI, a forest products information service, believes homebuilding activity will continue to pick-up as "millenials" enter their prime "household formation" years. If he's correct, lumber and stocks like Lumber Liquidators (ticker: LL) will be rising right along with it.
Rolling Lumber Future (white) - National Homebuilders Index (orange)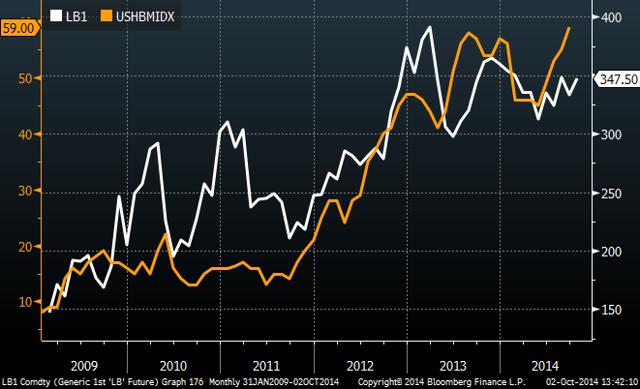 Reader Question:
**Editor's note: Every week we'll try to answer at least one reader question. If you would like to submit a question, please send us an email at info@cup-handle.com. We'd love to hear from you! **
Q: What's going on in cattle? - DJ
A: Analysts at the Livestock Marketing Information Service (LMIC) describe the supply/demand developments this year as "near perfect." In the first half of this year, cattle prices averaged 17.5% higher than the first half of 2013, while feeder cattle, up 30% Y/Y, and calves, up 32% Y/Y, rallied even more. If conditions stay the same, LMIC expects the cattle market to be robust until at least 2017. Strong fundamentals and falling feed costs make it easier for cattle farmers to hold onto their inventory - driving prices even higher.
December 2014 Live Cattle Future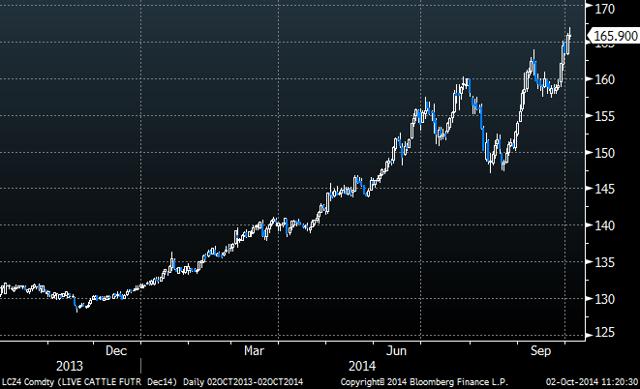 That's all, see you next week!
For any questions or comments, please email us at: info@cup-handle.com
Please visit us at: http://marketfy.com/portal/cup-handle/
Follow us on Twitter: @cuphandlemacro
Disclaimer: None of the information contained in this publication constitutes a recommendation that any particular investment, security, portfolio, transaction or investment strategy is suitable for any specific person. This publication may contain news, information, speculation, rumors, opinions and/or commentary. Cup & Handle Macro Research, LLC ("C&H"), is not permitted to offer personalized trading or investment advice to subscribers. C&H is not a broker/dealer, an exchange or a futures commission merchant and is not subject to regulation by the U.S. Securities and Exchange Commission, the U.S. Commodity Futures Trading Commission or any similar regulatory authority in connection with its activities. C&H does not act as an investment adviser or a commodity trading advisor and does not provide any investment advice or commodity trading advice. The information, statements, views and opinions included in this publication are based on sources (both internal and external) considered to be reliable, but no representation or warranty, express or implied, is made as to their accuracy, completeness or correctness, including without limitation, any implied warranties of merchantability, fitness for use for a particular purpose, accuracy or non-infringement. Use of any information obtained from or through this publication is entirely at your own risk. C&H does not routinely moderate, screen or edit any third party content. Such information, statements, views and opinions are expressed as of the date of publication, are subject to change without further notice and do not constitute a solicitation for the purchase or sale of any investment referenced in the publication.
SUBSCRIBERS SHOULD VERIFY ALL CLAIMS AND DO THEIR OWN RESEARCH BEFORE INVESTING IN ANY INVESTMENTS REFERENCED IN THIS PUBLICATION. INVESTING IN SECURITIES, PRECIOUS METALS, AND OTHER INVESTMENTS, SUCH AS OPTIONS AND FUTURES, IS SPECULATIVE AND CARRIES A HIGH DEGREE OF RISK. SUBSCRIBERS MAY LOSE MONEY TRADING AND/OR INVESTING IN ANY SUCH INVESTMENTS. ALL USERS OF THIS PUBLICATION ACKNOWLEDGE AND AGREE THAT NO PERSON OR ENTITY INVOLVED IN THE PUBLICATION OF THIS PUBLICATION SHALL HAVE ANY LIABILITY FOR ANY LOSS OR DAMAGES, INCLUDING WITHOUT LIMITATION, CLAIMS FOR LOSS OF MONEY, ERRORS, DEFAMATION OR OTHER EXPENSES, RELATING TO ANY PLACEMENT OF CONTENT IN THIS PUBLICATION, OR ANY RELIANCE ON ANY INFORMATION CONTAINED HEREIN, OR THROUGH ANY LINKS CONTAINED IN THIS PUBLICATION OR THE SITE.
Employees and/or affiliates of C&H may give advice and take action with respect to clients and/or investments that differs from the information, statements, views and opinions included in this publication. Nothing herein or in the subscription agreement shall limit or restrict the right of employees or affiliates of C&H to perform investment management, advisory or other services for any persons or entities. In addition, nothing herein or in the subscription agreement shall limit or restrict employees or affiliates of C&H from buying, selling or trading securities or other investments for their personal or other related accounts, or for the accounts of their clients. Employees or affiliates of C&H may at any time have, acquire, increase, decrease or dispose of the securities or other investments referenced in this publication. C&H shall have no obligation whatsoever to recommend securities or investments in this publication as a result of its employees' or affiliates' investment activities for their own accounts or for any other accounts.
This publication is proprietary and intended solely for the use of its subscribers, and is protected by domestic and international copyright laws. No license is granted to any subscriber, except for the subscriber's personal use. No part of this publication or its contents may be copied, downloaded, stored, further transmitted, or otherwise reproduced, transferred, or used, in any form or by any means, except as expressly permitted under the subscription agreement or with the prior written permission of C&H. Any further disclosure or use, distribution, dissemination or copying of this publication, or any portion hereof, is strictly prohibited.
There is no guarantee that this site will operate in an uninterrupted or error-free manner or is free of viruses or other harmful components. This publication assumes no responsibility for any omission, interruption, deletion, defect, delay in operation or transmission, communications line failure, theft or destruction or unauthorized access to, or alteration hereof. The publication is not responsible for any technical malfunction or other problems of any computer, telephone or other equipment, or software occurring for any reason, including but not limited to, technical problems or traffic congestion on the Internet or at any site or with respect to this publication or combination thereof, including injury or damage to any person's computer, mobile phone, or other hardware or software, related to or resulting from using or downloading any content hereof.
Disclosure: The author has no positions in any stocks mentioned, and no plans to initiate any positions within the next 72 hours.