Greetings,
Much to the chagrin of European leaders, Russia continues to antagonize its neighbors. This is a tactic Russian leaders have used regularly for over a century, and yet it seems different this time. The Soviets historically push their influence from a position of strength. Today, Russia's economy is in shambles and there is genuine concern over a currency crisis.
Last week, the Central Bank of Russia announced it will stop intervening in currency markets and let the Ruble free-float. FX reserves are almost depleted and capital continues to race out of the country. It's only a matter of time until even stronger stagflationary winds start to blow, as the Ruble is down more than 25% in trade-weighted terms.
Something will have to give in the next few months. Putin's forces continue to stir the pot in Ukraine, and other Baltic nations are starting to lose their patience. The Estonian defense minister says that while he does not see outright military conflict as likely, Russia has returned to Cold War tactics by stepping up incursions. NATO fighter jets around the Baltic States were scrambled 86 times through the first two weeks of October - double the amount from all of last year.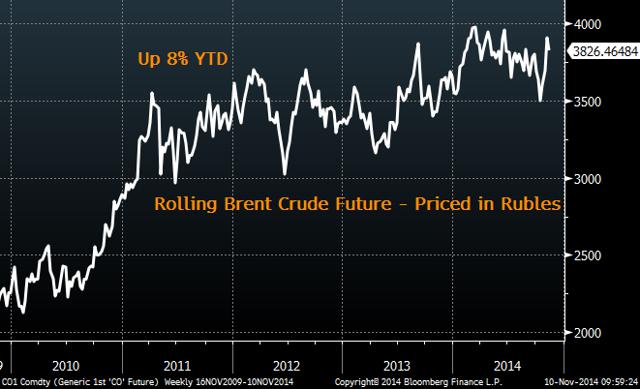 Even Mikhail Gorbachev says the world is "on the brink of a new Cold War." While Russia is clearly the aggressor in terms of military incursions, I do believe that the US and Saudi Arabia are colluding to undermine the Russian economy via lower oil prices. It's not as conspiratorial as you might think. Oil and gas make up more than 50% of Russia's revenue, and every $1 drop in oil costs $2.3 billion in budget revenue. The Saudi's have a major bone to pick with Putin in Syria, and oil is their most potent weapon.
I published a piece on this subject last month (Read Here) and the conclusion was to buy crude oil priced in Ruble - which is up 8% YTD versus -25% in USD. My thought process is that lower oil prices will bankrupt Russia and ultimately force a major currency devaluation. It may seem counterintuitive to buy oil while the world's largest exporter actively pushes prices lower, but at the very least this portfolio hedge has a fantastic risk/reward profile. Without a prime brokerage account selling the Ruble might be difficult these days. As an alternative, shorting the Market Vectors Russia ETF (ticker: RSX) should be a decent proxy.
I still have cash in the Cup & Handle portfolio and have started looking into oversold and overbought sectors (more on this below). The portfolio was up ~4% last week after some big gains in my favorite uranium miners. It finally sounds like the Japanese realize the importance of nuclear energy, and they could start putting reactors back online soon. As I've said before, uranium is a sector we intend to be involved in for a long time. If you'd like to be involved yourself please click here for more info. Your subscription will pay for itself in no time.
Today's letter will cover several topics, including:
Alibonanza
Souring on Blue Chips
Opportunities in Oil
Chart of the Week
As always, if you have any questions or comments or just want to vent, please send me an email at mike@cup-handle.com.
Until next time, tread lightly out there,
Michael Lingenheld
Managing Editor - Cup & Handle Macro
Alibonanza
Since it opened for trading on September 19, Alibaba (NYSE:BABA) has jumped 28%, and 40% from its October 15 lows. The company boasts the largest e-commerce platform in the world with an 81% market-share in China. It's double the size of Amazon and is likely to beat out WalMart as the first company to reach $1 trillion in annualized sales. CLSA predicts that Chinese e-commerce transactions will grow 26% on a CAGR basis and reach 40% of retail sales over the next decade. In other words, despite being a mammoth company, Alibaba could get much bigger.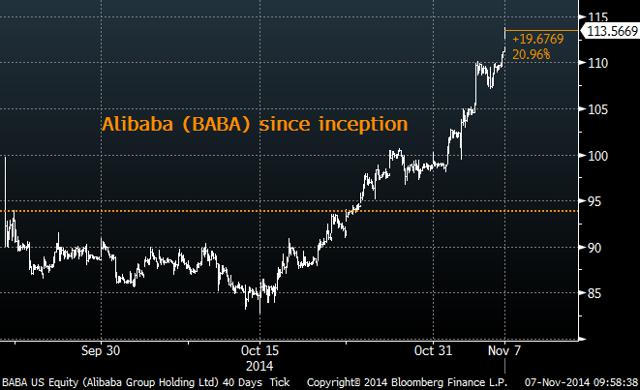 But what is the market missing? It's one thing to have fantastic long-term growth prospects, but we knew that well before the IPO was launched. The risks of Alibaba's corporate structure, which is similar to several other major Chinese internet companies, have not scared away would-be BABA owners but maybe they should. Shareholders don't actually own the underlying business because Chinese government regulations restrict foreign ownership. Instead, they'll have rights to revenue only through contracts that may not be enforceable.
Senator Bob Casey of Pennsylvania urged the SEC to scrutinize Alibaba for its structure, because "the sheer number of fraud cases involving China-based companies listed in the US reveals systemic problems with many Chinese companies' legal structures and accounting practices." In a 2012 speech, a University of Michigan law professor warned the structure could be "the single biggest time bomb in US capital markets."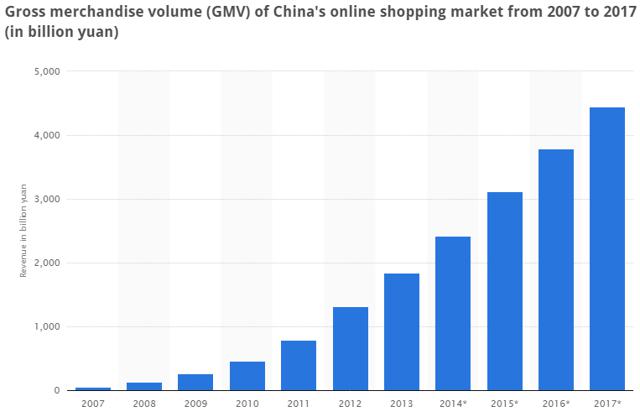 I'm not saying that Alibaba is a fraud. However, the company does have some blemishes that you should consider before buying shares. Perhaps the best reason I'd mark BABA as a "stay away" stock is that while doing research for this note it was almost impossible find bearish articles on the internet. That's usually a warning sign. In conclusion, I can't recommend a short position here because it's being pushed around by fast money, but don't get swept up in the euphoria.
Blue Chips Turning Red
If you're running a long-only portfolio and turn bearish, the investing textbook says you should allocate more capital to blue-chip stocks. That might not be a great idea anymore. Consider this stat I came across last week:
"A third of the companies in the Dow Jones Industrial Average have posted shrinking or flat revenue over the past 12 months, according to S&P Capital IQ. Revenue growth for nearly half the industrials didn't outpace the US inflation rate of 1.7%."
This does seem to indicate that there's a lot of "financial engineering" (see: share buybacks) taking place for these companies to keep meeting profit expectations. On top of that, Dow 30 companies all have an overseas presence, so the stronger US dollar is having a negative impact. What does that mean for investors seeking safety? Your best bet might be oversold cyclical sectors where the downside is already priced in. Like energy companies, for example…
Opportunities in Oil
As we've already discussed, oil prices are getting slammed with the Dec 2014 contract for Brent down 25% since late-June. Offshore drillers have been under pressure for several years as environmental concerns and advances in shale drilling reduce the need for offshore supply. They also have high production costs and are trading at distressed-levels after the slide in oil. The sector's most recognizable company, Transocean Ltd. (NYSE:RIG), is down 35% since June and more than 40% YTD.
However, some of these stocks are starting to look extremely attractive. I happen to be very bullish on the long-term price of oil. One only has to look at the "decline rates" in shale wells to get behind that theory. If and when crude does bounce back, senior offshore drillers like Seadrill (NYSE:SDRL), Transocean and Noble (NYSE:NE) will benefit in a big way. Here's why it's worth dipping your toe in now:
A Huge Margin of Safety: The majority of offshore drillers are trading below book value per share. Noble currently offers a Price/Book Value of 0.6. Even if they write-down some assets or dilute equity there's a sizeable cushion already in place.
Fleet Restructuring: One of the trends currently emerging in this sector is reorganization of fleets, which is long overdue. Older rigs are being sold, written-down, or scrapped altogether. This allows drillers to move experienced crews to safer and more productive rigs that should boost efficiency.
An Incredible Dividend Yield: Just for perspective, the current 10-year US Treasury is yielding 2.3%. Seadrill currently offers an 18.3% dividend yield that management has guaranteed through 2016. Transocean (10%) and Noble (6.8%) have decent payouts as well.
Chart of the Week
Macro investing can be a funny game. Over the past few weeks, thousands of pages have been written on why Brazil's structural issues will ultimately push the Real (BRL) lower. And yet, at the end of the day, weakness in China and falling commodity prices are the only stories that matter. Interest rate differentials, elections, trade flows… who cares? Iron ore is the real driver.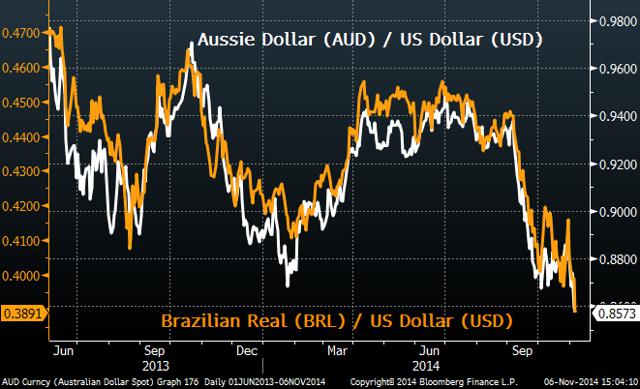 Australia and Brazil, the world's largest iron ore producers, will raise their combined share of global iron ore supply to 90% by 2020; up from 73% this year. The bulk of which will be headed to China. After rising 112% between 2009 and 2013, iron ore prices are down nearly 45% this year. Chinese demand has slowed while supply increases relentlessly. The global surplus will more than triple to 163 million tons next year from 52 million this year. From there, projections show a surplus of 245 million tons in 2016, 295 million tons in 2017 and 334 million tons in 2018. Conclusion: look for BRL and AUD to keep falling.
Reader Question:
**Editor's note: Every week we'll try to answer at least one reader question. If you would like to submit a question, please send us an email at info@cup-handle.com. We'd love to hear from you! **
Q: Do you think Mario Draghi is doing a good job? - HL
A: Needless to say, he's in an incredibly difficult situation. The Eurozone desperately needs stimulus of some kind but even the magician himself, Ben Bernanke, said last week that it will be difficult for the ECB to implement monetary easing on a large scale.
Personally, I think the Eurozone needs fiscal stimulus more than further action from the ECB. Germany's political elite have ridiculed Draghi's efforts to revive economic growth with stepped-up stimulus measures like asset purchases. However, even Germany looks to be headed towards another recession, so maybe they'll lighten up on fiscal prudence.
So to answer your question, I think Draghi is doing an admirable job. It's definitely a "don't hate the player, hate the game" situation. He clearly understands the EUR needs to keep falling in order to gain competitiveness, and has said the ECB's balance sheet will move back to the 2012 highs. He's just in a very difficult position, and a lot Europe's problems are out of his control.
That's all, see you next week!
For any questions or comments, please email us at: info@cup-handle.com
Please visit us at: http://marketfy.com/portal/cup-handle/
Follow us on Twitter: @cuphandlemacro
Disclaimer: None of the information contained in this publication constitutes a recommendation that any particular investment, security, portfolio, transaction or investment strategy is suitable for any specific person. This publication may contain news, information, speculation, rumors, opinions and/or commentary. Cup & Handle Macro Research, LLC ("C&H"), is not permitted to offer personalized trading or investment advice to subscribers. C&H is not a broker/dealer, an exchange or a futures commission merchant and is not subject to regulation by the U.S. Securities and Exchange Commission, the U.S. Commodity Futures Trading Commission or any similar regulatory authority in connection with its activities. C&H does not act as an investment adviser or a commodity trading advisor and does not provide any investment advice or commodity trading advice. The information, statements, views and opinions included in this publication are based on sources (both internal and external) considered to be reliable, but no representation or warranty, express or implied, is made as to their accuracy, completeness or correctness, including without limitation, any implied warranties of merchantability, fitness for use for a particular purpose, accuracy or non-infringement. Use of any information obtained from or through this publication is entirely at your own risk. C&H does not routinely moderate, screen or edit any third party content. Such information, statements, views and opinions are expressed as of the date of publication, are subject to change without further notice and do not constitute a solicitation for the purchase or sale of any investment referenced in the publication.
SUBSCRIBERS SHOULD VERIFY ALL CLAIMS AND DO THEIR OWN RESEARCH BEFORE INVESTING IN ANY INVESTMENTS REFERENCED IN THIS PUBLICATION. INVESTING IN SECURITIES, PRECIOUS METALS, AND OTHER INVESTMENTS, SUCH AS OPTIONS AND FUTURES, IS SPECULATIVE AND CARRIES A HIGH DEGREE OF RISK. SUBSCRIBERS MAY LOSE MONEY TRADING AND/OR INVESTING IN ANY SUCH INVESTMENTS. ALL USERS OF THIS PUBLICATION ACKNOWLEDGE AND AGREE THAT NO PERSON OR ENTITY INVOLVED IN THE PUBLICATION OF THIS PUBLICATION SHALL HAVE ANY LIABILITY FOR ANY LOSS OR DAMAGES, INCLUDING WITHOUT LIMITATION, CLAIMS FOR LOSS OF MONEY, ERRORS, DEFAMATION OR OTHER EXPENSES, RELATING TO ANY PLACEMENT OF CONTENT IN THIS PUBLICATION, OR ANY RELIANCE ON ANY INFORMATION CONTAINED HEREIN, OR THROUGH ANY LINKS CONTAINED IN THIS PUBLICATION OR THE SITE.
Employees and/or affiliates of C&H may give advice and take action with respect to clients and/or investments that differs from the information, statements, views and opinions included in this publication. Nothing herein or in the subscription agreement shall limit or restrict the right of employees or affiliates of C&H to perform investment management, advisory or other services for any persons or entities. In addition, nothing herein or in the subscription agreement shall limit or restrict employees or affiliates of C&H from buying, selling or trading securities or other investments for their personal or other related accounts, or for the accounts of their clients. Employees or affiliates of C&H may at any time have, acquire, increase, decrease or dispose of the securities or other investments referenced in this publication. C&H shall have no obligation whatsoever to recommend securities or investments in this publication as a result of its employees' or affiliates' investment activities for their own accounts or for any other accounts.
This publication is proprietary and intended solely for the use of its subscribers, and is protected by domestic and international copyright laws. No license is granted to any subscriber, except for the subscriber's personal use. No part of this publication or its contents may be copied, downloaded, stored, further transmitted, or otherwise reproduced, transferred, or used, in any form or by any means, except as expressly permitted under the subscription agreement or with the prior written permission of C&H. Any further disclosure or use, distribution, dissemination or copying of this publication, or any portion hereof, is strictly prohibited.
There is no guarantee that this site will operate in an uninterrupted or error-free manner or is free of viruses or other harmful components. This publication assumes no responsibility for any omission, interruption, deletion, defect, delay in operation or transmission, communications line failure, theft or destruction or unauthorized access to, or alteration hereof. The publication is not responsible for any technical malfunction or other problems of any computer, telephone or other equipment, or software occurring for any reason, including but not limited to, technical problems or traffic congestion on the Internet or at any site or with respect to this publication or combination thereof, including injury or damage to any person's computer, mobile phone, or other hardware or software, related to or resulting from using or downloading any content hereof.
Disclosure: The author has no positions in any stocks mentioned, and no plans to initiate any positions within the next 72 hours.