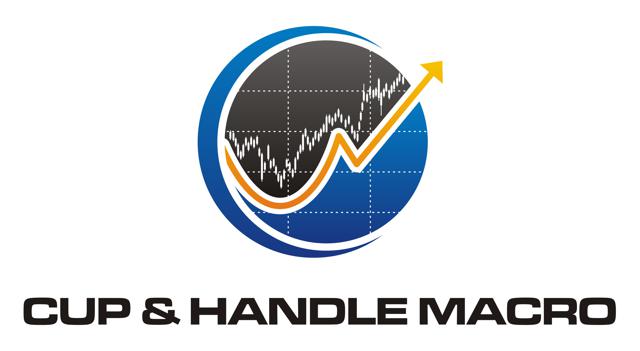 Greetings,
Economists have debated for several years whether or not Europe is becoming the next Japan. Japan famously fell into a self-perpetuating deflation in the 1990s, with falling prices leading consumers and businesses to delay spending, thus keeping growth weak. However, if you were to ask Angela Merkel or Francois Hollande whether they'd rather have Europe become the next Japan or the next Ukraine - they'd take Japan every time.
Ukraine's currency lost more than 20% of its value against the US dollar last Thursday after the country's central bank raised interest rates 5.5% and moved towards a free-floating exchange rate. The government's foreign-currency and gold reserves hit a 10-year low of $6.4 billion in January. The military budget alone is $3.2 billion for 2015.
President Petro Poroshenko is now looking for cash from the IMF and weapons from the US, but the currency crisis is spreading beyond Ukraine's borders. Less than six weeks into the New Year, 7 of the world's 10 worst performing currencies come from Eastern Europe.
YTD Currency Returns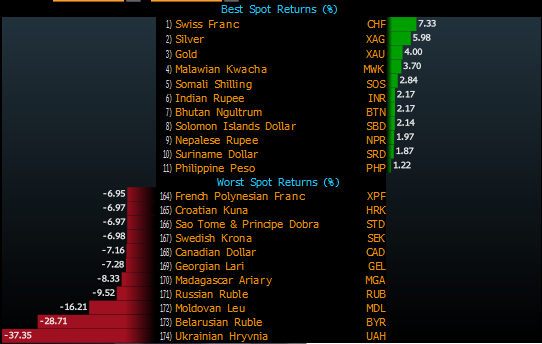 In the grand scheme of things, devaluing the Moldovan Leu or Belarusian Ruble won't have much impact on the broader economy, but as contagion expands from the Ukrainian epicenter, it could hurt systemically important economies like Poland, Hungary or Turkey.
Obviously these currencies are under pressure because of Russia's incursion into Ukraine. Therefore, it's a little alarming Greece's new Prime Minister, Alex Tsipras, is cozying up to Vladimir Putin. Greece, a member of NATO, is still trying to restructure its debt burden, and knows the threat of increased Russian influence might lead to concessions. It's a risky gamble, but EU leaders are playing hardball. Following talks with his Greek counterpart, German Finance Minister Wolfgang Schauble told reporters the two have "agreed to disagree." Later in the press conference, the Greek Finance Minister offered a contradiction, saying the pair had not even managed that much.
The Cup & Handle Fund was down less than 1% last week, due to some hedges outweighing the directional exposure. We're still up ~10% since inception and patiently waiting; not much new to report on that end. The US employment data was unambiguously strong, with USD being the main beneficiary. After stalling in January, the DXY index looks ready to resume its upward trend and I'm interested to see if this causes some EM equity markets to breakdown. Nothing yet, but it seems destined to happen eventually. I'm still working on the February investment letter, which will hopefully be in your inbox next Monday - if you'd like to start receiving these letters click here.
Today's letter will cover several topics, including:
Beijing's Burden
Bull Market in Balance Sheets
Portfolio Security
Chart of the Week
As always, if you have any questions or comments or just want to vent, please send me an email at mike@cup-handle.com.
Until next time, tread lightly out there,
Michael Lingenheld
Managing Editor - Cup & Handle Macro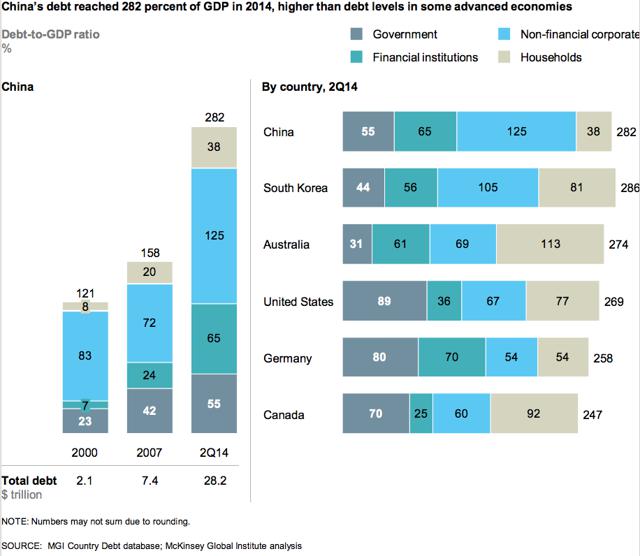 Beijing's Burden
There's a general perception in the market that the Chinese economy is extremely resilient because of its strong and immediate recovery from the Great Recession. However, it's becoming clear that the recovery was fueled by a mammoth increase in debt. A new report from McKinsey shows that China's total debt load, including the government, banks, corporations and households, equals 282% of GDP - more than advanced economies like the US (269%) or Germany (258%). China has added $20.8 trillion in new debt since 2007, accounting for more than a third of total debt growth globally in that period.
Excess debt is rarely a problem when an economy is growing rapidly, but that's not the case in China anymore. Last Wednesday's surprise cut in the Reserve Requirement Ratio (NYSE:RRR) shows that the PBOC is starting to feel the heat, and policymakers are coupling lower interest rates with fiscal stimulus. Shanghai Securities News reported that 14 Chinese provinces are preparing $2.4 trillion in infrastructure projects to combat the downturn. China spent $5 trillion on fixed investment last year, more than Europe and America combined, so what's another $2.4 trillion?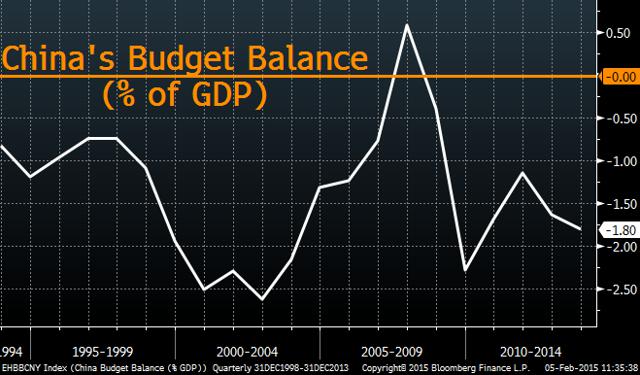 It's puzzling why Politburo officials would combat the slowdown of a debt-burdened economy with more leverage, but the options are limited. China has maintained a reasonable budget deficit (1.8% of GDP), according to "official" statistics. However, land sales account for 25% of local government revenue. The IMF says China's budget deficit is nearly 10% of GDP once land sales are stripped out, and the property market has declined. Zhiwei Zhang, an analyst with Deutsche Bank, says land sale revenues declined 21% in the fourth quarter of last year.
China's nuclear option to jumpstart its economy would be a currency devaluation. This would level the playing field with export competition in Japan and Germany, countries that have effectively devalued their currencies already. It would also send a massive deflationary impulse throughout the global economy. Such a shock would be extremely difficult to counter with interest rates already hugging the zero-bound, and it would escalate the ongoing currency war that started in 2009. The Chinese likely won't go "nuclear" unless they have to, but the fact that it might be their best option is troubling.
Bull Market in Balance Sheets
In last week's chart rundown, I highlighted that the S&P 500 divided by the Fed's balance sheet has rallied a mere 26% from the 2009 bottom. I got some pushback from a few readers saying this doesn't mean anything. While I acknowledge "unconventional policies" are now part of investing, I still think this chart means everything. The Fed's policy interest rate, which tracks the economy's momentum, has maintained its strong correlation with equities relative to the Fed's assets.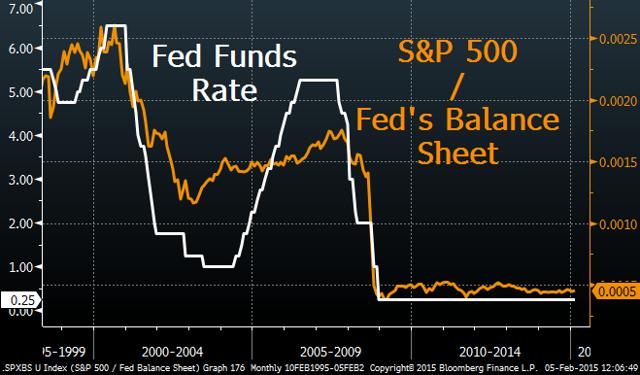 There's little doubt that the recovery from 2008 has been historically bad. The Great Depression started with major economic contractions in 1930, '31, '32 and '33, followed by growth rates of 11%, 9% and 13% in the subsequent years. The real trouble will arise if the orange line in the chart above starts to decline, because you'll notice that the left-axis can't fall much further. It's not that the US economy is doing poorly, it's that there's no safety cushion if it does.
Portfolio Security
Anthem (NYSE:ANTM), the country's second-largest health insurer, said hackers gained access to the personal information of 80 million customers last week. The breach of a healthcare company is particularly alarming because they hold all forms of personal data including social security numbers, credit card details and health records.
Large companies like JP Morgan (NYSE:JPM), Home Depot (NYSE:HD) and Target (NYSE:TGT) have struggled to recover from data breaches in recent years. Cyber security firms are the clear beneficiaries of this trend. The PureFunds ISE Cyber Security ETF (NYSEARCA:HACK) has attracted nearly $200 million in assets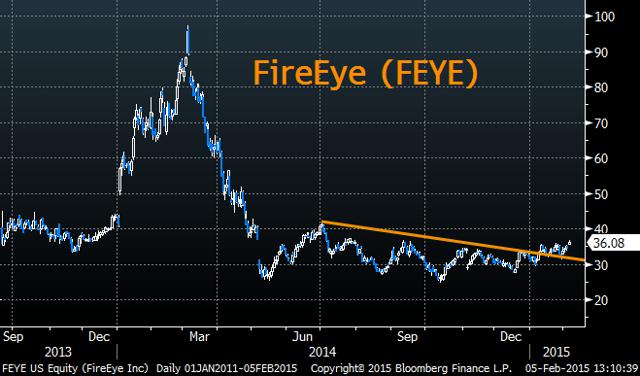 since launching in early November. This is an industry that will continue to grow. According to Gartner, businesses and government spent more than $70 billion safeguarding their data in 2014. Spending is expected to increase by more than 8% in 2015.
The "IT" stock in this sector continues to be FireEye (NASDAQ:FEYE). After launching its $300 million IPO in September 2013, the stock jumped 378% over the next six months. The rally was so strong that founder Ashar Aziz decided to issue a secondary offering that raised another $300 million. Investors hate it when companies issue fresh equity (diluting existing stakes), because it creates distrust of management. The results were no different in this case, as FEYE shares fell 75% after the announcement.
Since then, earnings forecasts have become more realistic and FEYE is no longer Wall Street's "darling." FireEye announces 4Q earnings tomorrow, which should create some short-term volatility, but this is a stock to own now and going forward. There are few growth industries these days, but cyber security is one of them.
Chart of the Week
Have US consumer become numb to the stagnant economy? The increase in consumer confidence makes perfect sense considering the constantly improving jobs market and cheaper gasoline prices. Likewise, the decline in Treasury yields makes sense due to the deflationary global environment. The best explanation I can come up with for the breakdown in correlation between these charts is that bond yields are artificial.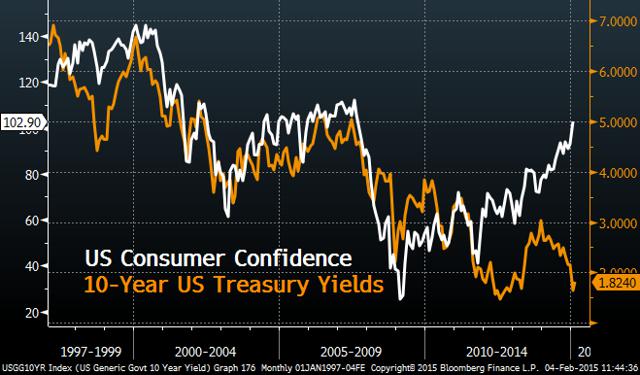 Obviously QE played an important role in depressing bond yields, but QE1 was launched in 2009. The breakdown here didn't start until 2011. Even though the Fed stopped purchasing assets last October, the demand for safe-haven assets, like Treasury's, is much greater than supply. It may take a while, but once fundamentals return to the bond market I'd expect correlation to pick up. It's not that consumer have become numb to economy, they just don't a have a clear picture of what's driving it.
Reader Question:
**Editor's note: Every week we'll try to answer at least one reader question. If you would like to submit a question, please send us an email at info@cup-handle.com. We'd love to hear from you! **
Q: What's your opinion of Uber? Would you buy the IPO? - MF
A: If Uber were a public company, I would hold a short position. The latest round of financing valued the company at $41.2 billion, easily the most for any private startup backed by venture capital, and above the market cap of public companies like Delta Air Lines (NYSE:DAL), Charles Schwab (NYSE:SCHW), Salesforce.com (NYSE:CRM) and Kraft Foods (KRFT). Last June, Uber was valued at $18 billion; meaning it appreciated 130% in six months.
It's a magnet for controversy. In December alone, Uber was shut down or forced to limit operations in India, Spain, Belgium, France, Australia and the US. Seemingly it's just a matter of time before Uber drivers face the same regulation as taxicab's, which would dent growth severely.
Without a doubt Uber falls into the category of "disruptive" technology, but it's overvalued, the CEO is extremely brash and it's making new enemies every day. Usually that's not a recipe for sustainable growth.
That's all, see you next week!
For any questions or comments, please email us at: info@cup-handle.com
Please visit our website.
Follow us on Twitter: @cuphandlemacro
Disclaimer: None of the information contained in this publication constitutes a recommendation that any particular investment, security, portfolio, transaction or investment strategy is suitable for any specific person. This publication may contain news, information, speculation, rumors, opinions and/or commentary. Cup & Handle Macro Research, LLC ("C&H"), is not permitted to offer personalized trading or investment advice to subscribers. C&H is not a broker/dealer, an exchange or a futures commission merchant and is not subject to regulation by the U.S. Securities and Exchange Commission, the U.S. Commodity Futures Trading Commission or any similar regulatory authority in connection with its activities. C&H does not act as an investment adviser or a commodity trading advisor and does not provide any investment advice or commodity trading advice. The information, statements, views and opinions included in this publication are based on sources (both internal and external) considered to be reliable, but no representation or warranty, express or implied, is made as to their accuracy, completeness or correctness, including without limitation, any implied warranties of merchantability, fitness for use for a particular purpose, accuracy or non-infringement. Use of any information obtained from or through this publication is entirely at your own risk. C&H does not routinely moderate, screen or edit any third party content. Such information, statements, views and opinions are expressed as of the date of publication, are subject to change without further notice and do not constitute a solicitation for the purchase or sale of any investment referenced in the publication.
SUBSCRIBERS SHOULD VERIFY ALL CLAIMS AND DO THEIR OWN RESEARCH BEFORE INVESTING IN ANY INVESTMENTS REFERENCED IN THIS PUBLICATION. INVESTING IN SECURITIES, PRECIOUS METALS, AND OTHER INVESTMENTS, SUCH AS OPTIONS AND FUTURES, IS SPECULATIVE AND CARRIES A HIGH DEGREE OF RISK. SUBSCRIBERS MAY LOSE MONEY TRADING AND/OR INVESTING IN ANY SUCH INVESTMENTS. ALL USERS OF THIS PUBLICATION ACKNOWLEDGE AND AGREE THAT NO PERSON OR ENTITY INVOLVED IN THE PUBLICATION OF THIS PUBLICATION SHALL HAVE ANY LIABILITY FOR ANY LOSS OR DAMAGES, INCLUDING WITHOUT LIMITATION, CLAIMS FOR LOSS OF MONEY, ERRORS, DEFAMATION OR OTHER EXPENSES, RELATING TO ANY PLACEMENT OF CONTENT IN THIS PUBLICATION, OR ANY RELIANCE ON ANY INFORMATION CONTAINED HEREIN, OR THROUGH ANY LINKS CONTAINED IN THIS PUBLICATION OR THE SITE.
Employees and/or affiliates of C&H may give advice and take action with respect to clients and/or investments that differs from the information, statements, views and opinions included in this publication. Nothing herein or in the subscription agreement shall limit or restrict the right of employees or affiliates of C&H to perform investment management, advisory or other services for any persons or entities. In addition, nothing herein or in the subscription agreement shall limit or restrict employees or affiliates of C&H from buying, selling or trading securities or other investments for their personal or other related accounts, or for the accounts of their clients. Employees or affiliates of C&H may at any time have, acquire, increase, decrease or dispose of the securities or other investments referenced in this publication. C&H shall have no obligation whatsoever to recommend securities or investments in this publication as a result of its employees' or affiliates' investment activities for their own accounts or for any other accounts.
This publication is proprietary and intended solely for the use of its subscribers, and is protected by domestic and international copyright laws. No license is granted to any subscriber, except for the subscriber's personal use. No part of this publication or its contents may be copied, downloaded, stored, further transmitted, or otherwise reproduced, transferred, or used, in any form or by any means, except as expressly permitted under the subscription agreement or with the prior written permission of C&H. Any further disclosure or use, distribution, dissemination or copying of this publication, or any portion hereof, is strictly prohibited.
There is no guarantee that this site will operate in an uninterrupted or error-free manner or is free of viruses or other harmful components. This publication assumes no responsibility for any omission, interruption, deletion, defect, delay in operation or transmission, communications line failure, theft or destruction or unauthorized access to, or alteration hereof. The publication is not responsible for any technical malfunction or other problems of any computer, telephone or other equipment, or software occurring for any reason, including but not limited to, technical problems or traffic congestion on the Internet or at any site or with respect to this publication or combination thereof, including injury or damage to any person's computer, mobile phone, or other hardware or software, related to or resulting from using or downloading any content hereof.
Disclosure: The author has no positions in any stocks mentioned, and no plans to initiate any positions within the next 72 hours.