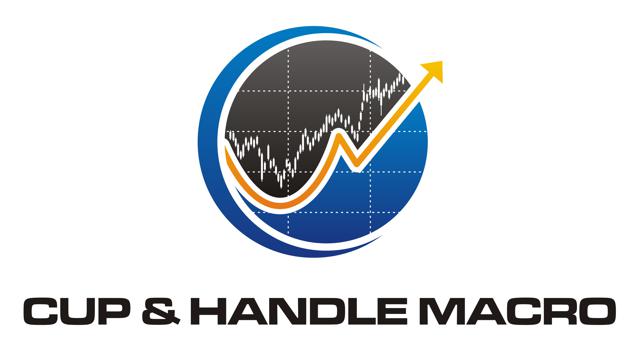 Greetings,
It's always lonely at the top, especially if you're the United States. These days the US seemingly loses a long-standing ally every week. Most recently the White House admonished Great Britain for its subservient behavior towards China, notably its decision to become a founding member of the $50 billion Asian Infrastructure Investment Bank, which will compete with the Washington-based World Bank and IMF. The reprimand was a rare breach in the "special relationship" that has been the backbone of western foreign policy for decades.
This comes on the heels of Benjamin Netanyahu's speech to Congress, which highlighted Israel's fall out with Washington. Israel is worried America's potential nuclear agreement with Iran threatens Middle East security. As US and Iranian diplomats made progress on Tehran's nuclear program last week, Saudi Arabia quietly signed its own nuclear-cooperation deal with South Korea. The Saudi's have given America the cold shoulder for several years, but now they're threatening to kick off a nuclear arms race in the world's most volatile region. Germany, Russia and China, accounting for 20% of global GDP, have all had a bone to pick with the US in recent years.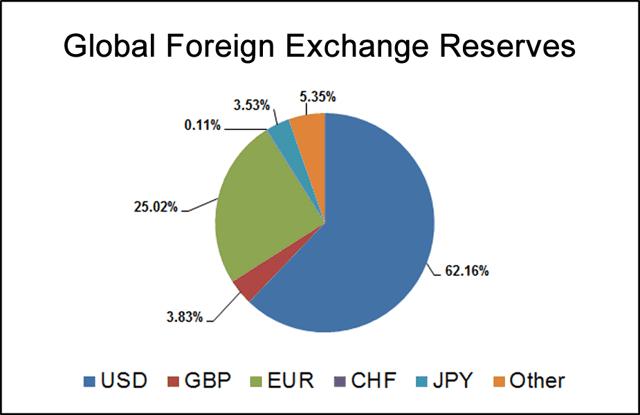 However, there's one reason these countries can't stand up to the US in any meaningful way: the US Dollar. USD is the world's reserve currency and there's not even a close second. The US has the world's most powerful military, rule of law and a credible/independent central bank. The idea that the Chinese Renminbi is about to overtake USD as the currency of choice in global trade is crazy. China just announced plans for deposit insurance and floating interest rates last week. In fact, if China were to declare war on America right now, the US's most potent weapon might be the Federal Reserve. A sudden rate hike to 5% would cause a recession in the US, but it could create a revolution in China where jobs are increasingly scarce.
No country understands America's clout in global finance better than Brazil. Two years ago Edward Snowden exposed American spying on Brazilian companies and politicians. At the time Brazil's President, Dilma Rousseff, cancelled a state-visit and demanded an apology. The apology never came, but now, facing a severe recession, Rouseff is planning a state-visit for this year - where she's expected to come hat-in-hand looking for a trade deal. Money does not equal power, but when it comes to geopolitics the US has both.
Marketfy upgraded its portfolio system last week, but there were several bugs and I was unable to complete several trades. Meaning: I really don't know what the Cup & Handle Fund's performance was last week. Most of the positions went in my favor, so I expect we made money. I sent out my March investment letter yesterday - if you'd like to start receiving these letters click here.
Today's letter will cover several topics, including:
Swiss Watch
Chairlift To The Top
Biotech Bubble?
Chart of the Week
As always, if you have any questions or comments or just want to vent, please send me an email at mike@cup-handle.com.
Until next time, tread lightly out there,
Michael Lingenheld
Managing Editor - Cup & Handle Macro
Swiss Watch
Swiss National Bank (SNB) President Thomas Jordan must feel as though he can't get a break these days. The SNB reports a record $39.3 billion profit in 2014, and the proceeds were distributed to the country's various federal and regional governments. Most of these profits came from foreign currency gains as the SNB defended the floor placed under EUR/CHF, which had been in effect since 2011. Jordan famously ditched the floor in January sending Swiss Francs (CHF) to an all-time high against the Euro. Now, Swiss lawmakers are re-examining the SNB's independence as governments worry about their payments for 2015.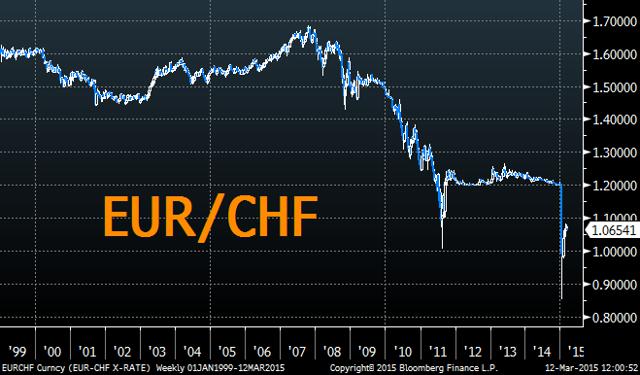 What these lawmakers are failing to take into account is that Jordan made a great move dropping the EUR/CHF floor when he did. The announcement was made of January 15, less than a week before the ECB officially outlined its plan to launch a QE program. The ECB only started buying bonds last week, but the EUR is in the midst of a breathtaking decline that keeps accelerating as time goes on.
Can you imagine the pressure Jordan would be under if the SNB had decided to maintain the floor? They'd be buying hundreds of billions of EUR to weaken a currency that was doing very little to stoke inflation. In other words, Thomas Jordan avoided the fate of Robin Leigh-Pemberton, who presided over the Bank of England when George Soros famously brought the bank to its knees.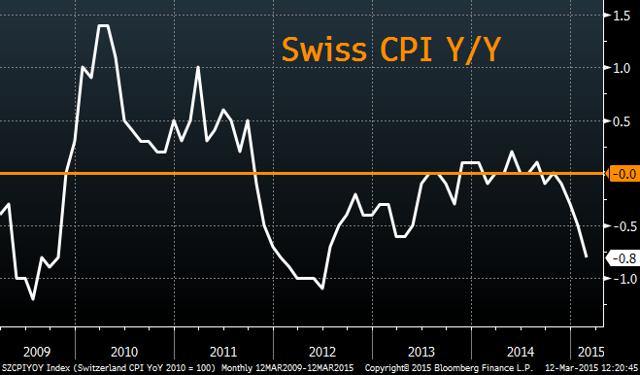 Having said that, the SNB is still in a very tricky spot. CPI is well below zero and the stronger currency will likely keep prices under pressure for some time. While Switzerland may avoid a deep recession, exporters are struggling mightily. According to a February survey of 2,800 Swiss companies, both export and domestically oriented manufacturers expect to slow down production and cut jobs this year.
On January 15 the SNB also dropped LIBOR rates to -0.75%. Negative interest rates have actually been very effective in weakening CHF, which is back above parity against the US dollar - and essentially unchanged since the EUR/CHF floor was removed. Thomas Jordan is doing what he can, but it's unclear whether that's enough to save his job or the SNB's independence.
Chairlift To The Top
While the East Coast has been pounded with record snowfall and freezing temperatures, ski resorts in the West have struggled. Mt. Baker in Washington State, a resort that regularly scores the world's biggest snowfall each season, has had to close temporarily for lack of snow. This raises concerns for drought-stricken California, which relies on snowpack as a significant supply of fresh water. Despite the tough conditions, shares of Vail Resorts (NYSE:MTN) have been taking the chairlift higher leaving some to wonder if they're overvalued.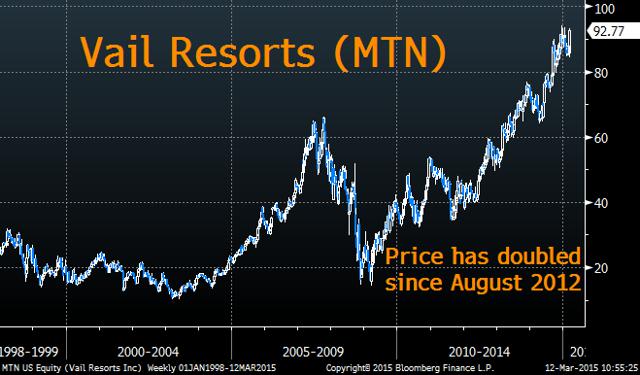 Last Thursday the company said its earnings rose 95% last quarter, driven by strong season-pass sales and spending on other items like meals, lessons, etc. Management also increased the dividend by 50%. However, there's reason to believe that underlying growth does not support shares trading at 30 times forward earnings.
For starters, total skier visits declined -0.3% last quarter, and the conditions at mountains in Lake Tahoe were described as "challenging." Vail also must now contend with a dramatically weaker Euro, which makes ski trips to Europe more appealing - especially to East Coasters. The average destination guest to Vail has an annual income of $295,000. A 50% dividend increase is a sign of confidence, but investors should realize that it's a slippery slope for companies with such optimistic valuations.
Biotech Bubble?
It's hard to appreciate what's taking place in biotech, because, after all, we're not scientists. The NASDAQ's Biotechnology Index is approaching 3,600 having appreciated more than 500% since the stock market bottomed in 2009. Including dividends, the biotech sector has returned 500% to shareholders since 2011, versus 97% for the NASDAQ's internet stocks. Biotech companies are trading at 10x annual sales, compared to 2.3x for the overall index.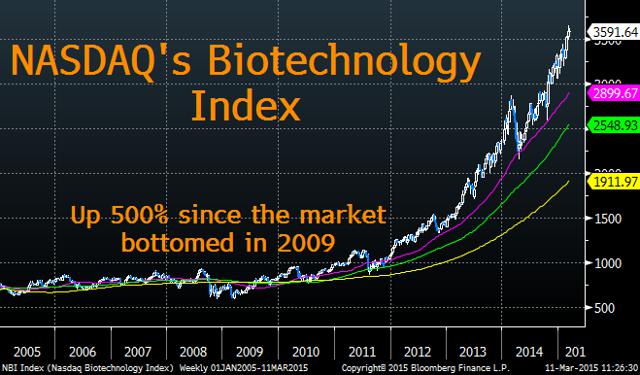 A big part of the attraction to the biotech sector is the willingness to go public. While "start-ups" like Uber and Snapchat hoard venture capital before going public, investors looking for access to growth markets have plenty of biotech stocks to choose from. More than 25% of the 275 IPOs launched last year came from biotech. These may be signs of a bubble; it's hard believe that any sector up this much is not overvalued. However, many of these companies are making revolutionary breakthroughs. It was very telling that AbbVie (NYSE:ABBV) paid a 40% premium for its $21 billion acquisition of Pharmacyclics a few weeks ago. Investors are always willing to pay up for growth and this is one of the few sectors providing it at the moment.
Chart of the Week
This is the second consecutive week a Bitcoin related chart has been featured in this section, but I think this is an important development. A study from Goldman Sachs reveals that 80% of Bitcoin exchange volume is being conducted in Chinese Yuan (NYSEARCA:CNY), up from 50% at the beginning of this year. Bitcoin has long been seen as a loophole around China's vaunted capital controls, and it's proving to be effective considering the Chinese government banned banks from handling Bitcoin transaction in 2013.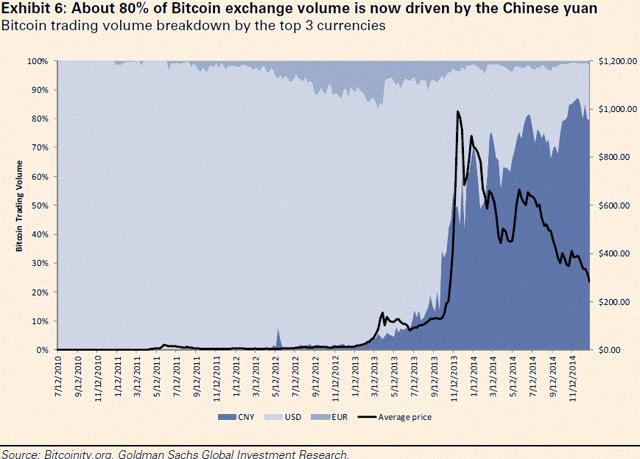 If the Politburo wanted to rid deter citizens from using digital currencies there are many options. One option, although it's unlikely to happen anytime soon, would be to open up the capital account and allow fiat currencies to flow freely. Or, alternatively, they could simply raise interest rates. Real deposit rates in China have been negative in 15 of the past 22 years, so there's little to be gained from storing savings in bank deposits. With that being said, China's rapidly slowing economy does not warrant higher interest rates at the moment, meaning Chinese demand for Bitcoin is unlikely to decline anytime soon.
Reader Question:
**Editor's note: Every week we'll try to answer at least one reader question. If you would like to submit a question, please send us an email at info@cup-handle.com. We'd love to hear from you! **
Q: Thoughts on gold here? - RH
A: It may not seem like it, but I think gold has held up fairly well having declined less than 3% YTD. Especially since the US dollar is up nearly 11% since January 1. Gold priced in Brazilian Real set a new all-time high last week, and it's up on the year relative to Euro's and British Pounds.
There really hasn't been much interesting news on the gold market of late. Gold bugs got excited in late February by the headlines "Apple buying a third of world's gold to meet demand for iWatch," but those figures are extremely optimistic. While each gold iWatch contains 2 troy ounces of gold (worth $2,500), the $10,000+ price tag and limited battery life should dampen demand forecasts. Apple would need to take a 50% market share in the world's luxury watch market for that headline to be true, and I just don't see it happening.
That's all, see you next week!
For any questions or comments, please email us at: info@cup-handle.com
Please visit our website.
Follow us on Twitter: @cuphandlemacro
Disclaimer: None of the information contained in this publication constitutes a recommendation that any particular investment, security, portfolio, transaction or investment strategy is suitable for any specific person. This publication may contain news, information, speculation, rumors, opinions and/or commentary. Cup & Handle Macro Research, LLC ("C&H"), is not permitted to offer personalized trading or investment advice to subscribers. C&H is not a broker/dealer, an exchange or a futures commission merchant and is not subject to regulation by the U.S. Securities and Exchange Commission, the U.S. Commodity Futures Trading Commission or any similar regulatory authority in connection with its activities. C&H does not act as an investment adviser or a commodity trading advisor and does not provide any investment advice or commodity trading advice. The information, statements, views and opinions included in this publication are based on sources (both internal and external) considered to be reliable, but no representation or warranty, express or implied, is made as to their accuracy, completeness or correctness, including without limitation, any implied warranties of merchantability, fitness for use for a particular purpose, accuracy or non-infringement. Use of any information obtained from or through this publication is entirely at your own risk. C&H does not routinely moderate, screen or edit any third party content. Such information, statements, views and opinions are expressed as of the date of publication, are subject to change without further notice and do not constitute a solicitation for the purchase or sale of any investment referenced in the publication.
SUBSCRIBERS SHOULD VERIFY ALL CLAIMS AND DO THEIR OWN RESEARCH BEFORE INVESTING IN ANY INVESTMENTS REFERENCED IN THIS PUBLICATION. INVESTING IN SECURITIES, PRECIOUS METALS, AND OTHER INVESTMENTS, SUCH AS OPTIONS AND FUTURES, IS SPECULATIVE AND CARRIES A HIGH DEGREE OF RISK. SUBSCRIBERS MAY LOSE MONEY TRADING AND/OR INVESTING IN ANY SUCH INVESTMENTS. ALL USERS OF THIS PUBLICATION ACKNOWLEDGE AND AGREE THAT NO PERSON OR ENTITY INVOLVED IN THE PUBLICATION OF THIS PUBLICATION SHALL HAVE ANY LIABILITY FOR ANY LOSS OR DAMAGES, INCLUDING WITHOUT LIMITATION, CLAIMS FOR LOSS OF MONEY, ERRORS, DEFAMATION OR OTHER EXPENSES, RELATING TO ANY PLACEMENT OF CONTENT IN THIS PUBLICATION, OR ANY RELIANCE ON ANY INFORMATION CONTAINED HEREIN, OR THROUGH ANY LINKS CONTAINED IN THIS PUBLICATION OR THE SITE.
Employees and/or affiliates of C&H may give advice and take action with respect to clients and/or investments that differs from the information, statements, views and opinions included in this publication. Nothing herein or in the subscription agreement shall limit or restrict the right of employees or affiliates of C&H to perform investment management, advisory or other services for any persons or entities. In addition, nothing herein or in the subscription agreement shall limit or restrict employees or affiliates of C&H from buying, selling or trading securities or other investments for their personal or other related accounts, or for the accounts of their clients. Employees or affiliates of C&H may at any time have, acquire, increase, decrease or dispose of the securities or other investments referenced in this publication. C&H shall have no obligation whatsoever to recommend securities or investments in this publication as a result of its employees' or affiliates' investment activities for their own accounts or for any other accounts.
This publication is proprietary and intended solely for the use of its subscribers, and is protected by domestic and international copyright laws. No license is granted to any subscriber, except for the subscriber's personal use. No part of this publication or its contents may be copied, downloaded, stored, further transmitted, or otherwise reproduced, transferred, or used, in any form or by any means, except as expressly permitted under the subscription agreement or with the prior written permission of C&H. Any further disclosure or use, distribution, dissemination or copying of this publication, or any portion hereof, is strictly prohibited.
There is no guarantee that this site will operate in an uninterrupted or error-free manner or is free of viruses or other harmful components. This publication assumes no responsibility for any omission, interruption, deletion, defect, delay in operation or transmission, communications line failure, theft or destruction or unauthorized access to, or alteration hereof. The publication is not responsible for any technical malfunction or other problems of any computer, telephone or other equipment, or software occurring for any reason, including but not limited to, technical problems or traffic congestion on the Internet or at any site or with respect to this publication or combination thereof, including injury or damage to any person's computer, mobile phone, or other hardware or software, related to or resulting from using or downloading any content hereof.
Disclosure: The author has no positions in any stocks mentioned, and no plans to initiate any positions within the next 72 hours.