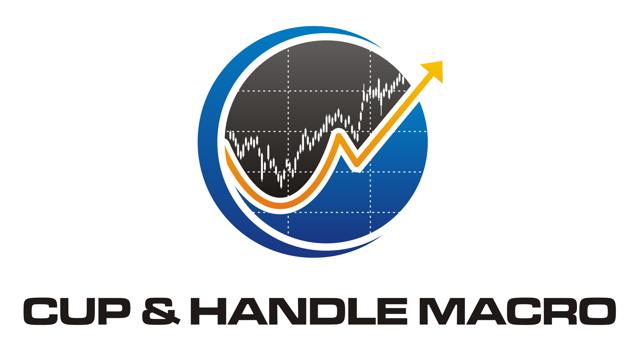 Greetings,
Time is the most valuable commodity in the world, especially if you're a central banker. Last week Janet Yellen bought the Federal Reserve some time by opening up the possibility of a rate hike as soon as June, while simultaneously lowering expectations for further increases down the road. The median path of the projected fed funds rate stands at 0.625% at the end of 2015, 1.875% at the end of 2016 and 3.125% by December 31, 2017. This unlikely scenario would be the most gradual tightening cycle in US history. The Fed also anticipates the unemployment rate leveling off while economic growth accelerates - again, this scenario has never occurred in US history. However, it's what the market wanted to hear in order to grant the Fed more time.
It's the same story in Europe. This is an actual headline from Friday: "Greece - a deal was reached to comply with the old deal, which itself was not an actual deal." That's a good example of what makes investing in these markets so treacherous. ECB President Mario Draghi famously said he would "do whatever it takes" to save the Euro in 2011. It turns out he didn't have to do anything until 2015, when QECB was initiated, but those words bought valuable time.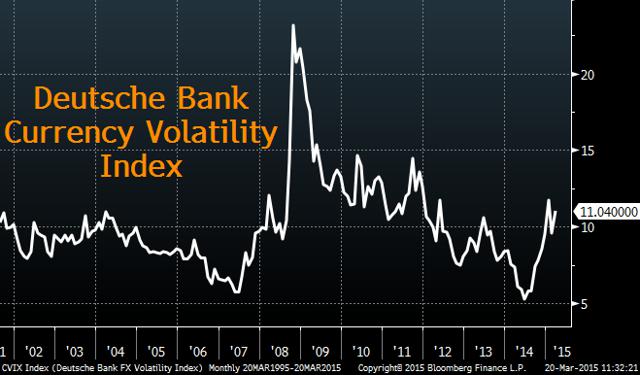 It's still unclear when time will expire and central bankers are forced to confront massive imbalances in the global economy. At the moment it looks like the clock is ticking on the FX market. The Deutsche Bank Currency Volatility Index reached the highest levels since 2011 last week.
As I've said before, the biggest impact from the Fed's QE program(s) was the smothering of volatility across the board. When asset prices are stable, it gives investors the confidence allocate capital into risky markets. The problem is that when volatility appears it's rarely confined to one asset class. I can easily envision a scenario where currency volatility spreads into credit markets - particularly those in emerging markets - before finally reaching the stock market. When that happens it will be time for central bankers to face the music.
The Cup & Handle Fund was up roughly 3% last week, back to flat on the year, and +14% since August. My last two investment recommendations, from February and March, have performed exceedingly well. The energy stock (yes, energy) from February is up nearly 30% since the letter went out on February 16. I'm almost disappointed because I wasn't able to build more of a position. The March letter was sent out eight days ago and the ETF selected has rallied more than 11% already. I haven't settled on a recommendation for April yet, but the bar is set pretty high. If you'd like to start receiving these letters click here.
Today's letter will cover several topics, including:
Euro: On Sale
Higher Wages or Bust
Big Data
Chart of the Week
As always, if you have any questions or comments or just want to vent, please send me an email at mike@cup-handle.com.
Until next time, tread lightly out there,
Michael Lingenheld
Managing Editor - Cup & Handle Macro
Euro: On Sale
Last week I mentioned that European ski resorts are expecting an increase in American visitors due to the Euro's 12% decline against USD this year. However, tourism is hardly the only sector expected to receive a boost from the weaker currency. Luxury goods makers, for example, are expected to benefit in several ways. First, they're able to gain market share from international competitors as their products become more competitively priced. It also gives them the ability to attract shoppers from abroad. And finally, international sales should help improve their bottom-line by increasing the value of foreign revenues when converted back to EUR.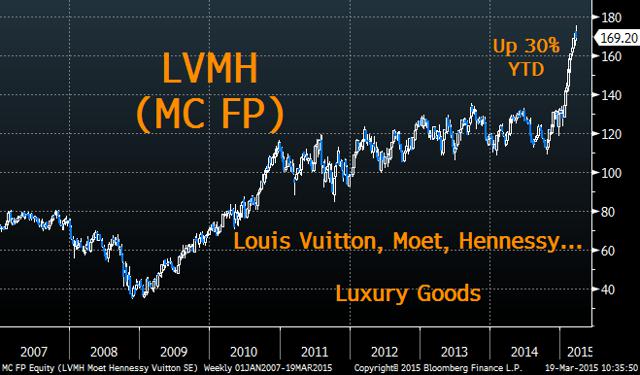 French fashion house Chanel said last week it would increase handbag prices in Europe while cutting them in China to shrink price gaps between the two markets. In other words, the company is eliminating an extremely profitable arbitrage for Chinese tourists operating in the black market. Other brands like Gucci are experiencing a similar phenomenon. Alibaba's (NYSE:BABA) Ebay-like subsidiary, Taobao, has seen a huge increase in black market luxury items purchased in Europe and shipped back to Mainland China since the EUR's decline began in earnest.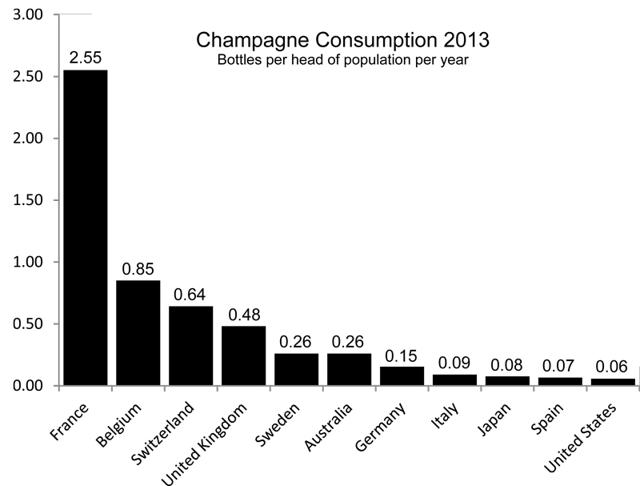 Champagne sales, which typically act as a proxy for consumer sentiment, are also expected to get a boost. The US is the largest alcohol consumer in the world, but, according to the chart below, we can expect the British and Swiss to load up on champagne this year. The EUR has declined significantly against GBP, as well as CHF, although the exchange rate has yet to impact prices. That's because the vast majority of champagne is shipped between September and November, in time for the holiday season. The ECB will continue with its QE program for at least another 15 months, and if the EUR keeps trending lower, the bond market won't be the only thing that's bubbly.
Higher Wages Or Bust
The Japanese economy has been stuck in a deflationary trap for decades now. The country's refusal to embrace immigration has created a demographic time-bomb that will increasingly burden future generations unless policymakers can jumpstart the economy in a big way. Reversing the downtrend in prices is vital to get the economy going again, and there was good news on that front last week.
Prime Minister Shinzo Abe has been pressuring the business sector to raise workers' pay, a critical component of his Abenomics reform package. Last Wednesday, some of Japan's most prominent companies like Toyota (NYSE:TM), Panasonic and Hitachi announced their biggest pay increases in years.
These companies can certainly afford it. According to the Bank of Japan, corporate cash holdings stood at $1.9 trillion at the end of December, the most on record and 4% increase over last year. Similar to WalMart wage increases spreading to other retailers like TJ Maxx and Target, economists say pay at companies like Toyota is a benchmark for other businesses; meaning more of Japan's large companies are likely to follow suit.
The combination of a weaker Yen, falling energy prices and rising wages has several prominent strategists saying the Japanese stock market is poised for a rally. However, looking at the chart above it's clear that further gains will need to be accompanied by a weaker Yen. Abe may have convinced employer's to raise wages, but at this point their margins are driven by currency fluctuations more than anything.
Big Data
Bridgewater Associates, the world's largest hedge fund, is slated to launch a new artificial intelligence unit this month that will trade based on algorithms that make predictions based on historical data and statistical probabilities. Advances in artificial intelligence are unlikely to help the individual investor anytime soon, but "Big Data" is helping to improve the inputs traders use to make decisions. Economists at MIT are undertaking an academic initiative called "The Billion Prices Project," which scans the Internet daily capturing online prices of… everything.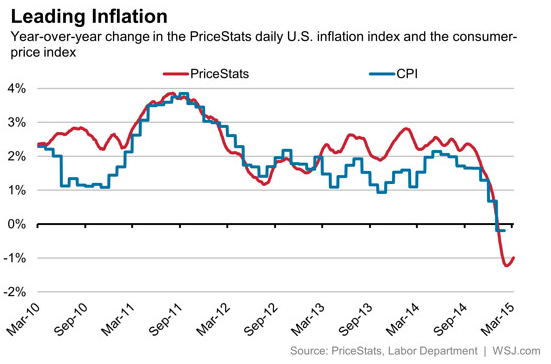 In essence this is a real-time way to monitor CPI, economic data that is released monthly. The chart above indicates that CPI released this morning (before publication of this note) will likely dip further into negative territory. However, the Billion Prices Project, or PriceStats, shows that prices have been on the uptrend of late. That is likely explained by higher gasoline prices, which turned higher in February after declining for 123 consecutive days. It's only a matter of time before "Big Data" improves other important metrics like unemployment, but I think the next advances will come in areas related to consumer sentiment.
Chart of the Week
I've written extensively about Brazil's dramatic fall from burgeoning superpower to the weakest link in emerging markets. What's gone unnoticed, however, is Mexico emergence as a manufacturing leader. The chart below shows that Mexico is the only major EM country to increase its trend GDP since the financial crisis. Obviously part of Mexico's appeal to multi-national corporations is its proximity to the United States, which has emerged as the world's strongest economy, but there are other factors driving growth.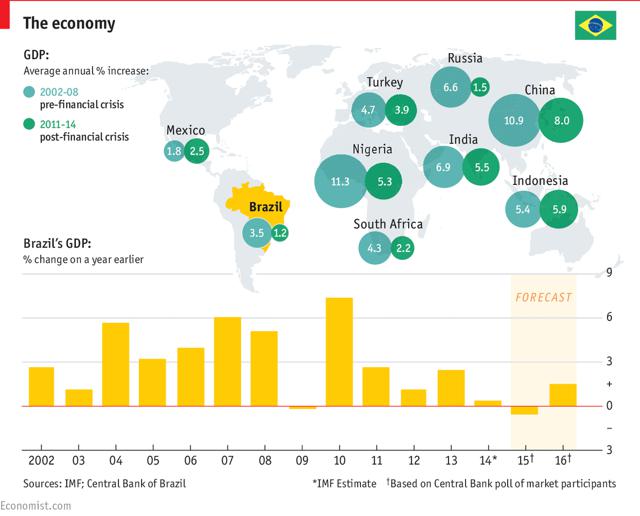 For instance, Mexico is part of 10 different free-trade agreements, encompassing 45 countries. The deals give Mexican exporters duty-free access to markets that contain 60% of the world's economic output. Automakers and parts suppliers alone have invested more than $20 billion in factories south of the Rio Grande. Embattled Mexican President Enrique Pena Nieto has faced protests for alleged kickbacks and his inability to clamp down on drug lords, but he clearly understands what makes economies grow. The long-anticipated privatization of Mexico's oil industry is expected to see a big push this year, which will only encourage investment. Pena Nieto's approval rating might be low, but the same could be said of Brazilian President Dilma Rousseff. At least his economy is growing.
Reader Question:
**Editor's note: Every week we'll try to answer at least one reader question. If you would like to submit a question, please send us an email at info@cup-handle.com. We'd love to hear from you! **
Q: What do you make of Ray Dalio's comments? - KT
A: I wasn't able to obtain a copy of the Bridgewater newsletter that got so much attention last week, but there was enough information in the popular press to understand his points. It's hard to disagree with Dalio's assessment, as the economy is essentially navigating unchartered waters. The note says:
"If one agrees that either a) we are near the end of the developed country central bankers' ability to be effective in stimulating money and credit growth or b) the dollar is the world's reserve currency and that the world needs easier rather than tighter money policies, then one would hope that the Fed will be very cautious about tightening."
Part B is almost indisputable, but I'm not as confident about part A. Central bankers still have plenty of levers to pull in order to encourage credit growth. Negative interest rates are proving to be extremely effective at weakening currencies and elevating prices. Whether the market retains confidence in central banks as they pull these maneuvers is another matter.
That's all, see you next week!
For any questions or comments, please email us at: info@cup-handle.com
Please visit our website.
Follow us on Twitter: @cuphandlemacro
Disclaimer: None of the information contained in this publication constitutes a recommendation that any particular investment, security, portfolio, transaction or investment strategy is suitable for any specific person. This publication may contain news, information, speculation, rumors, opinions and/or commentary. Cup & Handle Macro Research, LLC ("C&H"), is not permitted to offer personalized trading or investment advice to subscribers. C&H is not a broker/dealer, an exchange or a futures commission merchant and is not subject to regulation by the U.S. Securities and Exchange Commission, the U.S. Commodity Futures Trading Commission or any similar regulatory authority in connection with its activities. C&H does not act as an investment adviser or a commodity trading advisor and does not provide any investment advice or commodity trading advice. The information, statements, views and opinions included in this publication are based on sources (both internal and external) considered to be reliable, but no representation or warranty, express or implied, is made as to their accuracy, completeness or correctness, including without limitation, any implied warranties of merchantability, fitness for use for a particular purpose, accuracy or non-infringement. Use of any information obtained from or through this publication is entirely at your own risk. C&H does not routinely moderate, screen or edit any third party content. Such information, statements, views and opinions are expressed as of the date of publication, are subject to change without further notice and do not constitute a solicitation for the purchase or sale of any investment referenced in the publication.
SUBSCRIBERS SHOULD VERIFY ALL CLAIMS AND DO THEIR OWN RESEARCH BEFORE INVESTING IN ANY INVESTMENTS REFERENCED IN THIS PUBLICATION. INVESTING IN SECURITIES, PRECIOUS METALS, AND OTHER INVESTMENTS, SUCH AS OPTIONS AND FUTURES, IS SPECULATIVE AND CARRIES A HIGH DEGREE OF RISK. SUBSCRIBERS MAY LOSE MONEY TRADING AND/OR INVESTING IN ANY SUCH INVESTMENTS. ALL USERS OF THIS PUBLICATION ACKNOWLEDGE AND AGREE THAT NO PERSON OR ENTITY INVOLVED IN THE PUBLICATION OF THIS PUBLICATION SHALL HAVE ANY LIABILITY FOR ANY LOSS OR DAMAGES, INCLUDING WITHOUT LIMITATION, CLAIMS FOR LOSS OF MONEY, ERRORS, DEFAMATION OR OTHER EXPENSES, RELATING TO ANY PLACEMENT OF CONTENT IN THIS PUBLICATION, OR ANY RELIANCE ON ANY INFORMATION CONTAINED HEREIN, OR THROUGH ANY LINKS CONTAINED IN THIS PUBLICATION OR THE SITE.
Employees and/or affiliates of C&H may give advice and take action with respect to clients and/or investments that differs from the information, statements, views and opinions included in this publication. Nothing herein or in the subscription agreement shall limit or restrict the right of employees or affiliates of C&H to perform investment management, advisory or other services for any persons or entities. In addition, nothing herein or in the subscription agreement shall limit or restrict employees or affiliates of C&H from buying, selling or trading securities or other investments for their personal or other related accounts, or for the accounts of their clients. Employees or affiliates of C&H may at any time have, acquire, increase, decrease or dispose of the securities or other investments referenced in this publication. C&H shall have no obligation whatsoever to recommend securities or investments in this publication as a result of its employees' or affiliates' investment activities for their own accounts or for any other accounts.
This publication is proprietary and intended solely for the use of its subscribers, and is protected by domestic and international copyright laws. No license is granted to any subscriber, except for the subscriber's personal use. No part of this publication or its contents may be copied, downloaded, stored, further transmitted, or otherwise reproduced, transferred, or used, in any form or by any means, except as expressly permitted under the subscription agreement or with the prior written permission of C&H. Any further disclosure or use, distribution, dissemination or copying of this publication, or any portion hereof, is strictly prohibited.
There is no guarantee that this site will operate in an uninterrupted or error-free manner or is free of viruses or other harmful components. This publication assumes no responsibility for any omission, interruption, deletion, defect, delay in operation or transmission, communications line failure, theft or destruction or unauthorized access to, or alteration hereof. The publication is not responsible for any technical malfunction or other problems of any computer, telephone or other equipment, or software occurring for any reason, including but not limited to, technical problems or traffic congestion on the Internet or at any site or with respect to this publication or combination thereof, including injury or damage to any person's computer, mobile phone, or other hardware or software, related to or resulting from using or downloading any content hereof.
Disclosure: The author has no positions in any stocks mentioned, and no plans to initiate any positions within the next 72 hours.