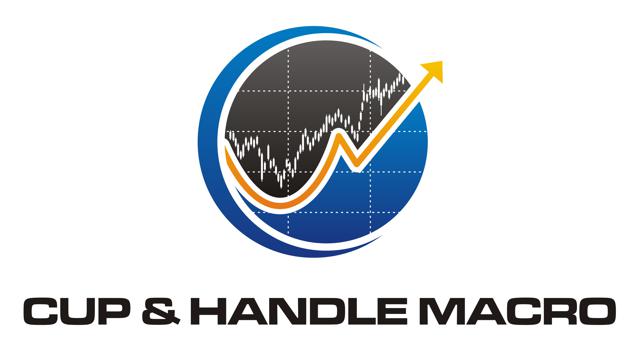 Greetings,
Last summer, Janet Yellen warned that valuations in certain corners of the stock market like biotech were getting "substantially stretched." Proving yet again that she's a better economist than market-timer, the biotech sector has proceeded to rally more than 50% since her words of caution. However, there's no denying that valuations in this sector do seem excessive. Less than 50% of the stocks in the NASDAQ Biotech Index are expected to make money in the next fiscal year, rendering valuation metrics like price-to-earnings irrelevant. According to Credit Suisse, biotech has done something that no other sector has done before, which is outperform for 5 years in a row.
It's impossible to have a rally of this magnitude without attracting some "weak hands," also known as speculators. It wasn't surprising that these speculators jumped ship last week when the broader market dipped lower. Ostensibly, the sell-off was caused by Saudi Arabia entering the fray in Yemen, which we'll touch on later, but, in my opinion, the market simply returned to the levels it was trading before the latest Fed meeting - where there were few substantial developments. Not surprisingly, biotech shares bore the brunt of the decline.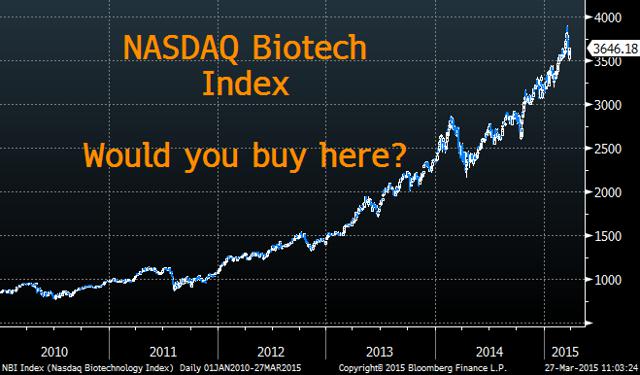 The technical signals don't point to an imminent rally, either. The number of stocks in the biotech index trading above their 50-day moving average (NYSE:MA) plunged to 50% from more than 80% in the previous week. The last time conditions deteriorated so quickly, in February 2009, fewer than 20% of the group ultimately held above their 50-day MA.
It goes without saying that I don't advise investors to load up on biotech shares at these levels. This is not a "buy the dip opportunity," but it is important to monitor this sector going forward. When it's clear that speculators have abandoned biotech, that might be a signal the broader market is headed for a correction. There are several reasons to believe the stock market is overvalued. The Office of Financial Research, the agency in charge of financial stability, released a paper last week showing the stock market is "dangerously overvalued." The CAPE ratio, Q-ratio and Buffett Indicator are all approaching two standard deviations above their historical mean. Like market commentary from Janet Yellen, these indicators don't say when the market will correct, but they do seem correct in their conclusion that it's overvalued.
Editor's note: Cup & Handle will not be published on April 7 due to a hectic schedule. Apologies in advance.
The Cup & Handle Fund was down around -1% last week, but still +13% since August. Foreign currencies is usually my go-to asset class for sustainable trends, but there are not many clear, directional bets at the moment. There is a good chance some relative value bets will start entering the portfolio, but I need time to do some homework. I still haven't settled on a recommendation for April yet, but my track record is looking much better after my picks from February and March. If you'd like to start receiving these letters click here.
Today's letter will cover several topics, including:
Saudi Arabia's Military Stimulus
UKQE?
Made From Concentrate
Chart of the Week
As always, if you have any questions or comments or just want to vent, please send me an email at mike@cup-handle.com.
Until next time, tread lightly out there,
Michael Lingenheld
Managing Editor - Cup & Handle Macro
Saudi Arabia's Military Stimulus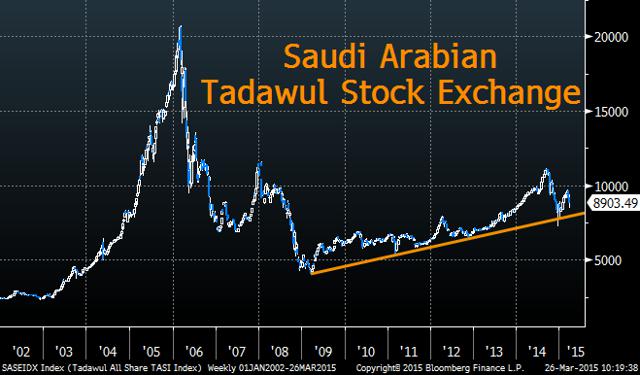 The Saudi Kingdom's decision to attack Yemeni militants last week has created an almost perverse form of stimulus for the country's stock market. Egypt, Pakistan, Morocco, Jordan and Sudan were also part of the air strikes, but Saudi Arabia is clearly calling the shots. Gulf nations are taking more assertive military stance as their economies struggle with the falling oil price. The six-nation Gulf Cooperation Council is home to a third of the world's proven crude reserves, and Saudi Arabia is the world's largest exporter.
Yemen is just the latest battleground in an ongoing Islamic proxy war between Shia-Iran and Sunni-Saudi Arabia. The Saudi's are now moving heavy artillery to areas near its border with Yemen, indicating Riyadh might be drawn into an extended conflict. It's not clear if the military intervention will have a significant impact on the Saudi economy, although it's sure to rattle some retail investors. However, the skirmish did give a boost to oil prices, which finished the week nearly 5% higher.
Assuming the local economy isn't effected and oil prices continue to rise due to geopolitical uncertainty, investors could be buying Saudi shares on the cheap here. The opening of Saudi Arabia's stock market to direct foreign investment is only months away, and demand is expected to be strong. BlackRock (NYSE:BLK) even has plans to launch an ETF for Saudi shares sometime this year.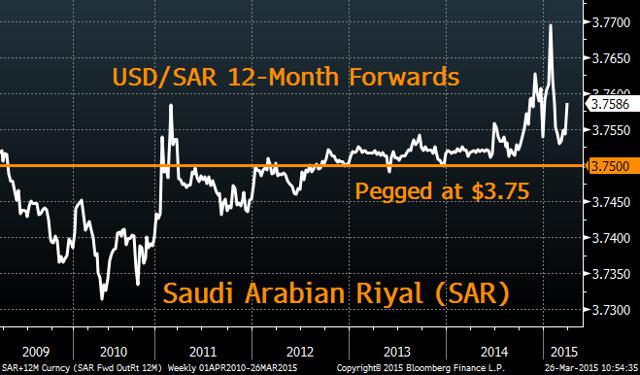 Conversely, the bear argument would go something like this: The Saudi's have pegged their currency, the Riyal (NYSE:SAR), to USD since 1986, meaning the rapid appreciation of USD is tightening domestic monetary conditions. 12-month USD/SAR forwards are below levels from earlier this year, but have started moving higher. If USD continues to rise and oil prices slide again, the country's monetary policy would be entirely inappropriate and stocks would suffer.
The government is rapidly trying to diversify the economy because over 90% of its revenues come from oil, but that will take years to complete. While the Kingdom has huge financial reserves to withstand temporary turmoil, an extended conflict that hurts confidence could be problematic. Few investors have a firm view either way, but Saudi equities are one of the world's most intriguing and volatile markets.
UKQE?
If you're unfamiliar with the UK's weekly PMQ's (Prime Minister Questions), I highly recommend watching this video from March 18. The 30-minute Wednesday gatherings often include shouting, booing, animal noises and name calling. Prime Minister David Cameron is running to be re-elected in the national elections scheduled for May 7, but perhaps his constituents would be better off questioning the Bank of England.
The Bank's chief economist, Andy Haldane, recently said it was possible that there had been a permanent downward move in inflation and that he could easily envision cutting rates from their current record low of 0.5%. Inflation in Great Britain seems certain to turn negative next month, and while other BoE officials believe (hope) inflation will turn higher, the threat of rising real interest rates should make the UK's indebted households nervous.
In theory, the falling prices are being driven by the decline in energy prices. In fact, the BoE calculates that around 75% of inflation's deviation from the 2% target can be explained by the fall in oil and gas. But it doesn't help that Britain's currency, the Pound (GBP), has appreciated more than 12% relative to its largest trading partners in the EU.
The BoE, along with the Federal Reserve and Bank of Japan, was one of the early adopters to QE after the financial crisis. The ECB, having just implemented QECB this month, was late to the party but their asset purchases will continue at least through September 2016. Besides the looming property bubble in London, the British economy's recovery has been lackluster but if these price trends don't reverse soon, expect the BoE to strongly consider another asset-purchase program.
Made From Concentrate
Illiquid markets and volatility go hand-in-hand. With a notional value of $316 million, the orange juice futures markets is small but often produces spectacular price swings. The fundamental outlook for Florida's crop is extremely bullish as many groves have been stricken with disease. The USDA recently estimated Florida's orange production to be 102 million boxes this year, which would be the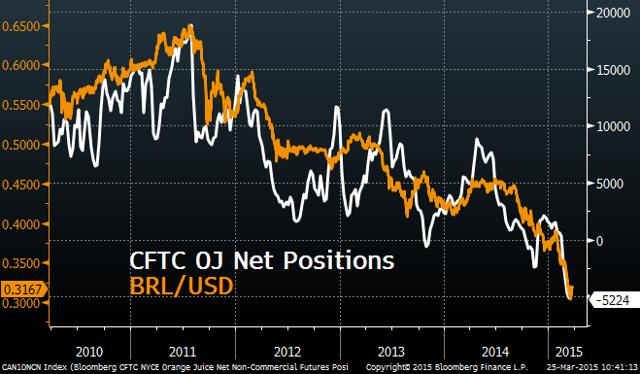 smallest crop in 47 years.
However, OJ futures have really become a proxy bet on the Brazilian Real (BRL). Producers in Brazil, the world's largest exporter, tend to increase sales when BRL declines because they take in more US dollars. BRL has been the world's worst-performing major currency this year, leading to record short positioning in the OJ market. Since March 18, when the Fed was ambiguous on the timing of interest rate hikes, BRL has rallied more than 5% - triggering a 20% rally in OJ as traders cover their short positions. Commodities usually have strong rallies based around a change in fundamentals, but in this case currencies have manufactured a bull market.
Chart of the Week
Premier Li Keqiang says defense spending from the central government will rise 12.2% this year, bolstering China's more assertive stance in regional disputes. The key phrase in that sentence is "from the central government," because many believe there is more taking place behind the scenes. China's increased military spending comes as the US is cutting back. The proposed Pentagon budget for 2015 would reduce the Army's personnel by 6%, smaller than the forces available on September 11, 2001.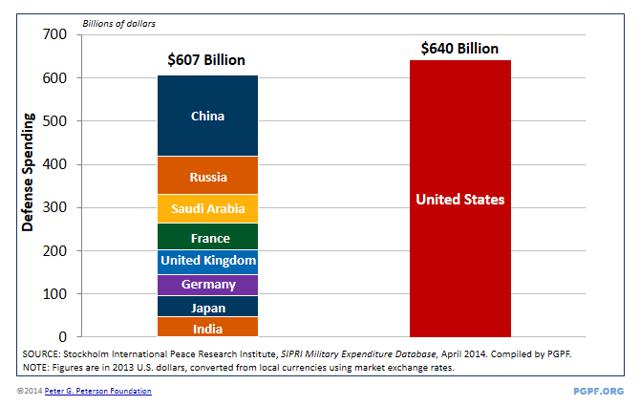 Having said that, while the growth rates are clearly in China's favor, the US still has a sizeable lead in nominal spending. The chart above shows the combined defense spending from China, Russia, Saudi Arabia, France, Great Britain, Germany, Japan and India is only 95% of America's budget. That's not to say that China's military isn't a growing threat. It was recently revealed the Chinese have acquired a second aircraft carrier with plans for up to four. Again, the US already has 14 in service, but these vessels are key to China maritime ambitions. Each year, $5.3 trillion of trade passes through the South China Sea; the US accounts for $1.2 trillion of this total. Surely the US has a vested interest in patrolling those waters.
Reader Question:
**Editor's note: Every week we'll try to answer at least one reader question. If you would like to submit a question, please send us an email at info@cup-handle.com. We'd love to hear from you! **
Q: Thoughts on the Heinz-Kraft merger? - JM
A: 3G Capital once again teamed up with Warren Buffett for this transaction, creating one of the world's largest consumer conglomerates with combined revenues of $28 billion. It strikes me as odd that Buffett, known from backing companies with stable management, is investing in a company with notoriously impatient executives.
As recently as 2007, Krafts Foods spun out of Altria (NYSE:MO) - a company that derives 96% of its revenue from the sale of cigarettes. After that, in 2010, then CEO Irene Rosenfeld bought Cadbury for 11 billion GBP. Then, in 2012, Kraft was broken up into Mondelez, which includes Cadbury. I assume Buffett will be unwilling to tolerate that many corporate actions going forward, but 3G Capital has a strong track record in the food business thus far.
My biggest objection is that 3G Capital isn't concerned at all about the Department of Justice or FTC blocking this merger. Five companies now account for almost half of supermarket food sales in the US. That's what economics professors would call an oligopoly. If only the regulators were paying attention.
That's all, see you next week!
For any questions or comments, please email us at: info@cup-handle.com
Please visit our website.
Follow us on Twitter: @cuphandlemacro
Disclaimer: None of the information contained in this publication constitutes a recommendation that any particular investment, security, portfolio, transaction or investment strategy is suitable for any specific person. This publication may contain news, information, speculation, rumors, opinions and/or commentary. Cup & Handle Macro Research, LLC ("C&H"), is not permitted to offer personalized trading or investment advice to subscribers. C&H is not a broker/dealer, an exchange or a futures commission merchant and is not subject to regulation by the U.S. Securities and Exchange Commission, the U.S. Commodity Futures Trading Commission or any similar regulatory authority in connection with its activities. C&H does not act as an investment adviser or a commodity trading advisor and does not provide any investment advice or commodity trading advice. The information, statements, views and opinions included in this publication are based on sources (both internal and external) considered to be reliable, but no representation or warranty, express or implied, is made as to their accuracy, completeness or correctness, including without limitation, any implied warranties of merchantability, fitness for use for a particular purpose, accuracy or non-infringement. Use of any information obtained from or through this publication is entirely at your own risk. C&H does not routinely moderate, screen or edit any third party content. Such information, statements, views and opinions are expressed as of the date of publication, are subject to change without further notice and do not constitute a solicitation for the purchase or sale of any investment referenced in the publication.
SUBSCRIBERS SHOULD VERIFY ALL CLAIMS AND DO THEIR OWN RESEARCH BEFORE INVESTING IN ANY INVESTMENTS REFERENCED IN THIS PUBLICATION. INVESTING IN SECURITIES, PRECIOUS METALS, AND OTHER INVESTMENTS, SUCH AS OPTIONS AND FUTURES, IS SPECULATIVE AND CARRIES A HIGH DEGREE OF RISK. SUBSCRIBERS MAY LOSE MONEY TRADING AND/OR INVESTING IN ANY SUCH INVESTMENTS. ALL USERS OF THIS PUBLICATION ACKNOWLEDGE AND AGREE THAT NO PERSON OR ENTITY INVOLVED IN THE PUBLICATION OF THIS PUBLICATION SHALL HAVE ANY LIABILITY FOR ANY LOSS OR DAMAGES, INCLUDING WITHOUT LIMITATION, CLAIMS FOR LOSS OF MONEY, ERRORS, DEFAMATION OR OTHER EXPENSES, RELATING TO ANY PLACEMENT OF CONTENT IN THIS PUBLICATION, OR ANY RELIANCE ON ANY INFORMATION CONTAINED HEREIN, OR THROUGH ANY LINKS CONTAINED IN THIS PUBLICATION OR THE SITE.
Employees and/or affiliates of C&H may give advice and take action with respect to clients and/or investments that differs from the information, statements, views and opinions included in this publication. Nothing herein or in the subscription agreement shall limit or restrict the right of employees or affiliates of C&H to perform investment management, advisory or other services for any persons or entities. In addition, nothing herein or in the subscription agreement shall limit or restrict employees or affiliates of C&H from buying, selling or trading securities or other investments for their personal or other related accounts, or for the accounts of their clients. Employees or affiliates of C&H may at any time have, acquire, increase, decrease or dispose of the securities or other investments referenced in this publication. C&H shall have no obligation whatsoever to recommend securities or investments in this publication as a result of its employees' or affiliates' investment activities for their own accounts or for any other accounts.
This publication is proprietary and intended solely for the use of its subscribers, and is protected by domestic and international copyright laws. No license is granted to any subscriber, except for the subscriber's personal use. No part of this publication or its contents may be copied, downloaded, stored, further transmitted, or otherwise reproduced, transferred, or used, in any form or by any means, except as expressly permitted under the subscription agreement or with the prior written permission of C&H. Any further disclosure or use, distribution, dissemination or copying of this publication, or any portion hereof, is strictly prohibited.
There is no guarantee that this site will operate in an uninterrupted or error-free manner or is free of viruses or other harmful components. This publication assumes no responsibility for any omission, interruption, deletion, defect, delay in operation or transmission, communications line failure, theft or destruction or unauthorized access to, or alteration hereof. The publication is not responsible for any technical malfunction or other problems of any computer, telephone or other equipment, or software occurring for any reason, including but not limited to, technical problems or traffic congestion on the Internet or at any site or with respect to this publication or combination thereof, including injury or damage to any person's computer, mobile phone, or other hardware or software, related to or resulting from using or downloading any content hereof.
Disclosure: The author has no positions in any stocks mentioned, and no plans to initiate any positions within the next 72 hours.