As stated yesterday, the bears have taken control of the market. Also, stated was the fact that the Energy and Basic Materials Sectors were the only two bright spots. This trend continued today with Energy stocks doing well, and Basic Materials holding their own. We still have the earnings tail wagging the market dog with large up and down moves in various stocks. Of S&P 500 stocks there are now just under 36% in confirmed downtrends, this is up from just over 30% yesterday. Conversely, one would expect the number of stocks in confirmed uptrends to be shrinking at a similar pace, however, we are not seeing that at this time. This measure only dropped by .5% today. This is primarily due to the Energy components within the S&P 500. Among Energy companies stocks in confirmed uptrends rose from just over 40% yesterday to nearly 52% today.
The AQA System scores each sector based on their Momentum Trend as well as a Daily Momentum Trend Score. This data can be seen in the table below. This, once again, shows Energy and Basic Materials to be the strongest sectors. It also shows Biotechnology (which has led the market recently) remains one of the weakest sectors. The Sector has fallen from the top of the Bullish Momentum Trend Score in late March with a high score of 80.67 of to the bottom with a score of 35.37. It also remained close to the bottom of Today's Momentum Score, above only Consumer Staples. As you can see from the scores below most sectors were hit pretty hard today.
When we reach these bearish levels, we start looking for signs of life which will first be seen in the number of stocks in confirmed downtrends. When this number starts to level out and begin to go down, we will start looking for signs of a rally. But right now we wait.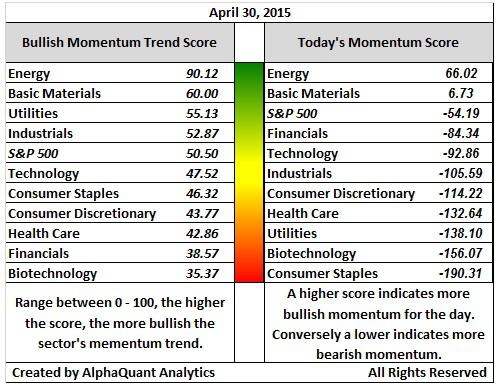 Disclosure: The author has no positions in any stocks mentioned, and no plans to initiate any positions within the next 72 hours.