Plenty of folks are bearish copper. They see that wedge breakdown and assume that's that. Well that may not be the case here. We see copper hit this now four year support line. Today we got the bounce higher right where you would expect it.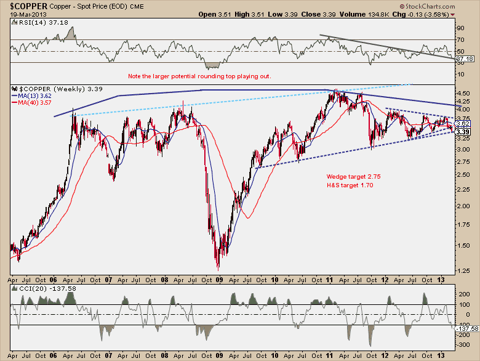 As long as this line holds we have to back off the bearish stance. The whole technical picture seems to be pointing lower with potential rounding tops, head and shoulders etc. However, we have seen patterns like this form and then reverse somewhat frequently over the last few years. With that in mind we need to consider all possibilities. What if copper bounces and stabilizes?
Lets's look at the most pure copper stock out there Southern Copper (NYSE:SCCO). This first chart is the long term view. We can see what looks to be a pretty clean cup and handle pattern. Or, you may interpret it as a double top.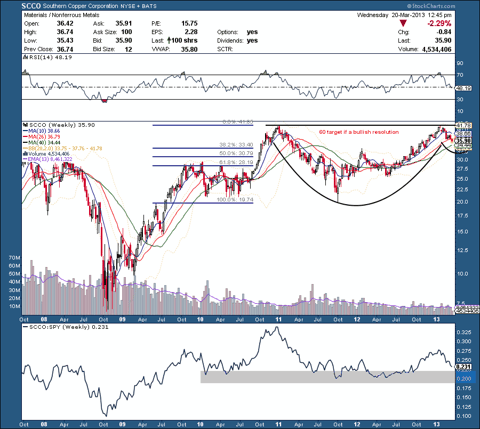 Let's take a look at the shorter term chart to determine the potential pattern.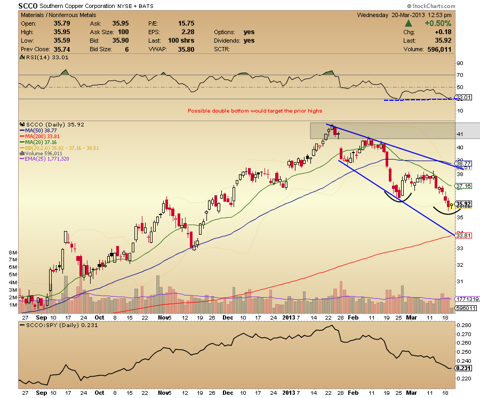 We see it has fallen in a somewhat aggressive falling channel. Today's action (3/20) appears to be stopping the downside momentum. RSI is also forming a bull divergence and suggesting this is a good level to attempt a long position. If this is a bottom, we have a potential double bottom price pattern here that would target the cup highs. Meaning the larger pattern would favor a cup and handle pattern.
Hell, who knows what will happen that far out, but the stock itself looks pretty good here for a long trade.
I'm not saying copper doesn't look like it will eventually move much lower. I'm saying that given the whole picture, copper prices may at least stabilize for awhile over that key support line. I suppose only time will tell.
We can discuss this further. Tweet me @aro618 on twitter/stocktwits. Or give me a shout on seekingalpha!
Disclosure: I have no positions in any stocks mentioned, but may initiate a long position in SCCO over the next 72 hours.