GLD consistently finds resistance on average 8.5% above its 40 day MA. In this recent upsurge it hit only 5.5% and is now aprrox. 4% from the average.  Over the past 2 years it has found resistance anywhere from 6.5% to 12%.  Therefore there is a possibility that gold could run 2-6% from here.
Mort important, there is a very bullish ascending triangle pattern as show below.  GLD broke out at 95.3, as shown by the green arrow.  Based on this pattern   (measuring the blue arrow) it could run 14.13 points from the 95.3 breakout area. This gives us a target of 109.43 (an 11% move!!).  I would think that we need to test this breakout once before it moves towards these target levels.  Buy GLD at 95.3-94.7 with a stop @ 92 (the bottom trend line).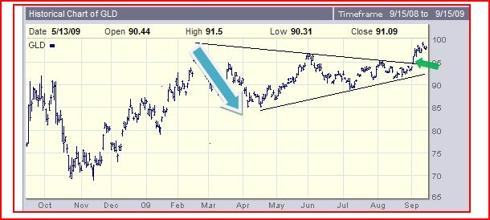 There is another important bullish technical pattern forming, a large inverted head and shoulders.  This pattern began during the beginning of 08, taking about 18 months to develop, if it breaks to the upside it could be a huge move, many technicians and momentum traders will rush in.  The black arrow measures 31.35 points.  The neckline is somewhere between 100.45 and 99.4.  A break of the neckline would produce a target price of about 131.5 (a 34% move from here).  This is a long to intermediate term pattern and therefore could play several months to play out.

Non commercial speculative  COT positions, provided by CFTC, has proven to be an accurate contrary indicator for gold. Gold has consistently found resistance as the COTs show 200K contracts net long.  Fridays reports showed 224.676 long ( a record), well into the overbought territory as shown by the red arrow below.  Small spec positions similarly elude to an overbought condition (blue arrow). In addition, commercial traders are trying to lock in these prices more than ever before with commercial net position beyond -250K ( yellow arrow).  Given this information, gold is very frothy and will provide us an opportunity to purchase GLD at our desired price.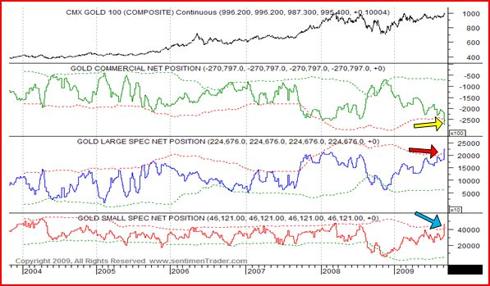 Seasonally gold has a tendency to rally into the end of the  year.  Were are now right smack in the middle of gold bull season. As provided by sentimenttrader.com, the chart below shows from 1980-2007 September has been gold's hottest month.  Gold's performance in September in close to 70% positive with an average of 1.9%.  Unfortunately gold has already rallied more than 6%  this September,  eluding to the fact that gold may have already  run it's September course.  However, there has been a sizable divergence between the long term and short term historical data.  During the past 2 years  gold has rallied 10.1% and 8.9%, respectively, in the month of September. Either way this is prime time for gold.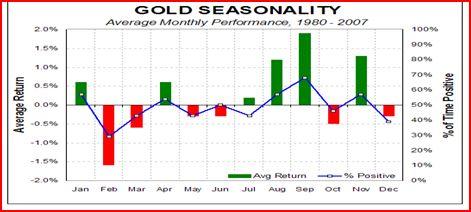 What will push gold through the break out levels?  Has to be a weak $.
Physical demand for gold has been terrible.  The Indian gold festival looks weak.  Jewelry demand is still down ( est. to be down 15% in 2H09) and scrap sales around the world are up substantially ( a record 900 tonnes in 1H09).  Though, South African gold production was the lowest in 2008 since 1922 despite the 276% rise throughout the last 7 years.   Unfortunately, this provides no insight as to the near to intermediate performance of gold.  In my opinion, gold's performance into the end of the year will depend on $ weakness.  The $ has every reason to go down, Americans are practically routing for $ weakness.  A weak $ reduces the value of our debt, lifts house prices, increases exports demand (jobs), and hurts those who hold most of our $, our competitors.   Given that a weak $ could actually solve our current fiscal situation,which means  the FED, the Treasury and the Obama Administration has no reason to jump in front of the $ depreciation.  As investors we must simply buy tangible things that are priced in $s.  Fitting this profile gold will benefit. Investors have already been reallocating portfolios to position themselves for this move.   However, the public opinion of the $ is getting overwhelmingly bearish. They have not been the best timers, as shown by the chart on the bottom right.  This could lead to a short term $ bounce.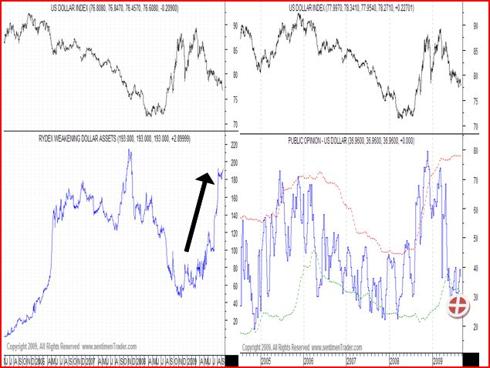 Trade Buy GLD at around 95.3 with a stop at around 92.  Add to position at 100.5 and again 109.45.  Ride it to at least 131!!
I currently have no position on the $ or GLD.