If you are a shareholder at ASOS, there is a chance you won't like the analysis below. But it is better to offer a different perspective on ASOS.
ASOS is Britain's largest online retailer with sales coming in at £2.42bn, up from £1.92bn last year.
(Great sales performance 1): For ASOS, it isn't surprising because it marks their "18th" year of sales growth (since 2000).
(Retail, contributor): ASOS has been at the beginning of the online revolution of selling clothes online. I know there are others before ASOS in the 90s, but most of the early online retailers (apart from eBay and Amazon) have vanished when the "dot.com" bubble burst in 2001.
Below is how much online has taken over retail sales.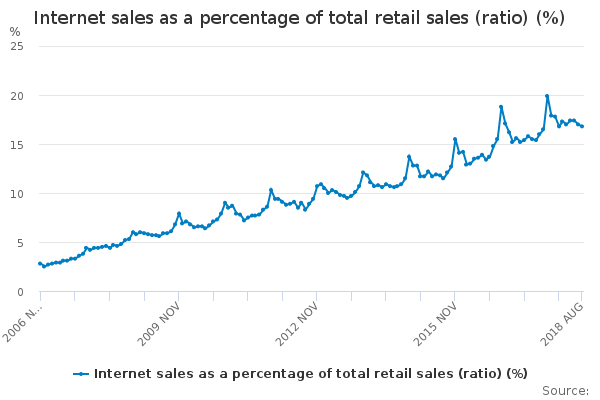 And ASOS benefitted greatly from the rise.
Now, it has 18.4m active customers and in total made 63m orders, this increases every year.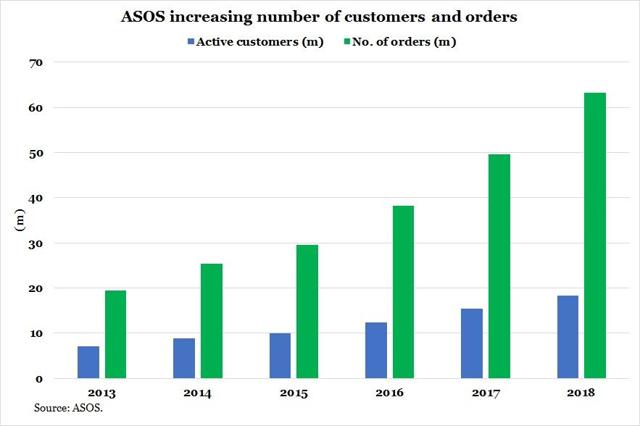 The stock market is valuing ASOS sales at their lowest level since 2015
(Declining price to sales): No doubt we saw ASOS's share price rose over the medium-to-long-term. For example, ten years ago, if you were a shareholder, you had enjoyed returns of 1,900%. More recently, ASOS's share price fell 36% since March 2018, and that gives the market valuation of ASOS's sales, its price to sales to 1.9 times (the lowest level since 2015, when P/S was 1.3 times).
So, why is the market de-rating ASOS's price to sales ratio?
The problem doesn't lie in its operating profits as this grew from £80m to £102m.
(Margins decline): The problem lies in its operating margin which came in at 4.2%, compared to last year 4.1%, which is an improvement, however profits fluctuate every year. So, over the long-term, ASOS has seen their margins half. And this adds pressure for ASOS to continue growing at 25%-30%, in order for profits to grow.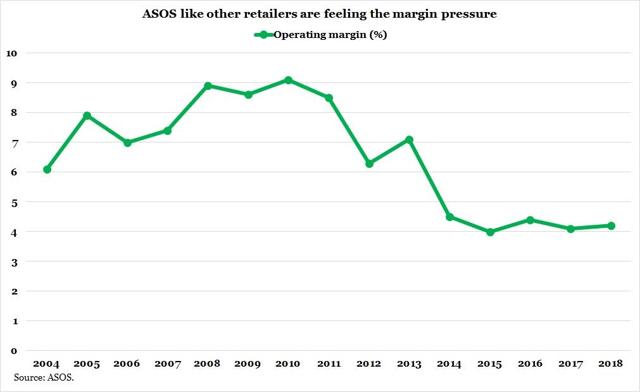 And this adds pressure to ASOS because, despite high sales growth, profits grew slower.
ASOS spending more to grow capacity
ASOS is planning on growing capacity to meet growing demand.
(PPE, Sales capacity): Right now, their PPE grew from £137.4m to £241.6m and plans to deliver sales of £4bn p.a.
(General PPE): However, are there other reasons for sales capacity to expand? One reason (I believe) is to maintain profit growth, but because it is struggling with low margins, ASOS is forced to expand volume capacity to achieve higher sales, hence why the average selling price is the lowest since 2014 and the Average units per basket is up by 13%.
ASOS needs to sell more volume to achieve sales growth of 25% at a lower margin.
To illustrate the consequences of higher capital spending is to draw a graph showing the incremental sales, along with growth capex (Capex minus depreciation and amortisation).
Over the years, ASOS requires more capex spending to increase sales!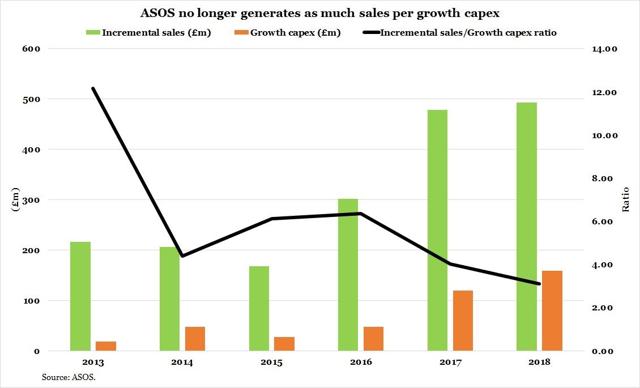 The "incremental sales/growth capex" ratio means that ASOS did achieve £12 of new sales for every £1 in growth capex. Now is £3.11 of new sales for every £1 of growth capex.
ASOS isn't growing cash and cash equivalent, despite not paying a dividend
(Market capitalisation): For years, ASOS pays no dividend to shareholders. That means one thing, ASOS is building up its cash balance. That was true until 2016 when an increase in capex spending saw cash balance decreasing.
With cash balance decreasing, should this affect ASOS financials and its valuation?
The answer is Yes and No.
For a "NO" answer, the market would see the build-up of capacity as a TEMPORARY thing or every four years.
If capex spending continues to grow, then "YES", it will affect ASOS financials and operations because the cash balance will decrease, as ASOS starts to rely on borrowing to sustain its expansion.
Another thing about ASOS's cash balance, people seems to forget is the company has NEVER paid a dividend to shareholders. So, for cash balance to fall dramatically is ALARMING as the dynamic begins to shift from equity holders to debtholders. Something to think about in the future!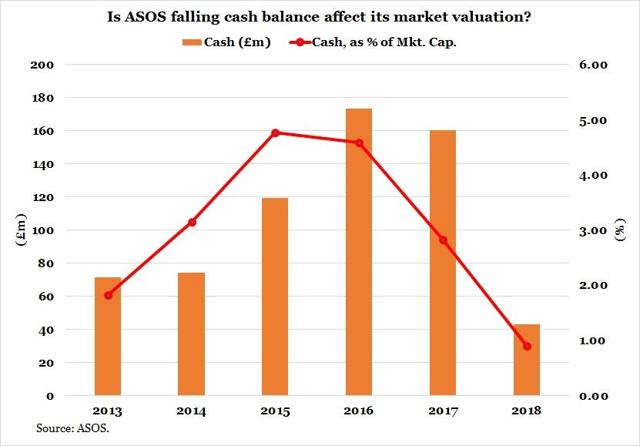 And that is confirmed when ASOS signed a new three-year credit facility of £150m until 2021, which replaces the £20m credit.
People should expect ASOS to draw from this credit facility.
Are ASOS payables too high?
Using "payables, as % of COGS" helps to assess if payables are too high or low. ASOS saw a rise to 46.6% from 50%.
A fall in payables relative to costs of sales lead to SMALLER cash inflows in the cash flow statement and explains why the operating cash flow fell from £146m to £94m.
Free cash flow
Finally, this leads to the most important part of ASOS and a strong indicator of where the company's valuation is heading.
Today's ASOS experiences negative free cash flow of £119.1m, which has taken down the company's cash balance to £42.7m. However, when it was generating recording operating cash flow of £146m last year, free cash flow was a negative £15.6m.
The consequence of further negative free cash flow is likely because of ASOS's low margins won't generate enough cash profit to counter medium-term capex spending of between £230-£250m p.a. (higher than this year spending by 8-17%).
Company's outlook
Management statement: Here's what they say: "We remain in a period of high investment, confidently pursuing the considerable opportunity we see ahead of us. We also remain equally focussed on our core financial disciplines, reflected in our unchanged sales and EBIT margin guidance both for the current year and into the medium-term, after incorporating significant ongoing warehouse transition costs and the phased transition to US import duty.
By concentrating on successfully executing our investments whilst retaining our unwavering focus on continuing to deliver the great product and customer experience that defines and differentiates us, we are building ASOS into the world's number one destination for fashion loving 20-somethings."
Walbrock's interpretation: There is nothing significant in their outlook, apart from that medium-term growth remains at 20-25% and EBIT margin at 4%. However, ASOS capex spending of between £230-£250m p.a. in the medium-term should ring alarm bells.
As explained above, the low EBIT margin doesn't generate enough operating cash flow to counter capex spending.
Brokers' notes
Brokers continue to sales growth of above 20% (in line with management expectations), and by 2020 sales could reach £3.6bn. Now, we know why management is aggressively expanding capacity.
However, EPS will continue to track sales growth as margin stabilises around 4%, and by 2020 reaches 145 pence, giving forward-PE of 40.5 times down from the current PE of 59 times.
Walbrock's Thoughts
ASOS has been a great company for shareholders. But times appear to be changing as the retail sector plague with "oversupply" is seeing a squeeze on margins.
All this is affecting ASOS and particularly their ability to grow their profit margins. Now, ASOS is in a dilemma, where it can only grow profits at the same pace as sales.
So, expect ASOS to start borrowing money to expand its capacity for the next two to three years (given management outlook).
Share price prediction: Despite my negative analysis on ASOS, I do expect the shares to recover, BUT it won't go beyond £65 to £70 per share.
I think anything between £65 to £70 per share is a SELL.
Also, there is NO guarantee that ASOS will maintain EBIT margin of 4%, given the level of online competition. As capacity grows larger and more excessive, ASOS may compromise and cut corners to keep costs under control.
Trouble starts when a company becomes too big, and the workload is too much for management to manage.
Thanks for reading, if you are new and have enjoyed this post and have an interest in UK stocks, then you can subscribe for FREE to keep yourself updated in the latest developments. Please comment below, if you have further insights about the company covered today.
Disclosure
Walbrock Research is an investing website focusing on UK companies. Walbrock main purpose is to inform and provide an alternative analysis of the company's fundamentals. The publications do not offer professional investment advice and shouldn't be construed as investment advice. Walbrock Research has no business relationship with the company or companies mentioned in this article and holds no shares in the company.
Disclosure: I/we have no positions in any stocks mentioned, and no plans to initiate any positions within the next 72 hours.