Currently the SPX is in a tight range with 1360 providind support and 1390 providing resistance.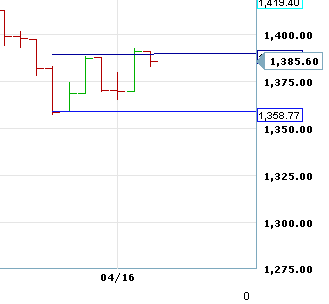 So the question is. What will get the SPX to break out of its tight range. And what, opportunities do we have while it is in its current range.
First, what will get things to change. It could be a fundamental event such as an economic calendar event - a speaker and/or an actual scheduled data release. If you aren't following the economic calendar, you may find yourself behind the eight ball on trades. Why? Well, big moves in the markets have been a result of speakers, interventions and events such as bond auctions in Europe. Recent ones have gone well, but the next one could be bad.
In the meantime, a range bound market provides plenty of opportunity. We are bouncing between support and resistance and these areas can become trading opportunities that provide a positive risk to reward ratio. As always, there aren't any guarantees, so always use stops and targets that are pre-defined using technical analysis. Using technical analysis assures you that you are realistic about gains and losses based on the charts.
So the question I have for you is: when the SPX hit 1392 yesterday, was that an opportunity to enter a swing trade to the short side and if SPX goes back into its previous range, where will you be realistic about taking profits off the table?
Happy Trading
Brian
Disclosure: I have no positions in any stocks mentioned, and no plans to initiate any positions within the next 72 hours.